A February 2013 video of deceased former Toronto Mayor Rob Ford smoking crack cocaine was released Thursday after a Canadian court ruled that it could be published, according to the Toronto Star.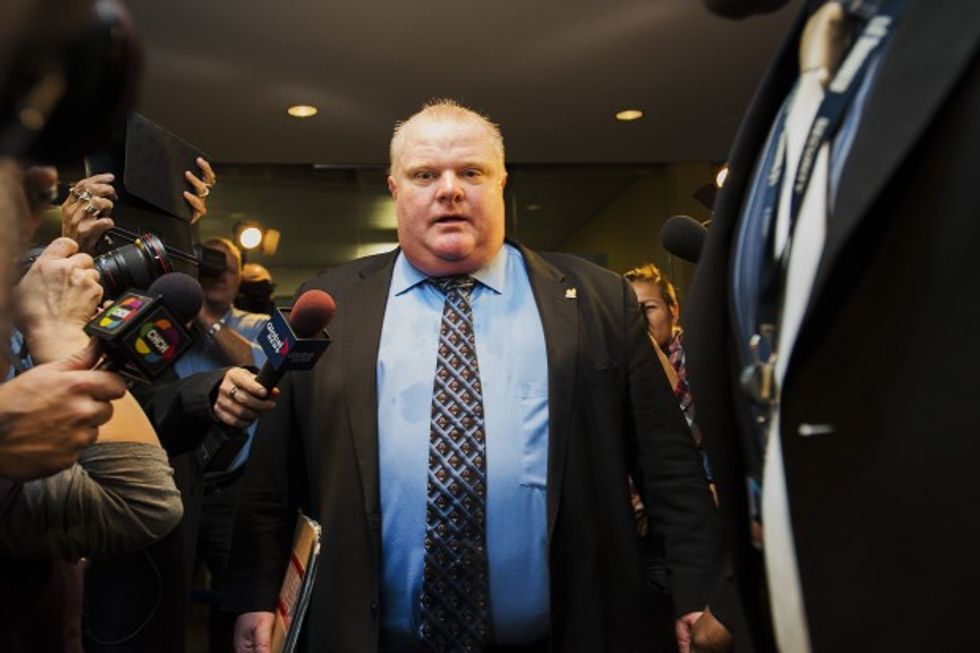 On Nov. 15, 2013, the Toronto City Council stripped Mayor Rob Ford of emergency management powers. (Aaron Vincent Elkaim/Getty Images)
According to the CBC, the video was released after an extortion charge was dropped against Alexander (Sandro) Lisi, Ford's friend and former driver. Lisi was accused of extortion for his efforts to obtain the cellphone that recorded the video.
The video shows Ford using drugs as he has a conversation with Elena Basso, a resident of the home in which the incident took place.
In the video, Ford appears to be aware of the presence of a recording device, saying at one point, "I don't know if that camera's not on."
At another point in the video, Basso uses derogatory language about Canadian Prime Minister Justin Trudeau, who was then a member of Canadian Parliament.
According to the Star, Superior Court Justice Ian MacDonnell said the video's release "closes a rather tumultuous chapter in our city's civic life."
Ford died in March after a battle with cancer. He was 46 years old. His tenure as mayor was marred by his struggles with alcohol and drug use.
Watch below via the CBC (Content warning: Drug use and explicit language):
—
Follow the author of this story on Twitter and Facebook: