A retired Oklahoma teacher has apologized after giving one of his former colleagues a KKK robe and Confederate flag during a summer conference.
It happened earlier this month at the Oklahoma Career and Technology Education Summer Conference, which was being held at the Cox Convention Center in Oklahoma City. Larry Long, the retired white educator, reportedly told the crowd not to talk about the incident and asked to delete any videos and photos from their cellphones.
But while there might not be any photos or videos, the Oklahoma Department of Career and Technology Education found during an internal investigation that Long did, in fact, present the teacher with a KKK robe.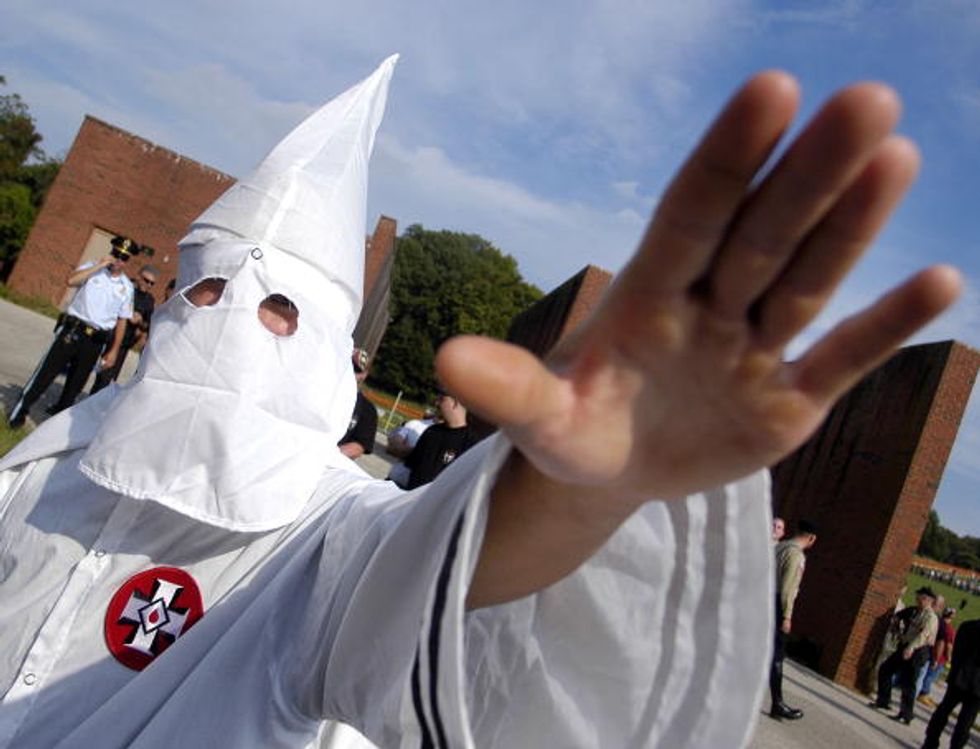 A member of the Ku Klux Klan salutes during an American Nazi Party rally. (William Thomas Cain/Getty Images)
The incident came to light after at least one person who witnessed the stunt emailed lawmakers, prompting the investigation.
However, it was not clear from the inquiry whether the eyebrow-raising incident involved a Confederate flag also.
The black teacher to whom Long presented the white supremacist robe is the only black agriculture teacher in the state, according to the Tulsa World newspaper. And he was not offended by what Long says was intended as a joke, according to the Oklahoman.
"I want to apologize for my actions at the Career Tech meeting on Aug. 2 in Oklahoma City," Long said, according to the Stillwater News Press. He continued:
While there I attempted to make a joke with a colleague whom I respect and admire. I have apologized to him personally but that is not enough. I want to take this opportunity to apologize publicly and state that my conduct was highly inappropriate. I never intended to convey any racist actions or comments. I realize now that what I said and did was harmful, offensive and hurtful.
(H/T: New York Daily News)
—
Follow the author of this story on Twitter and Facebook: