Singaporean Olympian Joseph Schooling first met gold medalist Michael Phelps in 2008. Eight years later, that same young fan competed against the swimmer he idolized, and won.
Schooling, now 21, beat Phelps in the 100-meter butterfly at the 2016 Summer Olympics in Rio Friday night, securing Singapore's first ever Olympic gold medal. Phelps, on the other hand, finished in a three-way tie for silver with South Africa's Chad le Clos and Hungary's Laszlo Cseh.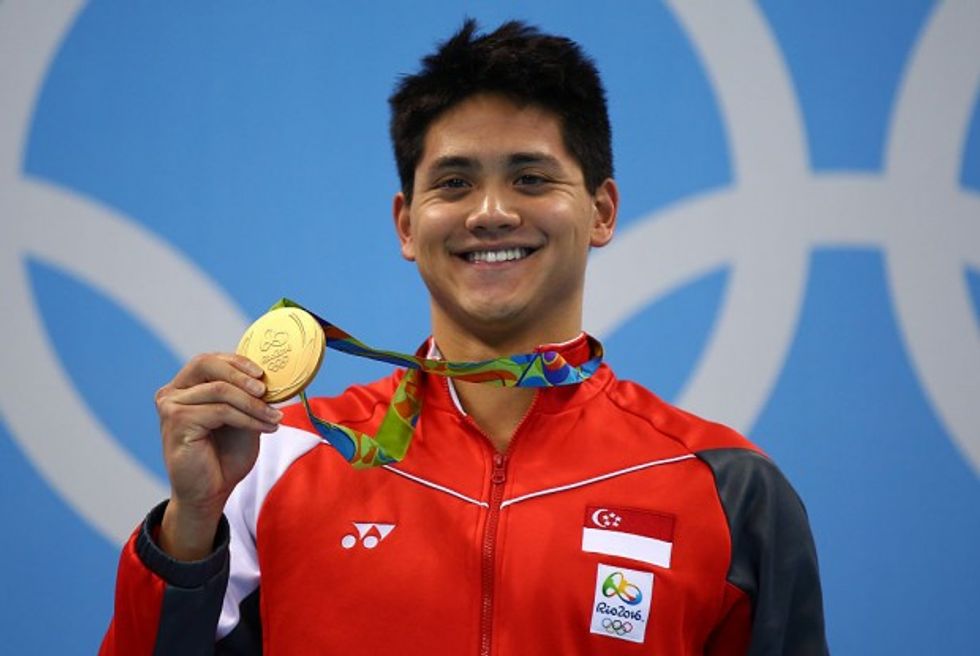 Joseph Schooling of Singapore celebrates winning the gold medal in the Men's 100m Butterfly Final on Day 7 of the Rio 2016 Olympic Games at the Olympic Aquatics Stadium on August 12, 2016 in Rio de Janeiro, Brazil. (Photo by Clive Rose/Getty Images)
In the end, Schooling hit the wall at 50.39 seconds, while Phelps, le Clos and Cseh finished at 51.14, according to CBS Sports.
WOW. Michael Phelps doesn't usually have a number other than 1 next to his name. https://t.co/WJKHSyD7Co

— CBS Sports (@CBS Sports) 1471050951.0
The race was taking place early in the morning in Singapore, but that didn't stop nationals from taking part in the celebration by voicing their excitement and pride on social media Saturday. Phelps was certainly disappointed by the defeat, but he couldn't help but offer congratulations to the young victor.
"Watching Joe and what he's done over the last two years — he's been swimming great," Phelps told NBC News. "50.3 is obviously a really good time and a very respectable time. My hat's definitely off to him."
Schooling, a swimmer for the University of Texas, stands to receive a $750,000 reward from the Singaporean National Olympic council for his efforts, a prize, thanks to the NCAA rules exemption for Olympic athletes, the 21-year-old athlete should be able to keep without risking his college eligibly.
Regardless, Phelps remains the winningest Olympian in history. To date, he has won 26 medals total, 22 of them gold. In the 2016 games, he has earned four gold medals and one silver.
Watch Schooling's victory below:
How Joseph Schooling did it! #Rio2016 #JosephSchooling #Singapore #100mbutterfly #SingaporeGold pic.twitter.com/tdUnleiauj

— IZ The One (@SooZarr) August 13, 2016
–
Follow the author of this story on Twitter: