A Milwaukee pastor says the lack of jobs and economic opportunities for black residents are to blame for violent protests that rocked the city following a police shooting.
Rev. Richard Bush was surveying a burned-out gas station on Milwaukee's predominantly black north side Sunday morning. That was the site of hours of unrest late Saturday after an officer killed a man who police say fled a traffic stop while armed. Protesters set fire to at least three other businesses.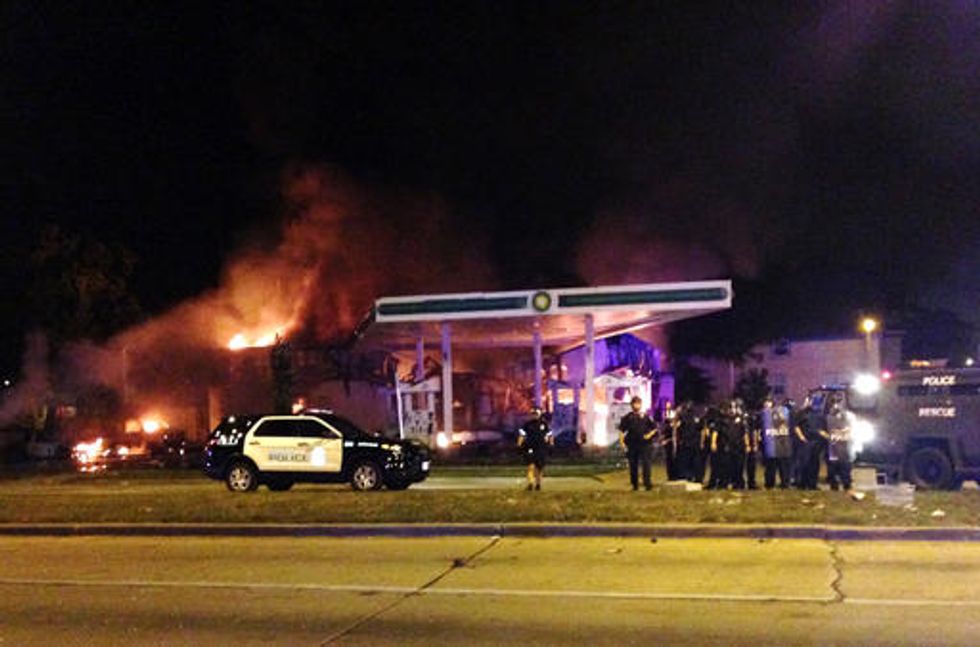 Authorities respond near a burning gas station as dozens of people protest following the fatal shooting of a man in Milwaukee, Saturday, Aug. 13, 2016. (AP Photo/Gretchen Ehlke)
Bush leads the nearby Pentecostal Church of God in Christ. He says the city must put more money into the north side because residents there "don't have nothing to do but destroy stuff."
The owner of a gas station has blamed outsiders for the violence that destroyed his business on Milwaukee's north side Saturday night following a police-involved shooting.
Pakhar Singh's BP station was set afire as protesters skirmished with police, and firefighters could not approach it because of gunshots.
Singh said Sunday that the neighborhood is usually peaceful, and he believes the trouble was caused by outsiders. He says he's owned stations in the area for 36 years and has never had trouble. He isn't sure he'll rebuild.
The unrest broke out hours after an officer shot a man who police say fled a traffic stop. Police say the man was armed, but it wasn't clear if he pointed a gun at or shot at the officer. The races of the man and officer haven't been released.