Milwaukee County Sheriff David Clarke held a press conference Sunday evening during which he addressed the mass unrest that broke out in the city following the police-involved shooting of an armed black man, 23-year-old Sylville Smith, by an unnamed black Milwaukee police officer.
Speaking calmly but sternly, Clarke defended his request to deploy the National Guard in the city, asserting that he will not stand for the type of violence and rioting that occurred in Baltimore or Ferguson, Missouri, after other police-involved deaths.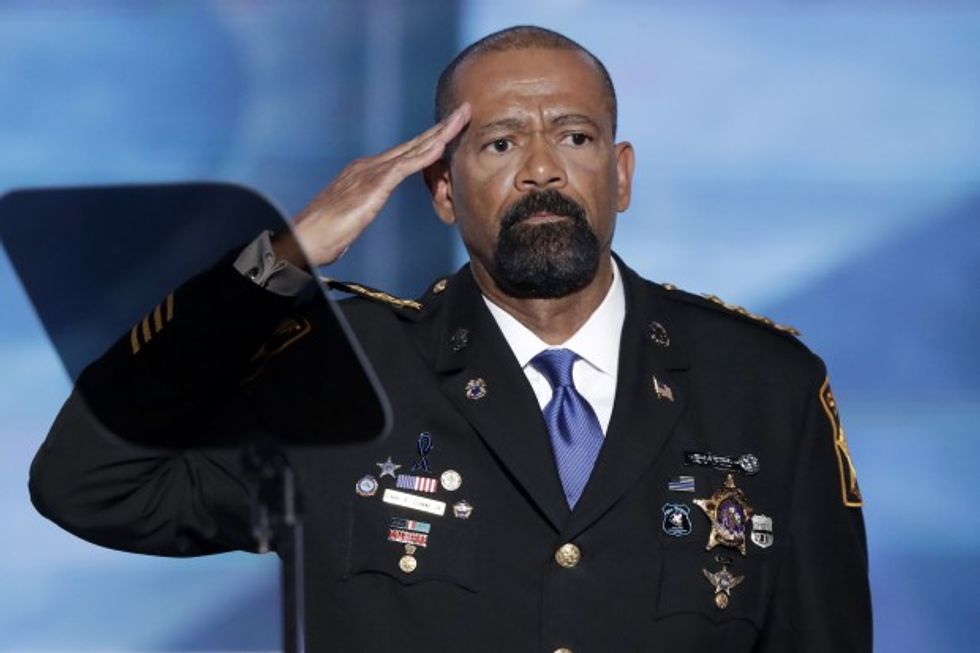 David Clarke, sheriff of Milwaukee County, Wisconsin (AP Photo/J. Scott Applewhite)
"People have to find a more socially acceptable way to deal with their frustration, their anger and resentment," he said. "We cannot have the social upheaval — the chaos that we saw [Saturday] night that frightens good, law-abiding people in those neighborhoods."
Clarke detailed Smith's lengthy criminal history before stating what he believes is root cause of all the dysfunction that erupted over the weekend.
"We have a growth of the underclass here in Milwaukee," the sheriff said. "And we saw some of their behaviors on display. Fortunately, the loss of life of innocent civilians and law enforcement personnel did not happen. I think only by the grace of God, with bullets flying all over the place."
He continued:
Police use of force serves as an igniter — there's no doubt — but to an already volatile mix of urban pathologies, failed urban policy that exacerbates inescapable poverty, failing public schools, inadequate parenting. Father-absent homes — we all know when fathers are not around to shape the behavior of young boys, they often times grow up to be unmanageable misfits that police have to deal with in an aggressive fashion.
Clarke concluded by exhorting angry citizens to "stop trying to fix the police" and to instead "fix the ghetto."
Watch:
Clarke has been outspoken about the socioeconomic issues at play amid the recent rise in anti-police sentiment and violence across the country. Following Saturday's shooting and subsequent rioting, the sheriff took to Twitter to express some of his thoughts on the matter:
https://t.co/QsZmOecZ4F This black cultural dysfunction should be shunned and condemned by every law abiding person and no less black people

— David A. Clarke, Jr. (@SheriffClarke) August 15, 2016
Four murdered, 9 shot in Milwaukee Fri night/Sat morning. Silence. 1 cop kills an ARMED black guy & riots break out? pic.twitter.com/BqaUOk4WVC

— David A. Clarke, Jr. (@SheriffClarke) August 15, 2016
If only the Democrat party would get their boot off the neck of the Black community and let them get off the mat. pic.twitter.com/gzkevgEQQM

— David A. Clarke, Jr. (@SheriffClarke) August 15, 2016