MANCHESTER, N.H. — Republican vice presidential nominee Mike Pence campaigned for his running mate Donald Trump in New Hampshire on Thursday, promising Granite Staters that Trump would act as a "negotiator in chief" and bemoaning media coverage of the Manhattan billionaire.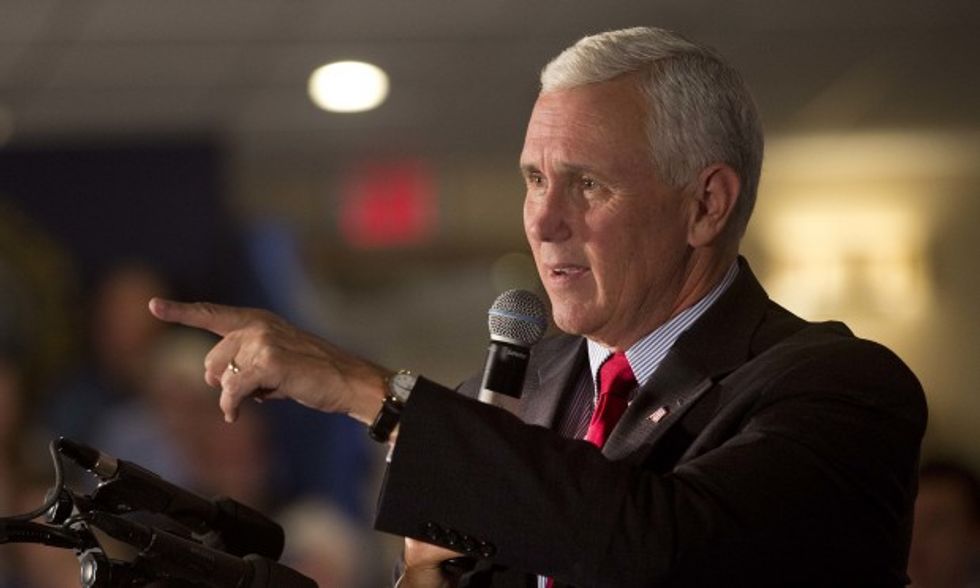 Republican vice presidential candidate Mike Pence speaks during a campaign event at in Manchester, New Hampshire, Thursday. (AP Photo/Jim Cole)
Pence said that the media are more concerned about his running mate's "word choices" and "semantics" than Democratic presidential candidate Hillary Clinton's "scandals."
"I've got to be honest with you, lately I've head to turn on the television with a stick," the Indiana governor joked at a town hall with about 200 attendees. He added, "It's like two-on-one most days, with the media doing most of Hillary's work for her."
Pence argued that Trump is winning "hearts and minds" in spite of what he characterized as negative coverage. The answer to media bias, he said, is the average Trump supporter:
The most powerful media in America is you. All right? So, I mean, word of mouth has always been and will always be the most powerful form of communication because when you sit down with a neighbor and friend who has known you for years, you sit down over a cup of coffee, you stop somebody at your place of worship, or you run into somebody at the grocery store, you stop somebody at work and you just say, hey, you know I just was with Mike the other day and he told us to tell somebody so I'm just going to tell you, I'm voting for Donald Trump and here's why.
"All the front pages in the world" don't compare to the credibility of the average voter," Pence argued.
He went on to tout Trump as "a doer in a game usually reserved for talkers and when Donald Trump does his talking, he doesn't go tiptoeing around those thousands of rules of political correctness that the media and the elites impose," adding, "He tells it like it is and the American people hear him loud and clear."
Pence also criticized New Hampshire Democratic Gov. Maggie Hassan, who is challenging GOP Sen. Kelly Ayotte for her Senate seat, for repeatedly avoiding a question about Clinton's honesty. During a recent interview on CNN, Hassan dodged — three times — a question about whether or not she believes Clinton is honest three times.
He was sure to remind attendees how important it is for New Hampshire to re-elect Ayotte, despite the fact that Trump was a vocal critic of Ayotte before ultimately endorsing her earlier this month. Ayotte has said she will vote for Trump but has not issued a formal endorsement.
—
Follow the author of this story on Twitter and Facebook: