In a rare moment of public introspection since becoming the Republican nominee for president, Donald Trump said he regrets saying the "wrong things" and causing people "personal pain" through his often brash rhetoric.
"Sometimes, in the heat of the debate and speaking on a multitude of issues, you don't choose the right words or you say the wrong thing," Trump said Thursday night in Charlotte, N.C. "I have done that, and I regret it, particularly where it may have caused personal pain."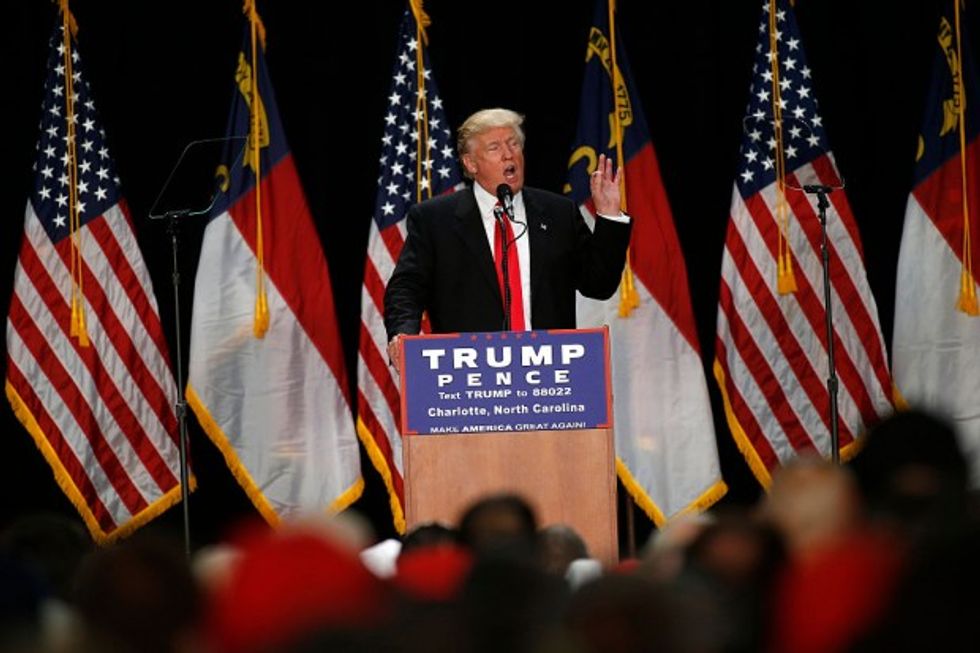 Republican presidential candidate Donald Trump speaks to supporters at a rally on August 18, 2016 at the Charlotte Convention Center in Charlotte, North Carolina. Trump continues to campaign for his run for President of the United States. (Photo by Brian Blanco/Getty Images)
The billionaire businessman reminded supporters that he's "not a politician," saying he "never wanted to learn the language of the insiders."
"I've never been politically correct – it takes far too much time, and can often make it more difficult to achieve total victory," Trump remarked.
the GOP nominee's remarks come just days after he reshuffled his campaign, naming pollster Kellyanne Conway as his new campaign manager and bringing on Breitbart News executive Stephen Bannon as CEO. Moving forward, Trump said he "will never put anyone's interests ahead" of voters' priorities.
Trump told the North Carolina audience that his Democratic rival Hillary Clinton "has proven to be one of the greatest liars of all time."
The Republican also hit the media for taking his words "out of context" in their coverage, saying reporters will "spend a week obsessing over every single syllable, and then pretend to discover some hidden meaning in what I said."
"Just imagine if the media spent this much time investigating the poverty and joblessness in our inner cities," Trump continued. "Just think about how much different things would be if the media in this country sent their cameras to our border, or to our closing factories, or to our failing schools."
Regardless, Trump promised to always "tell the truth."
"Too much is at stake for us to be consumed with these issues," he said. "But one thing I will tell you this, I will always tell the truth."
See a portion of Trump's remarks below:
Donald Trump: Sometimes "you don't choose the right words or you say the wrong thing" https://t.co/6OZtrfIwim https://t.co/wgdLsdIQmp

— CNN Politics (@CNNPolitics) August 18, 2016
–
Follow the author of this story on Twitter: