Things got plenty heated on "CNN Tonight" Thursday after a panelist who supports Democratic presidential nominee Hillary Clinton declared that her Republican opponent Donald Trump "is more George Wallace than he is Ronald Reagan."
Bakari Sellers' assertion ruffled the feathers of fellow panelist Boris Epshteyn, a Trump surrogate, who uttered "that is so wrong" as Sellers made his case that Trump is more of a "cultural candidate" than a populist, socioeconomic savior.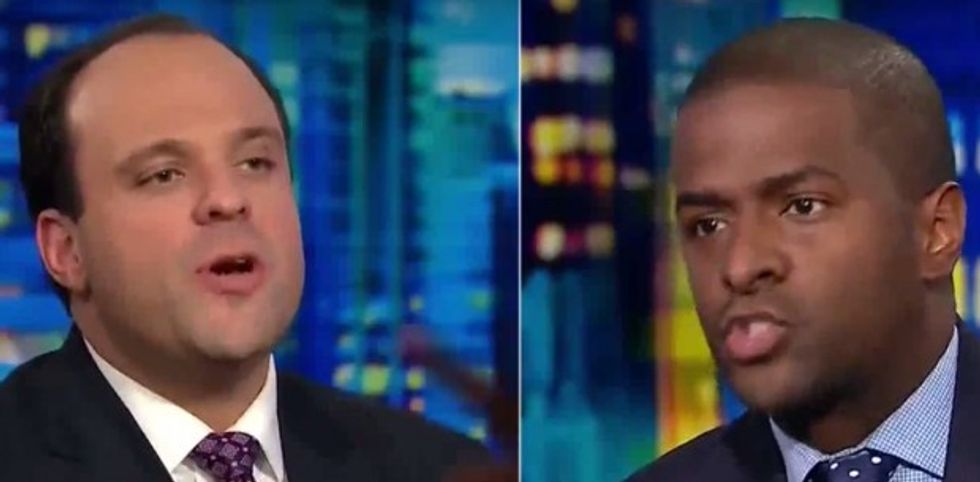 From left: Boris Epshteyn and Bakari Sellers (Image source: YouTube)
On the heels of the comparison to Wallace — the Democratic Alabama governor who was an outspoken advocate for segregation and infamously stood in a doorway to block black students from entering the University of Alabama — host Don Lemon jumped in to note that he doesn't believe Trump's supporters are stupid. Sellers said he agreed.
Still, Epshteyn was peeved: "The George Wallace comparison is absolutely ridiculous ... There's no basis for it."
Sellers shot back with what he believed were examples of why the comparison is valid — including Trump's "birther" assertions several years ago — but Epshteyn wasn't buying it.
And the heat kept rising as the pair traded political barbs. Check it out:
This story has been updated.
(H/T: Mediaite)