Donald Trump told Fox News host Sean Hannity Tuesday night that he is open to "softening" his stance on immigration, and commentator Ann Coulter is not happy about it.
"I think this is a mistake," Coulter, a fervent supporter of Trump, told MSNBC host Chris Matthews, adding that the recent shift sounds like "tired talking points" on immigration, an issue about which the conservative talker is particularly passionate.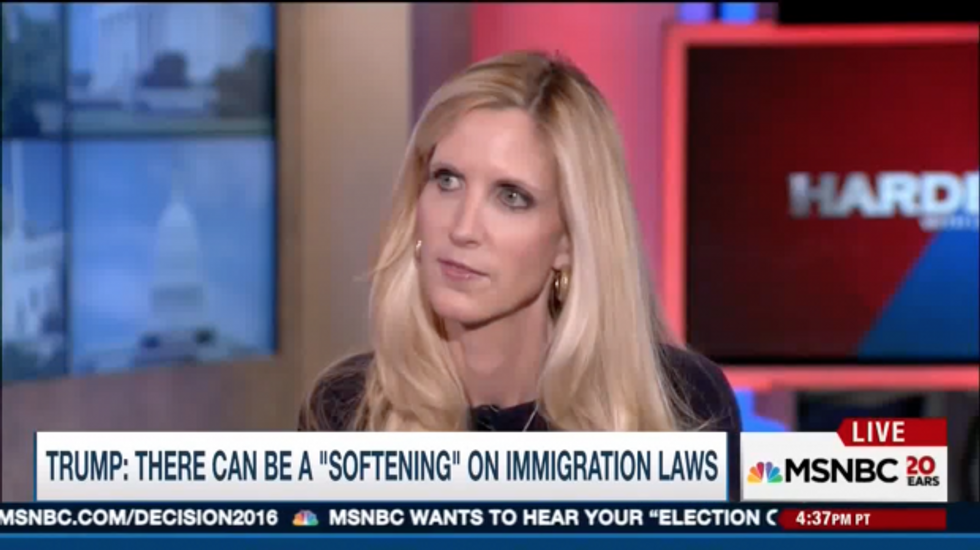 MSNBC/YouTube
In a town hall event, Trump told Hannity "there certainly can be softening" on immigration laws, adding that he is "going to follow the laws of this country," but is open to a "merit system."
"We're not looking to hurt people," he said at the Austin, Texas, event. "We want people — we have some great people in this country."
When asked by Matthews about the apparent pivot, Coulter said Trump's comments "sounded very consultant to me." On Monday, Trump told Fox News' Bill O'Reilly that his position on immigration would be similar to President Barack Obama's, but "with a lot more energy."
"This could be the shortest book tour ever if he's really softening his position on immigration," she said. Coulter is the author of the new book "In Trump We Trust."
Coulter said she doesn't think the new language is a shift, but something being pushed by "consultants." She suggested Trump is "panicking" and not receiving good advice. In her view, the Republican nominee needs to stay the course on immigration.
"I've thought he's made other mistakes, and I've given him constructive criticism when I think he makes a mistake," she said. "I think this is a mistake."
See Coulter's remarks below:
—
Follow the author of this story on Twitter: