Donald Trump and Jeb Bush were political enemies during the Republican presidential primary season, but now the billionaire businessman is coming around to his rival's point of view on immigration. That is, according to Bush's former communications director.
In the second half of a town hall event with Fox News' Sean Hannity set to air Wednesday night, Trump vowed there will be "no amnesty" for illegal immigrants under his White House administration, but continued to soften the bold stance he took on immigration reform during the primaries.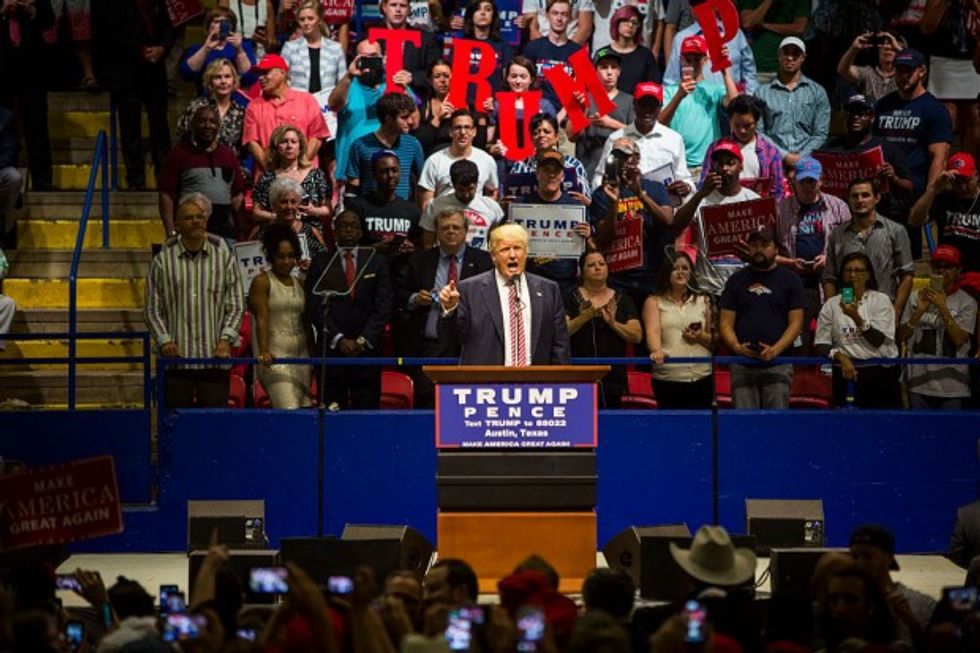 Drew Anthony Smith/Getty Images
Hannity asked Trump during the taping for the event if he stands by his promise to deport everyone currently living in the U.S. illegally, or if he would offer an exception to those who have proven to be "a fair citizen."
"No citizenship," Trump told the Fox host. "Let me go a step further — they'll pay back-taxes, they have to pay taxes, there's no amnesty, as such, there's no amnesty, but we work with them."
Trump said that "everyone agrees" it is essential to get the "bad ones" out of the country, but indicated he has rethought his earlier unabashed position since meeting people who have lived in the U.S. illegally for several years.
"But when I go through and I meet thousands and thousands of people on this subject, and I've had very strong people come up to me, really great, great people come up to me, and they've said, 'Mr. Trump, I love you, but to take a person who's been here for 15 or 20 years and throw them and their family out, it's so tough, Mr. Trump,' I have it all the time! It's a very, very hard thing," Trump said.
Following the release of Trump's remarks to Hannity, former Bush communications director Tim Miller took to Twitter to respond to the apparent shift on immigration policy.
"This is basically Jeb's position," he wrote. "Guess Trump is the biggest cuck of them all."
This is basically Jeb's position. Guess Trump is the biggest cuck of them all. https://t.co/7wbljRObtd

— Tim Miller (@Tim Miller) 1472079400.0
Trump's comments come the day after he told Hannity during the first half of the town hall event that he is open to "softening" his position on immigration reform because he's "not looking to hurt people."
Conservative commentator and ardent Trump supporter Ann Coulter said Tuesday it is a "mistake" for the Republican presidential nominee to soften his approach to illegal immigration.
—
Follow the author of this story on Twitter: