After filing a lawsuit against Fox News, former network host Andrea Tantaros has issued a lie detector challenge to executives who she said punished her for complaining about sexual harassment by ousted chairman and CEO Roger Ailes.
"The time has come ... either to let this case play out in the courtroom or to conduct an even-handed trial in the court of public opinion," a statement from Tantaros' lawyer, Judd Burstein, read.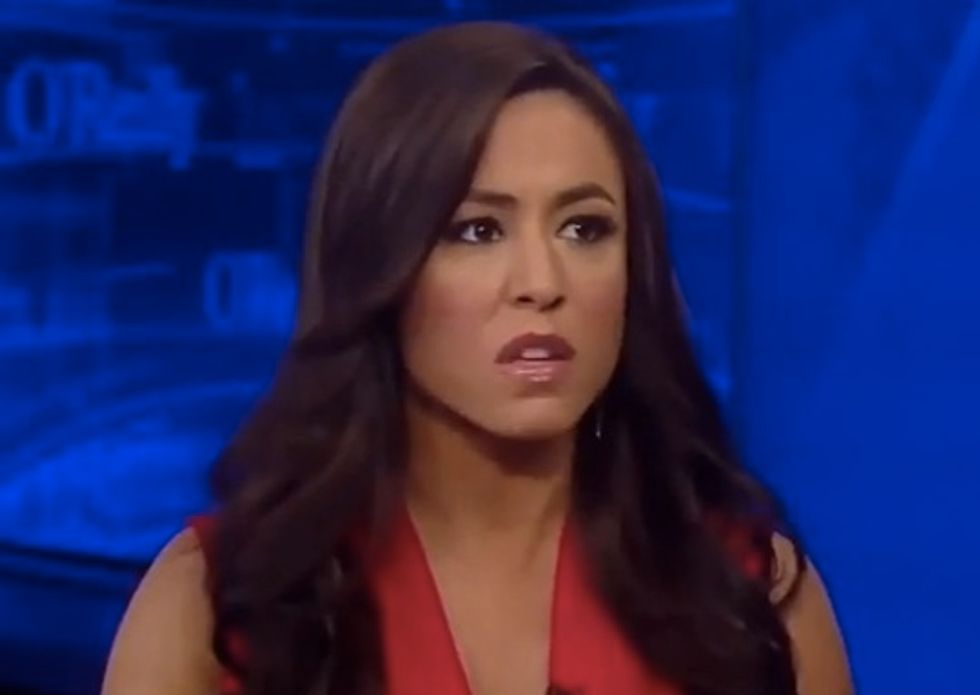 Andrea Tantaros (Image source: Fox News)
According to documents obtained by BuzzFeed News' Kyle Blaine, there are questions for Ailes, Fox Co-President Bill Shine, Vice President of Business and Legal Affairs Dianne Brandi, publicity chief Irena Briganti and host Bill O'Reilly, who Tantaros alleged was also a source of unwelcome advances.
In addition, the note from Tantaros' lawyer said that the former Fox personality "will submit to a lie detector test pursuant to which she will answer any and all questions chosen by Fox News about the truth of the allegations in her complaint."
"An innocent person would jump at the chance for this kind of vindication," the challenge said. "And if Ms. Tantaros were not telling the truth, she would not risk offering this proposal."
The proposal includes questions for Shine about social media, asking the co-president if he ever directed "an independent contractor for Fox News to arrange for negative comments about Ms. Tantaros to be made on social media" — a charge she levied against Fox News in the original lawsuit.
Several of the questions directed at Shine and Brandi also seek to establish whether Tantaros ever lodged a formal complaint about sexual harassment by Ailes and if she was subjected to retaliation from Briganti for her complaint. Shine has denied he was ever approached by the former host.
The challenge, of course, also has a series of questions for Ailes, asking the former CEO if he ever hugged Tantaros, asked her to "turn around" for him or if he used the phrase "the black girl" during conversation with the ousted host.
Tantaros' lawsuit — and her subsequent lie detector challenge — came on the heels of Ailes resignation after former host Gretchen Carlson leveled similar charges of sexual harassment against the ex-chairman. Ailes, however, has denied all accusations to date.
Regardless, Tantaros has pressed forward.
Here are the proposed questions:
Here's page one of questions for lie detector pic.twitter.com/OafelPKSPt

— Kyle Blaine (@kyletblaine) August 29, 2016
Proposed questions for Bill Shine pic.twitter.com/DyEV3eFtQw

— Kyle Blaine (@kyletblaine) August 29, 2016
Proposed questions for Dianne Brandi pic.twitter.com/xtIhmew15f

— Kyle Blaine (@kyletblaine) August 29, 2016
Proposed questions for Irena Briganti and O'Reilly. pic.twitter.com/LlnRE0385d

— Kyle Blaine (@kyletblaine) August 29, 2016
In the lawsuit, first reported by the New York Times, Tantaros stated, "Fox News masquerades as a defender of traditional family values, but behind the scenes, it operates like a sex-fueled, Playboy Mansion-like cult, steeped in intimidation, indecency and misogyny."
Tantaros, who was first hired in 2010 as a contributor but went on to become a co-host on "The Five" and "Outnumbered," was first sidelined in April after Fox's lawyers said she failed to receive network approval for her book, "Tied Up in Knots."
—
Follow the author of this story on Twitter: