Fox News and conservative talk radio hosts like Sean Hannity and Rush Limbaugh have been blamed by many on both sides of the aisle for the meteoric rise of Donald Trump, but now Limbaugh is saying he never took the Republican nominee "seriously" when he vowed to deport millions of people living in the U.S. illegally.
Limbaugh's comment came when a Los Angeles caller, identified as Rick, pressed him about Trump's waffling on the issue. Over the past week, Trump has seemed to vacillate between a more moderate immigration policy espoused by his former Republican primary rivals and the hardline stance that made him so popular.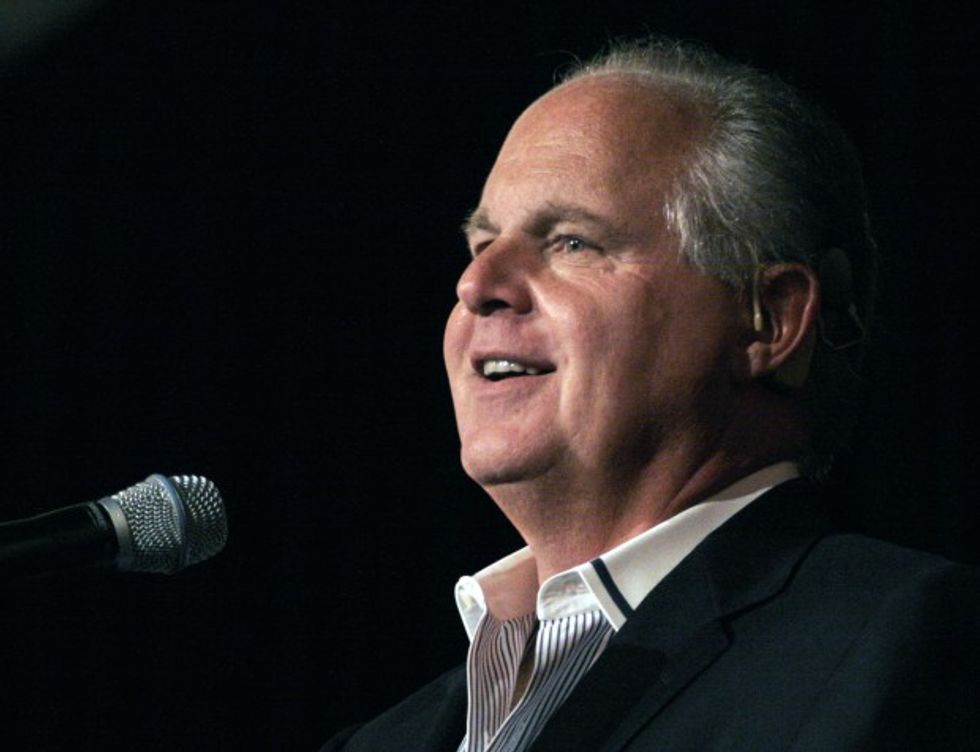 Rush Limbaugh (Bill Pugliano/Getty Images)
"I just distinctly heard you say it's not considered a flip-flop," the caller said. "And I just want to tell you that you are doing a disservice to all of us Republican primary voters who didn't vote for Trump, that are struggling whether or not to vote for Trump."
Rick went on to remind the conservative talker that Trump "ridiculed" all of his opponents throughout the primary for taking a stance that the billionaire businessman seems to now be adopting.
"I mean, John Kasich classically said on the debate stage — he laughingly said, 'C'mon folks. This isn't serious. He's not going to deport everyone.' And Trump went ahead and ridiculed anyone who wasn't for deportation," the caller said, adding:
And for all of us who were saying it was a con job, it was a snow job, he doesn't know what he's talking about, that he's unqualified to be president — for you to sit here and say now that he adopts all the positions of everybody he ridiculed as not even being a flip-flop and it's no big deal? This is why so many Republican voters have such a hard time going to the con man.
Later in the interview, Rick called Limbaugh out for not challenging Trump on his "absurd policies" more in the primary. The radio host just said the other presidential hopefuls "called him out."
But Limbaugh held his ground, telling the caller he doesn't actually believe Trump has changed his policy "that much from what he said" during the primary.
At that, the caller just dug his heels in even more:
With all due respect, Rush, on Chuck Todd's show, he specifically said, when asked the question, "You mean you're going to rip the families apart?" [Trump] said, "No, I'm not going to rip the families apart. They all have to go, even the US citizen children."

He then got in the middle of the debate and the argument between Marco [Rubio] and Ted [Cruz]. When Ted wanted legalization and Marco wanted citizenship as part of a comprehensive plan, he said they were both wrong, and they were both being absurd, and they all have to go or we don't have a nation of laws. C'mon! You were watching the debate as well as the rest of us were! You know exactly what he said, and you know exactly the way he ridiculed everyone on that stage!
From there, Limbaugh seemed to struggle to continue defending Trump, telling the caller, "I never took him seriously on this" — a comment he predicted would "enrage" Rick, who argued millions of people did take the GOP standard-bearer seriously on the issue.
Limbaugh said those voters "don't care" and will vote for Trump "no matter what."
Trump is expected to give a major immigration policy speech Wednesday in Arizona.
Listen to the tense exchange below:
(H/T: Business Insider)
—
Follow the author of this story on Twitter: