A toddler was left covered by casts on half of his body after his father allegedly attempted to kill him earlier this month, according to KUSA-TV.
Arapahoe County, Colorado, investigators told KUSA that Nathan Weitzel, 29, admitted that he intentionally tried to kill his 2-year-old son Isaiah.
"The reason he wanted to kill Isaiah was because being a father was a big responsibility, and he did not think he was man enough to raise a child," authorities said.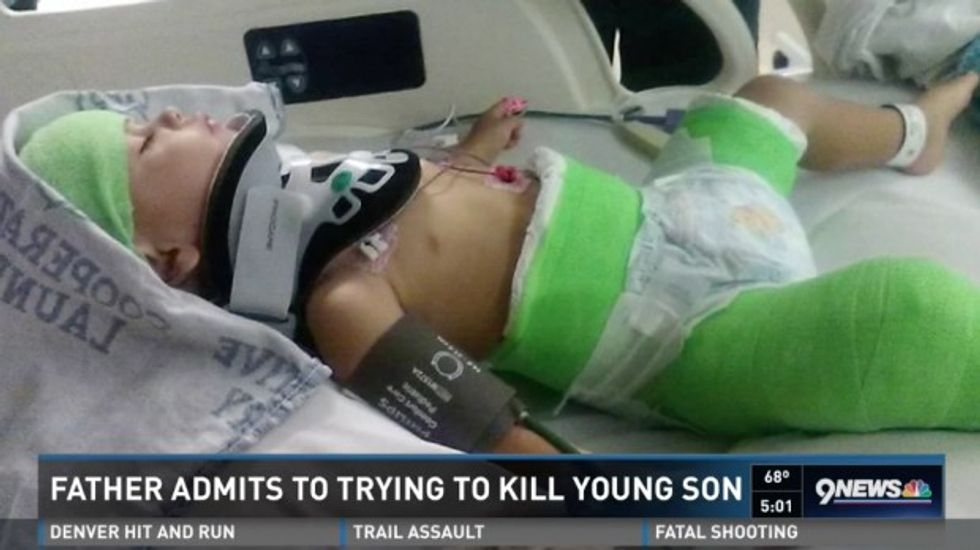 Image source: KUSA-TV
Weitzel is accused of intentionally driving into several cars at 75 miles per hour while Isaiah was in the car unrestrained. He also used cocaine the day of the crash.
Weitzel is in the Arapahoe County Jail on charges of "attempted first-degree murder, child abuse, assault, criminal mischief, possession of a controlled substance and vehicular assault," KUSA reported.
Isaiah's mom, Nancy Lopez, told the outlet that Weitzel is "in the place that he should be."
"He needs to be in jail for a long time," Lopez said.
She called her son "a really caring boy," who is "really compassionate with other kids."
"He used to be a really good climber," Lopez said. "He loves to play and run around. He can't walk now; he's not going to be walking for another two months."
Isaiah is recovering at home after spending several days in the hospital.
"I don't understand why or how he could do something like this, but I'm hoping Isaiah recovers soon, people pray for us and for my son to get better," Lopez said.
A GoFundMe account has been started to help Lopez pay for Isaiah's medical expenses.
—
Follow the author of this story on Twitter and Facebook: