One 4-month-old northern New Jersey baby trapped inside a stifling car was rescued Monday by a quick-thinking former police officer.
"I do believe in guardian angels, and I think that I'm the one for this child," Steve Eckel, wearing a "Trump for President" T-shirt, told WCBS-TV.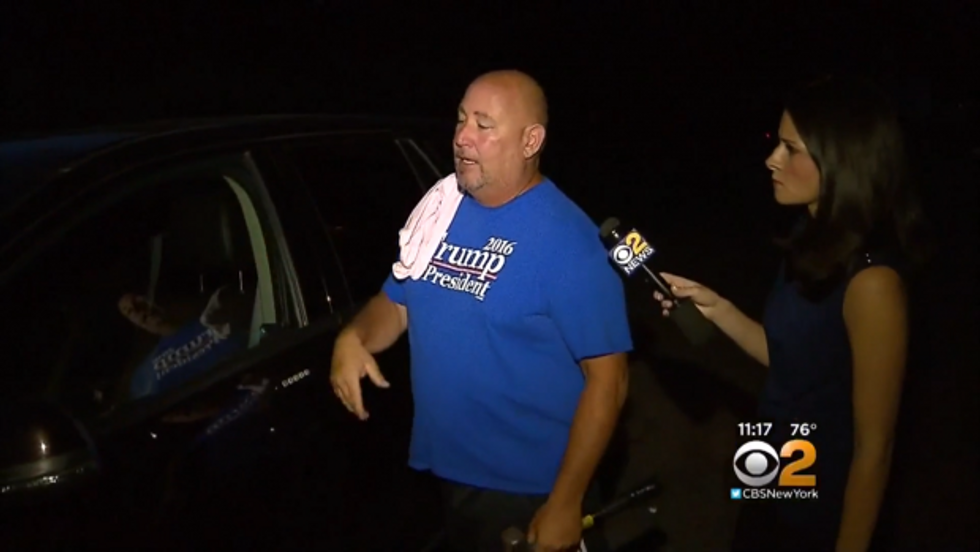 Retired New Jersey police officer Steve Eckel (WCBS-TV)
According to the good Samaritan, it was "well over 120 degrees" in the vehicle, which was sitting in a Khol's parking lot, when he went in to get the infant.
Eckel, a retired Middlesex County Sheriff's Office sergeant, said it was his fatherly instincts that kicked in when he and another bystander saw the small child locked in the car by herself.
"She was sweating, crying," he told the local station, still holding a little pink onesie from the rescue. "Her hands were out in the car. She was screaming so loud you could see her eyes rolling back."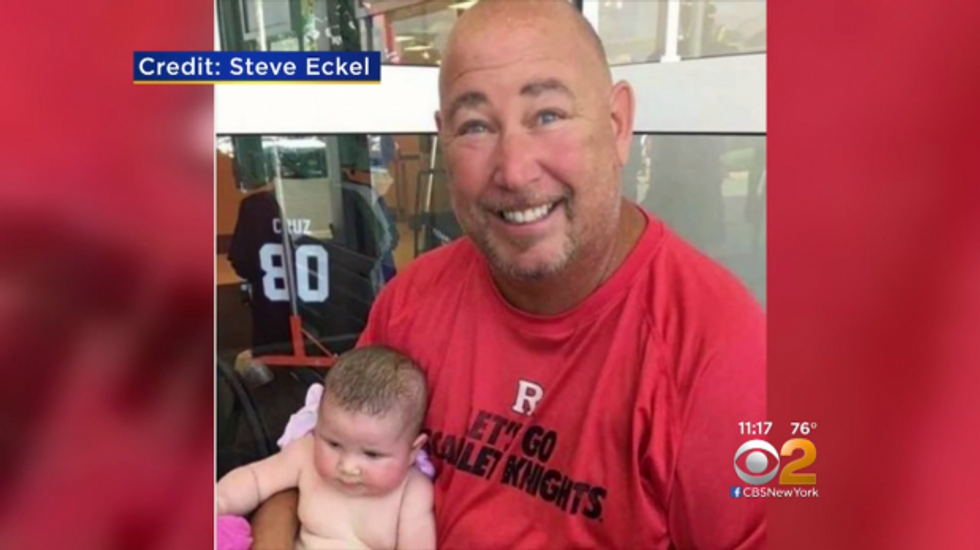 Eckel and the 4-month-old baby he rescued Monday in northern New Jersey. (WCBS-TV)
As soon as he noticed the baby, Eckel raced back to his own car, remembering he had a sledgehammer in the trunk. Once he broke through the glass, the former police officer was able to rescue the severely overheated child, who was beet red and drenched in sweat.
"I almost started to cry, I felt really emotional at that point," he said.
According to police, the mother was inside the store shopping for roughly 40 minutes before she returned to her car. When she came outside and noticed the broken window and empty car seat, she started panicking.
Eckel recalled the mother said, "'Oh my God, where's my baby?' And the cop said, 'Oh, you're the mother? OK, let's have a seat.'"
Karen Gruen, the 33-year-old mother, was arrested by police and charged with endangering the welfare of a child.
"She should plead guilty and get some probation and realize that you just don't do this," Eckel said.
Watch the interview with Eckel below:
—