The National Football League has to be loving this.
In the landscape of meaningless preseason games, Thursday night's contest featuring the San Diego Chargers hosting the San Francisco 49ers has all the makings of major media event.
Not for what happens after kickoff, mind you — but for what takes place before all that.
Because during pregame ceremonies, all eyes will be on 49ers quarterback Colin Kaepernick — who's reportedly starting the contest.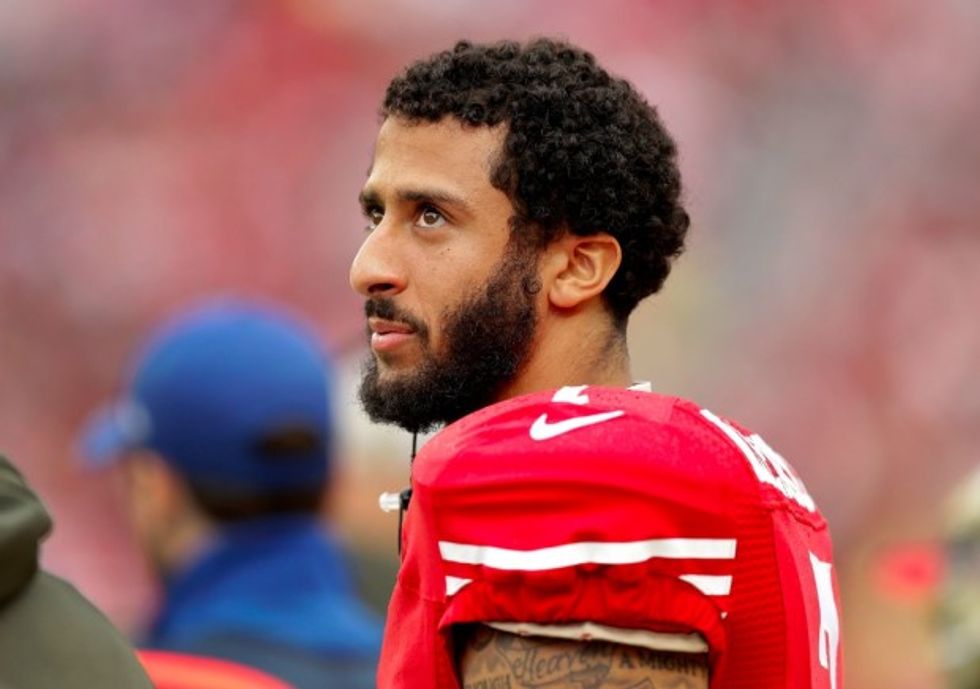 In this Nov. 8, 2015, file photo, San Francisco 49ers quarterback Colin Kaepernick stands on the field during an NFL football game against the Atlanta Falcons in Santa Clara, Calif. (AP Photo/Ben Margot, File)
And the big question: Will he sit out the National Anthem again?
He's promised to do so for as many games as it takes until things get better for blacks and people of color in America.
But given what's on tap for the pregame, sitting out "The Star-Spangled Banner" may prove a tougher-than-normal task in San Diego — because that's when the Chargers are holding a Salute to the Military.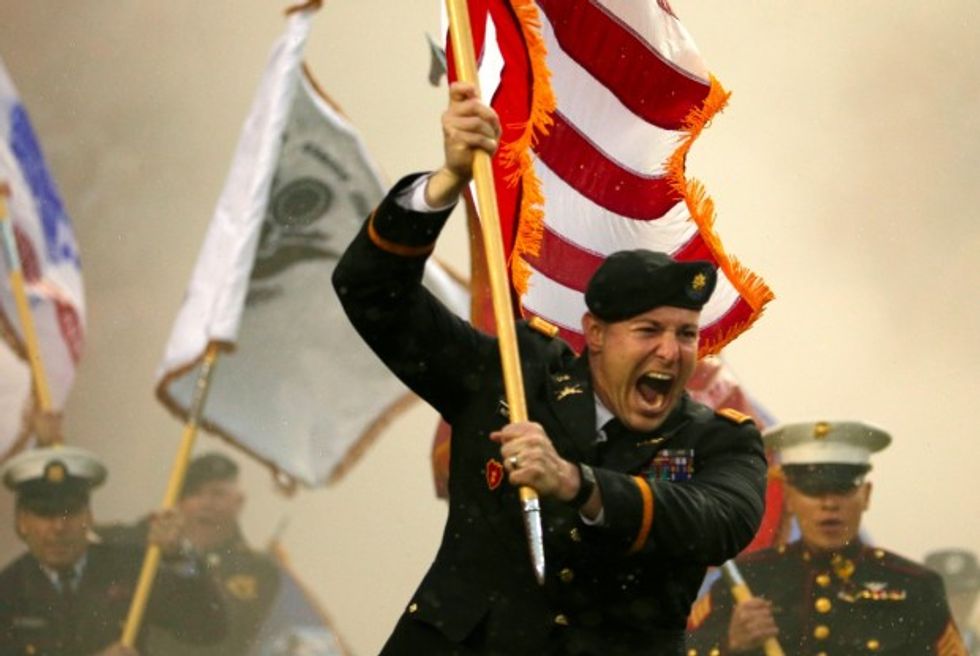 Service members run onto the field before an NFL football game between the Kansas City Chiefs and the San Diego Chargers, during the salute to service military appreciation month in Kansas City, Mo., Sunday, Dec. 13, 2015. (AP Photo/Charlie Riedel)
This game is heavily attended by service members and veterans, KSWB-TV reported, and will include the Leap Frogs parachuting into Qualcomm Stadium before the 10 p.m. ET scheduled start — as well as a Navy sailor singing the anthem.
Since Kaepernick sat out the anthem last Friday and his actions went viral, he's had his jersey burned in effigy and was criticized by other NFL members, Republican presidential nominee Donald Trump, a Gold Star mom — and even his own birth mother who gave him up for adoption when he was an infant.
But others have come to his defense, including NFL legend Jim Brown and NBA icon Kareem Abdul-Jabbar — and perhaps most important of all, veterans.
KSWB noted several messages:
A man describing himself as an Air Force veteran wrote: "I'm with @Kaepernick7. I'm a vet. I care about people's right to take a stand. It makes us better & smarter."

Sunny Anderson, Food Network personality and a veteran tweeted: "I took an oath & served, so players on a team I don't even like could have freedom of speech."

Another tweeter listed where his military career had taken him: "West Point, Ranger School, Kosovo, Iraq, Bronze Star. @Kaepernick7 is an American hero."
Here are some from #VeteransForKaepernick:
I serve for his right to protest.. I don't serve for Police Brutality.. #VeteransForKaepernick pic.twitter.com/Q6GUNTwHDO

— Airbnb Papi (@JoeOnDemand) August 31, 2016
#VeteransForKaepernick because I didn't volunteer to defend a country where police brutality is swept under the rug. pic.twitter.com/LtBkTvHHAn

— Baltic Avenue (@Baltic_Avenue) August 31, 2016
@Kaepernick7 I served 25yrs in the AF to protect everyone's 1st Amend rights. I support you #VeteransForKaepernick pic.twitter.com/Q7r7PfvryA

— Nicole (@dcmbrdiva) August 31, 2016
Folks sleep if they think Kap's movement ain't about to shake the nation... pic.twitter.com/4L2ZToylSV

— J.A.H. (@CookTheGreat) August 30, 2016
Salute to you @Kaepernick7 you the real hero #VeteransForKaepernick pic.twitter.com/o6MqPtz4dz

— Esquire (@Marc_withdaC) August 31, 2016
Kaepernick has said his controversial stance isn't meant for military members.
"I have great respect for the men and women that have fought for this country," Kaepernick said Sunday. "I have family, I have friends that have gone and fought for this country. And they fight for freedom, they fight for the people, they fight for liberty and justice, for everyone. That's not happening. People are dying in vain because this country isn't holding their end of the bargain up, as far as giving freedom and justice, liberty to everybody."
UPDATE 11:51 p.m. ET: As expected, Kaepernick didn't stand for the National Anthem in San Diego.
This story has been updated.