STATE COLLEGE, Pa. (TheBlaze/AP) — Penn State's athletic department on Thursday announced plans to commemorate the 50th anniversary of Joe Paterno's first game as coach, a move that sparked backlash on social networks by people critical of Paterno's role in the Jerry Sandusky child sex abuse scandal.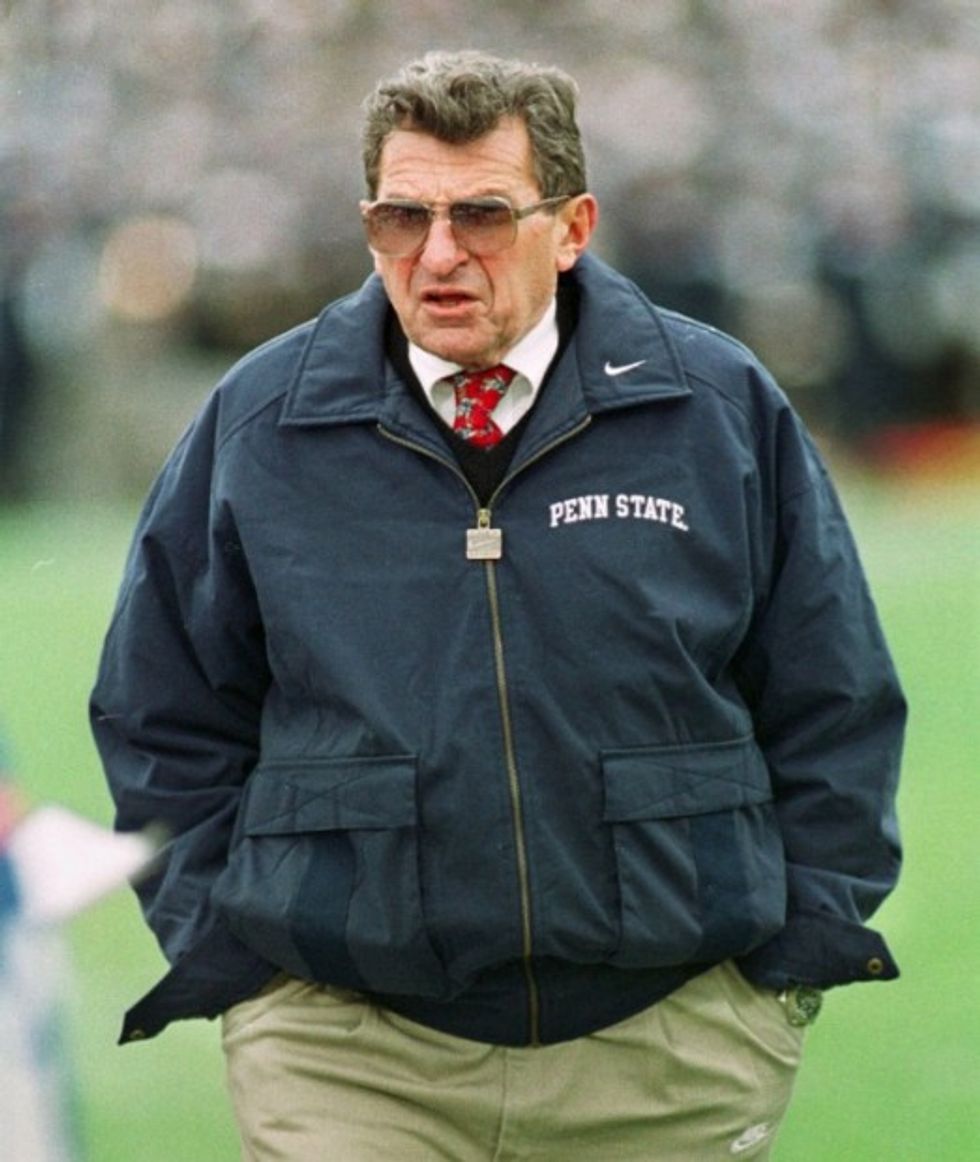 In this Oct. 23, 1999, file photo, Penn State coach Joe Paterno paces the sideline in the first quarter against Purdue in West Lafayette, Ind. (AP Photo/Tom Strickland, File)
The university announced plans Thursday to mark the anniversary when the Nittany Lions football team hosts Temple on Sept. 17.
Paterno coached at Penn State for 46 seasons, becoming college football's winningest coach. But the coach was fired by the school's board of trustees shortly after Sandusky, who was his defensive coordinator, was arrested in November 2011 for child sexual abuse. Paterno died in January 2012 of lung cancer.
The announcement to honor Paterno's first game was met with disdain on social media sites:
"The timing makes it, at the very least, incredibly tone-deaf." - @ESPN_ReceDavis on PSU's plan to honor Joe Paterno https://t.co/2WpxklHRyL

— SportsCenter (@SportsCenter) September 1, 2016
If Penn State feels the need to honor Joe Paterno then allow me to imitate Joe Paterno and look the other way.

— John Fugelsang (@JohnFugelsang) September 1, 2016
Honoring Joe Paterno with a moment of silence? How about honoring him the way he honored those kids, with decades of silence. #HumanGarbage

— Rory Albanese (@RoryAlbanese) September 1, 2016
I'm disgusted at decision by Penn State to honor Joe Paterno. Time doesn't heal... https://t.co/NpxR18EnTH by @BrewStudNo1 via @c0nvey

— SorayaAlcalá (@sorayaalcala) September 1, 2016
Joe Paterno 409 career wins,who looked away while children were being molested will be honored at Penn St. I guess wins are more important!

— brad payne (@bradp50) September 1, 2016
Honor Joe Paterno? How - by having some kids abused on the 50 yard line while everyone in the stadium looks the other way?

— Jeanmarie (@JeanmeF) September 1, 2016
Look PSU is honoring a serial accessory to child rape. https://t.co/EuorZ7qBcB

— Husker Red Pants (@huskerredpants) September 1, 2016
University spokesman Jeff Nelson told The Associated Press that Penn State plans to announce specifics of the commemoration to ticket holders during the week of the game. He declined further comment on the plans.
In May, unsealed court documents said an alleged Sandusky victim said he complained to Paterno about Sandusky in 1976 and was rebuffed. The university's president has said the allegation was not substantiated in court or tested by any other process. Paterno was never charged with a crime related to the scandal.
Sandusky was convicted on 45 of 48 charges in June 2012 and is serving a 30- to 60-year sentence.
Moving forward from the scandal has proven a difficult challenge for Penn State, requiring leaders to balance distancing the university from the scandal while juggling the wishes of ardent Penn State supporters who credit Paterno for giving the university an identity to be proud of.
"Depending on their position people may look at him differently, but it doesn't change that he created that here. Or helped to create that here," Athletic Director Sandy Barbour told the AP in August.
The statue of Paterno was removed from outside Beaver Stadium on July 22, 2012, and university-sponsored signs of him are mostly hard to find. Paterno's name is still on the campus library, which was built in part by his donations.
This story has been updated.