Linc Sample took one look at an ad in the local paper advocating a ban on "assault-style weapons," NECN reported, and the resident of Boothbay Harbor, Maine, had enough.
Sample grabbed some paint and sent a message via a large sign on his front lawn, the Boston Globe reported, that made his feelings crystal clear: "Black Rifles Matter, YES we have em, NO you can't take em."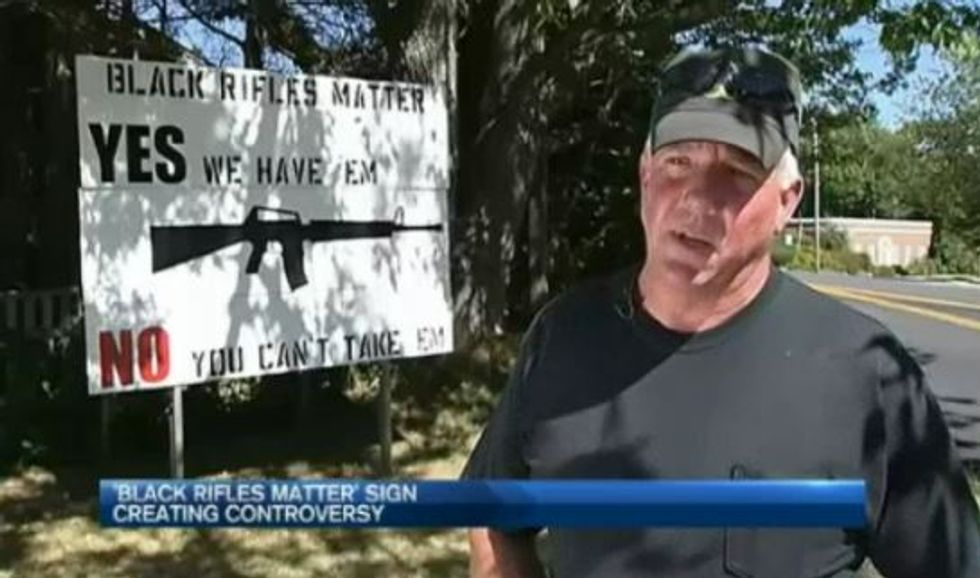 Linc Sample (Image source: NECN)
"That's really a trigger for me," Sample told NECN of the newspaper ad that riled him up.
While Sample told the station that his sign addresses only gun rights, others took offense at his play on Black Lives Matter.
"We have received a few complaints from visitors to the region," Boothbay Region Chamber of Commerce Director Rick Prose told NECN.
"Some of these people have cut their vacation short and left early," Town Manager Thomas Woodin added to the station.
"People are ignorant. They shouldn't be putting things out like that," Connecticut visitor Paul Mayor told NECN. "It's taking a shot obviously at Black Lives Matter."
But tourist Jeremy Plasse, who opposes a weapons ban, shared a different view with the station: "I think they're doing the right thing."
In fact, Prose told the Globe he got three phone calls and an e-mail from those wanting to visit because they agree with the sign.
Sample was taken aback by the controversy: "If anything, they should be flattered I used the phrase."
His sign changes often. Sample posted an image of the original "Black Rifles Matter" sign on his Facebook page in July —
— but a month later someone apparently wanted to augment the message:
So Sample joined in on the act and changed the "Black Lives Matter" addition:
And then on Tuesday, after the controversy shot from the quaint New England tourist town to a national stage, Sample changed his sign yet again. (Content warning: Profanity):
Here's a video report from NECN: