Donald Trump, Jr., son of Republican presidential nominee Donald Trump, employed Skittles in a tweet Monday night to explain the Syrian refugee crisis to his social media followers.
"If I had a bowl of skittles and I told you just three would kill you. Would you take a handful? That's our Syrian refugee problem," read the ad, which was branded with the official Trump campaign logo at the bottom.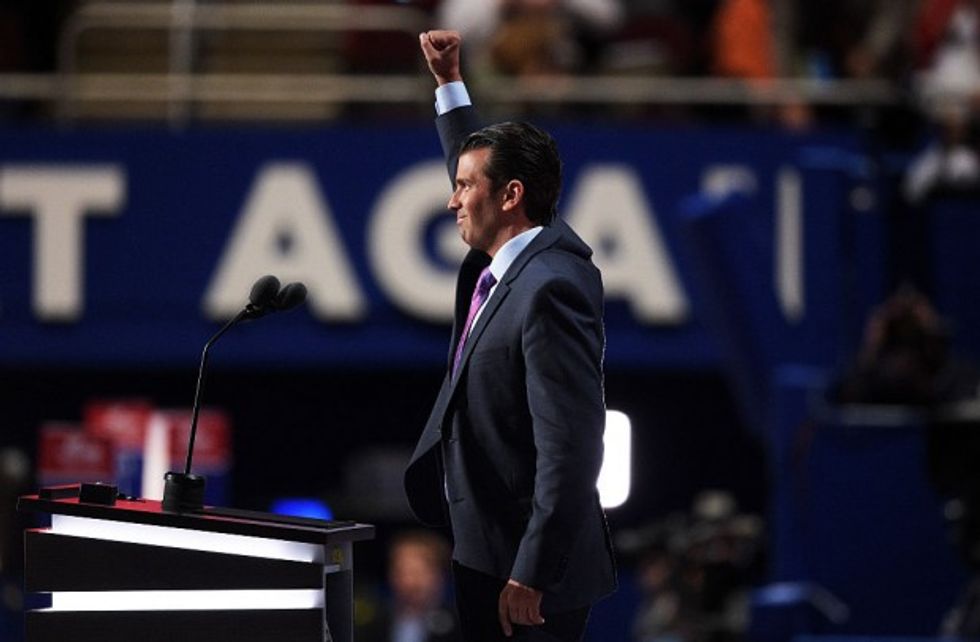 Jeff Swensen/Getty Images
According to his caption, the younger Trump feels the ad is the perfect explainer to the complex issue currently facing the U.S. and many other nations around the world.
This image says it all. Let's end the politically correct agenda that doesn't put America first. #trump2016 pic.twitter.com/9fHwog7ssN

— Donald Trump Jr. (@DonaldJTrumpJr) September 19, 2016
However, as the analogy circulated the internet, it quickly became the subject of intense scrutiny, most notably from President Barack Obama's former chief speechwriter Jon Favreau, who reminded Trump, Jr., of 5-year-old Omran Daqneesh, the young Syrian boy whose photo went viral last month.
Hey @DonaldJTrumpJr, this is one of the millions of children you compared to a poisoned Skittle today: https://t.co/SDSGw0eUIP pic.twitter.com/HuhY9RGvWW

— Jon Favreau (@jonfavs) September 20, 2016
Nick Merrill, Democratic presidential nominee Hillary Clinton's traveling press secretary, described the tweet as "disgusting."
This is disgusting. https://t.co/Qygl03Cnc1

— Nick Merrill (@NickMerrill) September 20, 2016
Here are some other responses:
how about this? wanna laugh about this? wanna compare this to skittles? @DonaldJTrumpJr pic.twitter.com/aMTIaVHjey

— Rawan (@rawan) September 20, 2016
That last RT from @DonaldJTrumpJr shows you the moronic anti-immigrant fear mongering the Trumps love. Immigrants are not coming to kill us.

— Touré (@Toure) September 19, 2016
@DonaldJTrumpJr Skittles are terrible, your analogy is terrible, and you are terrible.

— Jonah Keri (@jonahkeri) September 20, 2016
10s of thousands of Syrian children have been killed in the war. They aren't Skittles. They're children. Like yours. https://t.co/y51TW9Jeq1

— Jason Sparks (@sparksjls) September 20, 2016
Oh and human beings fleeing oppression and terror aren't skittles. https://t.co/wXK24wvurK

— John Legend (@johnlegend) September 20, 2016
This image says it all. In 1939 900 Jews on ship fm Nazi Germany to USA were sent back. 25% died in Holocaust. Not skittles @DonaldJTrumpJr pic.twitter.com/vbvQMFYquF

— Malcolm Nance (@MalcolmNance) September 20, 2016
–
Follow the author of this story on Twitter: