The latest Anthony Weiner sexting scandal reportedly involves a 15-year-old girl, lewd messages over various applications and rape fantasies.
According to the Daily Mail, Weiner began an online relationship with a teenager — whose name has been withheld because she is a minor — around January that lasted until July. Over time, their online relationship progressed through Twitter direct messages, Facebook messenger, Skype and Confide, an encrypted app that deletes messages after they have been read.
During the relationship, Weiner allegedly encouraged the girl to undress over Skype and sent lewd photos and pornographic videos. The pair also pretended to role-play as a teacher and school girl and discussed his "rape fantasy," the report said.
According to the messages accumulated by the Daily Mail, Weiner, 51, was aware that he was corresponding with an under-age girl.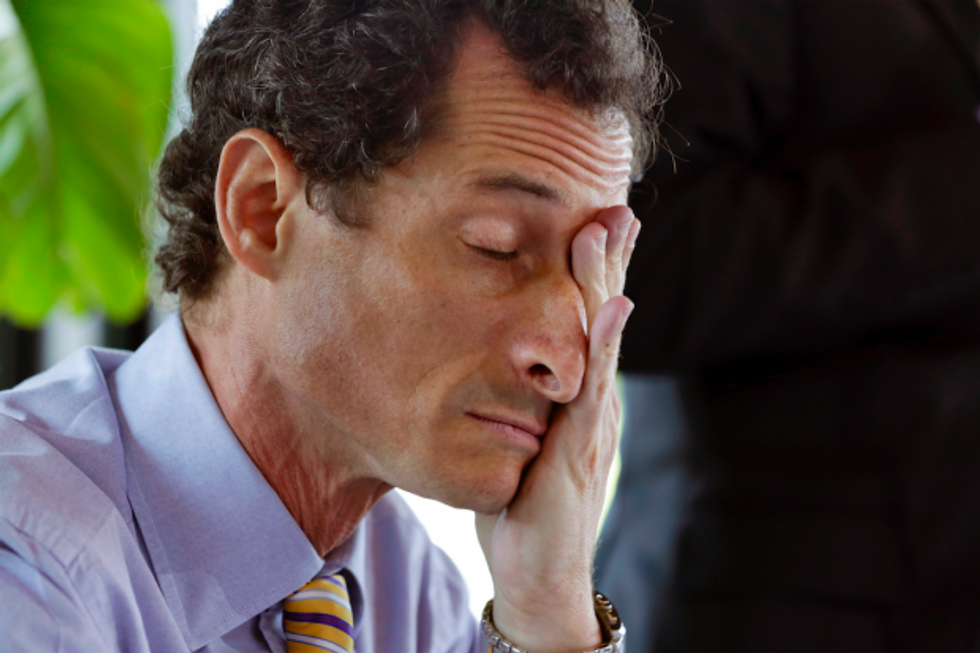 Former New York Democratic Rep. Anthony Weiner. (AP Photo/Richard Drew, File)
"He had some rape fantasies," the young woman told the Daily Mail. "It would just be him showing up at my house when my dad was out of town. And just start undressing me, being forceful, asking me if I want to be dominated, strange questions."
She told the newspaper that once she told the former congressman that she was uncomfortable with his fantasy, he apologized and changed the subject.
The Daily Mail reported that Weiner declined to discuss the specifics of the 15-year-old's allegations, but he did hand over two emails from the young woman to showcase the doubts he has about her claims.
"I have repeatedly demonstrated terrible judgement about the people I have communicated with online and the things I have sent. I am filled with regret and heartbroken for those I have hurt," Weiner, whose multiple inappropriate online relationships resulted in wife, Huma Abedin, separating from him last month.
The paper published multiple screenshots of the alleged communications between Weiner and the teenager in which both oftentimes steered the conversation in a more sexual manner.
In one message, the embattled congressman told the teenager he was "hard" as he was thinking about her.
In another message sent through Confide, Weiner told her that he "would bust that tight p***y" and later promised in a separate message that she would "limp for a week."
Weiner also sent multiple photos of himself to the teenager — some shirtless and others with his young son. The high school student told the Daily Mail that Weiner never fully undressed but would occasionally be shirtless in just boxers during their video chats.
However, he would allegedly ask her to masturbate during their Skype chats and to "say his name as [she] was touching [herself]," the Daily Mail reported.
"He would ask me to take my clothes off," she said, adding, "He would just have his shirt off. Sometimes he would grab his lower region, but that was about it."
Other times, Weiner allegedly would ask the girl to dress up in a plaid skirt and pretend that he was her teacher.
"And he'd talk about me sitting in the front of his class, and him taking me after school," the high schooler claimed.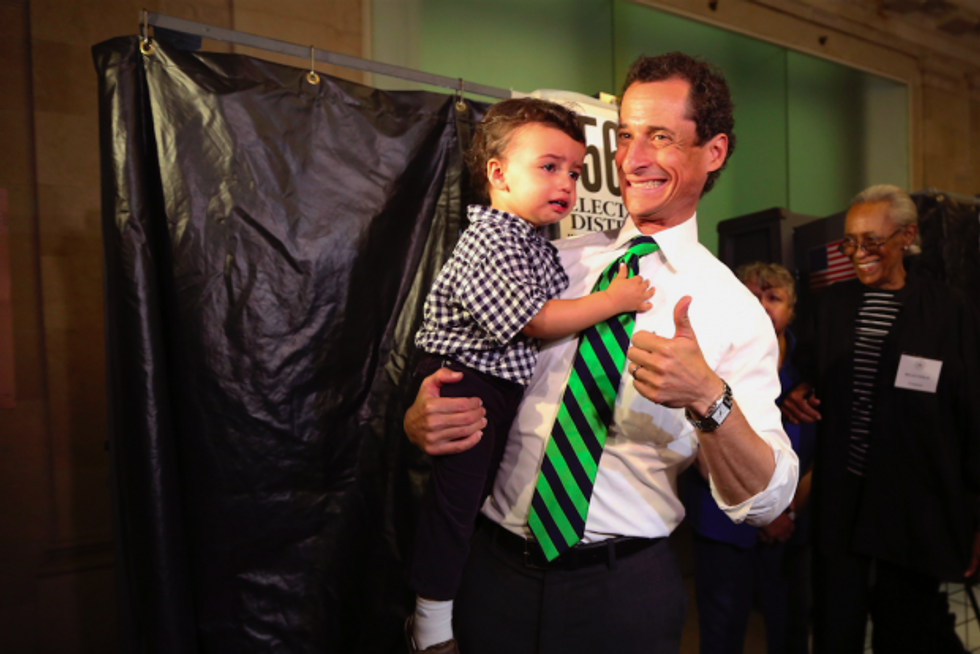 Former Democratic mayoral hopeful Anthony Weiner holds his son Jordan as he leaves the voting booth after casting his vote at his polling station during the primary election in 2013. (AP Photo/Mary Altaffer)
The teenager, who spoke to the Daily Mail with her father, said that she was speaking out in order to share her story in case Weiner could be sexting with other underage girls.
"If there's anybody out there that has a similar story that they can come forward, maybe use my daughter's example to have the courage to come forward," the girl's father told the Daily Mail. 
She also said that she was "disgusted" when a lewd photo of a shirtless Weiner in bed with his son was leaked. Weiner reportedly sent the image to a woman who is not his wife.
The Daily Mail reported that the family does not intend to press charges against Weiner as the teenager said the relationship was consensual. Her father told the Daily Mail that he agreed not to press charges in order to protect his daughter's "mental health."
However, he did warn that if he ever saw Weiner in person, he would end up in prison as "there wouldn't be any words" spoken between the two.
NYPD Commissioner James O'Neill told the New York Daily News he was not aware of any allegations against the former congressman.
—