A disturbing video shows a little girl attempting to wake her mother after the woman had allegedly passed out from drug use.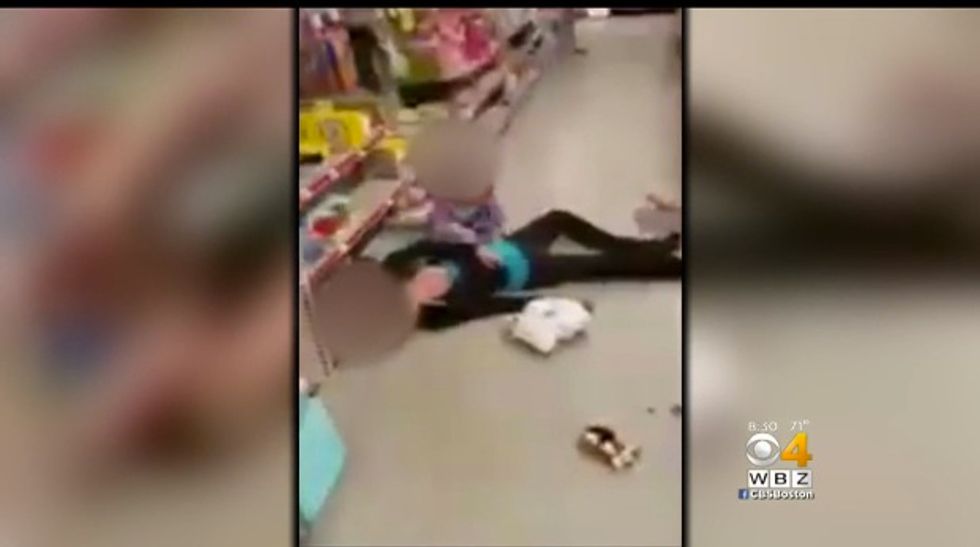 Girl attempts to wake her mother who had passed out (Image source: WBZ-TV)
According to WBZ-TV, an unidentified woman passed out at a Family Dollar in Lawrence, Massachusetts, Sunday morning. Her 2-year-old daughter began to cry and attempted to revive her.
A store clerk called 911 and paramedics administered Narcan, which is used to treat opiate overdoses.
"It's very disturbing to see someone like this. It's obvious addiction has overtaken them, to the point of not being able to care for their child," Police Chief James Fitzpatrick told WBZ, adding that the woman will be charged with child endangerment.
"She's lucky to be alive," he added.
The cheif said that, though it's troubling that an onlooker recorded the incident rather than calling for help, the video can help teach a lesson about the dangers of drug addiction.
"People who are thinking about or dealing with addiction issues, think what it's like to have this type of narcotic in your system and what it does to you," Fitzpatrick said.
Police have not named the woman in the video but did say she a 36-year-old from Salem, New Hampshire.
—
Follow the author of this story on Twitter and Facebook: