Despite promising he wouldn't just two months ago, Republican presidential nominee Donald Trump accepted formal rival Sen. Ted Cruz's endorsement Friday.
Trump said Friday afternoon that he is "greatly honored" by the Texas senator's endorsement.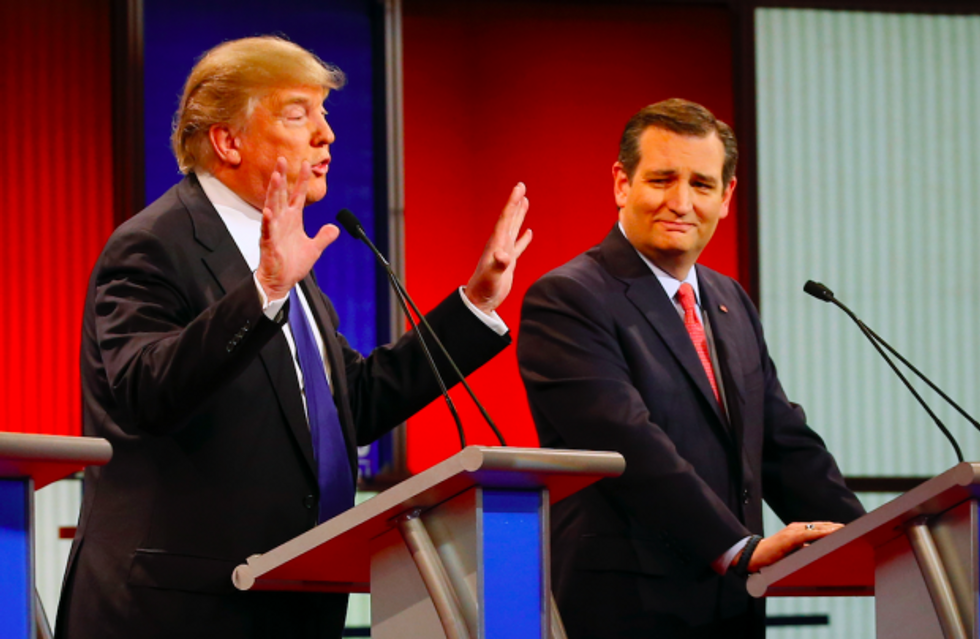 Former Republican presidential candidate Sen. Ted Cruz (Texas) reacts as businessman Donald Trump speaks during a Republican presidential primary debate at Fox Theatre in March. (AP Photo/Paul Sancya)
"We have fought the battle, and he was a tough and brilliant opponent," Trump said in a statement shortly after the announcement. "I look forward to working with him for many years to come in order to make America great again."
The two men had a contentious relationship on the campaign trail as they battled for the GOP nod. Aside from trading jabs, Trump told supporters at his party's July convention that he would not accept an endorsement from Cruz should it come.
"He'll come and endorse because he has no choice. But I don't want his endorsement," Trump said after Cruz's snub at the convention. "What difference does it make? I don't want it."
Trump also said then that Cruz "may have ruined his political career."
But on Friday, Cruz reversed course and announced that he would vote for the Republican nominee in order to defeat Democratic presidential contender Hillary Clinton and honor the pledge he signed with the Republican National Committee.
—