Omarosa Manigault, director of African-American outreach for Donald Trump's presidential campaign, tore into an MSNBC anchor Monday night for raising questions about so-caller birtherism ahead of the first presidential debate.
"Believe me, the birther issue is not the top issue," Manigault told anchor Chris Hayes. "We have young black men being killed in the country, we have people rioting in the streets of Charlotte and you wanna start with birther? Shame on you."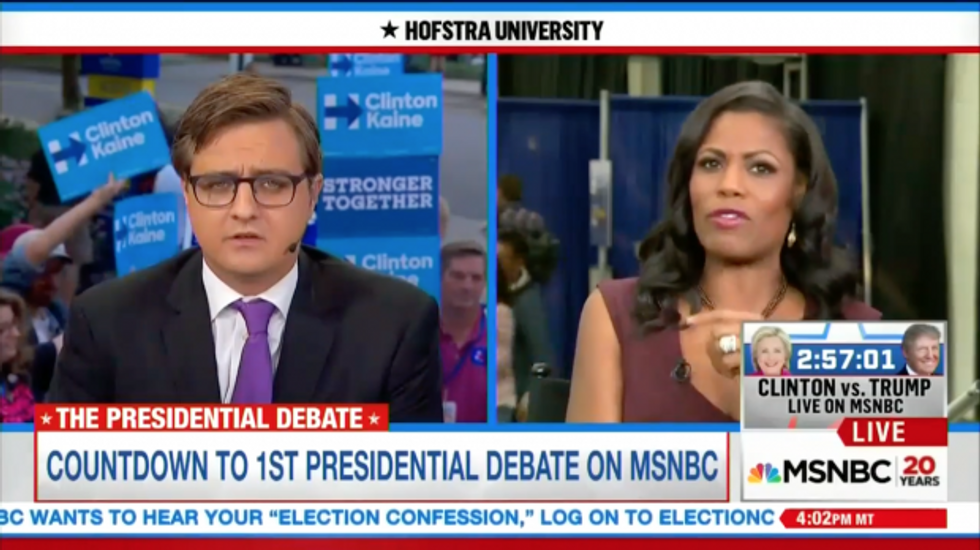 MSNBC
The former "Apprentice" star seemed surprised the MSNBC host would ask about birtherism, which questioned where President Barack Obama was born and catapulted to the national stage when Trump raised the issue several years ago. Manigualt said Trump has since put the issue "to bed."
But Hayes, who appeared to become frustrated with the Trump surrogate, continued attempting to press Manigault on the matter.
"They're not talking about birther issues," Manigault told Hayes of voters in her hometown, Youngstown, Ohio. "They wanna know how they're going to fill their prescriptions and fill their gas tanks. They don't wanna talk about some conspiracy theories you all are floating around."
"They're talking about how they're going to feed their family, where they're going to send their children to school, whether they're going to be safe, whether there's going to be a job for them when they show up for work," she continued. "So you wanna talk about birthers — let's talk about the fact that tonight is a big issue for Donald Trump, and he is ready."
Hayes told Manigault the birther issue "originated" with Trump, questioning the Republican presidential nominee's "judgement," which immediately led the Trump backer to bring up issues of preparedness with Hillary Clinton.
"What judgement is a woman who doesn't know what a classified email is?" she said. "If [Clinton] doesn't know what a classified email is, does she qualify to be the president of the United States? ... Is a woman that puts a server with national security details in the basement of her home qualified to be president?"
She instructed Hayes to lead a "serious discussion" about "real issues" instead of talking about topics intended to "chop down my candidate."
Watch the intense segment below:
—
Follow the author of this story on Twitter: