Fox News host Megyn Kelly took to Twitter Friday to challenge Democratic presidential nominee Hillary Clinton to come on her show for an interview.
But she went a little further than that.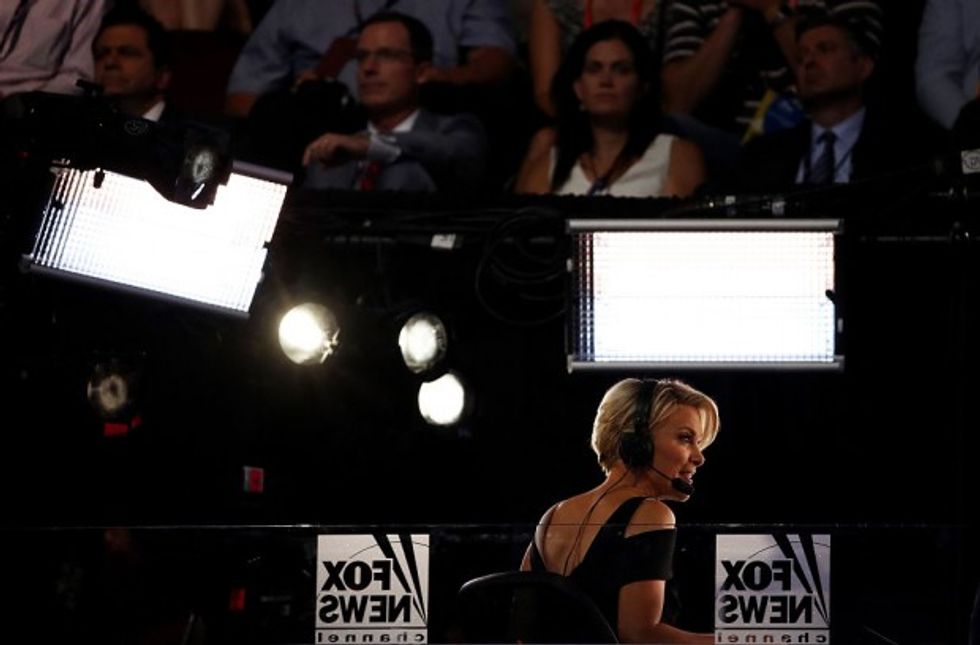 Fox News host Megyn Kelly reports during the evening session on the fourth day of the Republican National Convention on July 21, 2016 at the Quicken Loans Arena in Cleveland, Ohio. (Win McNamee/Getty Images)
Kelly noted that Clinton recently did an interview with R&B singer Mary J. Blige and argued that Clinton should grant "The Kelly File" an interview rather just than using her name to criticize Republican presidential nominee Donald Trump.
Yes, @HillaryClinton, do 30 min w/@maryjblige, & then perhaps u will finally sit w/me, instead of just using my name to hit @realDonaldTrump https://t.co/5T9Dhwk2s1

— Megyn Kelly (@megynkelly) September 30, 2016
Kelly then retweeted others challenging Clinton to take her up on the offer.
Do it, HRC! Megyn Kelly interview! https://t.co/R0KclA4Y6n

— Rick Newman (@rickjnewman) September 30, 2016
I'm all for this. I think @megynkelly interviewing @HillaryClinton would be a great idea! https://t.co/VV8HzAqAIq

— Liesel Burks (@lburks226) September 30, 2016
After the first presidential debate Monday, Kelly interviewed Clinton campaign press secretary Brian Fallon and asked him why Clinton has yet to appear on her show.
"Hillary Clinton went on record and called yours truly a 'superb journalist' when Trump was attacking me," Kelly said. "Why won't she come on 'The Kelly File'?"
Fallon said he agreed with Clinton's assessment of Kelly "one-thousand percent" and it is "only a matter of time" before Clinton will come on her show for an interview.
"I'm gonna go back right after I walk off this platform here and make the case that we need to get her on the show," he said.
—
Follow the author of this story on Twitter and Facebook: