NFL quarterback Colin Kaepernick of the San Fransisco 49er's has lead the protests against the national anthem after he took a knee during a pre-season game last month. Kaepernick said he is protesting fatal police shootings of black men in America.
But one fellow NFL player — Ha Ha Clinton-Dix, a safety with the Green Bay Packers — is taking a different approach to the controversial issue.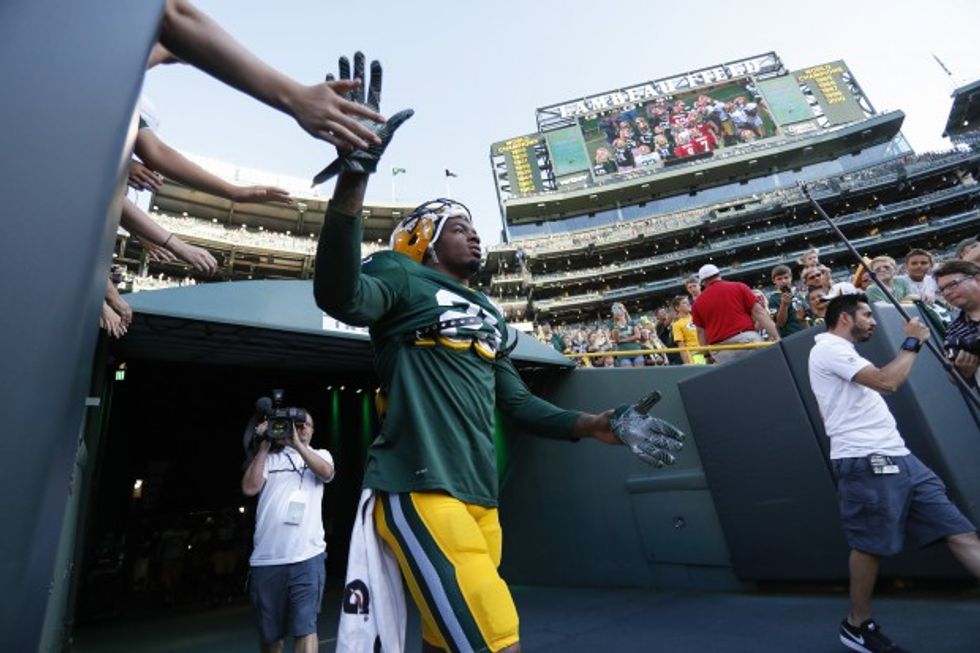 Green Bay Packers free safety Ha Ha Clinton-Dix during NFL football training camp, July 31. (AP Photo/Matt Ludtke)
According to ESPN, the third-year player earlier this year re-enrolled at the University of Alabama to complete his degree in criminal justice.
"I understand what's going on in this world," Clinton-Dix told ESPN. "But cops have to go home at the end of the day. They have a family. They have to go home, too."
"Growing up where I'm from, some people are afraid of cops. They don't really like cops. And what a lot of people don't realize is, they're really not the bad guys," he added. "They're really on our side, they're really trying to help us out. And sometimes, we don't understand that."
He continued:
I went into criminal justice because I want to learn more about the law, about what's going on in this world, and be a mentor to kids from where I'm from. To [help them] understand that the law isn't against you, it's actually for you.

You have to put yourself in people's shoes in certain situations because you don't know what people really think or what they're really going through. I feel for the cops, I feel for us as a society as a whole, period. I just hope we can find peace and justice and get back to getting better in this world. That's how it was going. We were getting better. And I just hope it goes back to that way.
Prior to re-enrolling in January, Clinton-Dix had 26 credits left before being eligible to graduate. He took classes through the summer but decided to take a break this fall to worry about his day job — playing professional football each Sunday for the Packers.
He plans to resume his studies in January and graduate next fall.
(H/T: IJR)
—
Follow the author of this story on Twitter and Facebook:
[facebook //www.facebook.com/plugins/like.php?href=