MOSCOW (AP) — President Vladimir Putin on Monday suspended a deal with the United States on the disposal of weapons-grade plutonium, once a symbol of U.S.-Russian rapprochement that has fallen apart amid tensions over Ukraine, Syria and other disputes.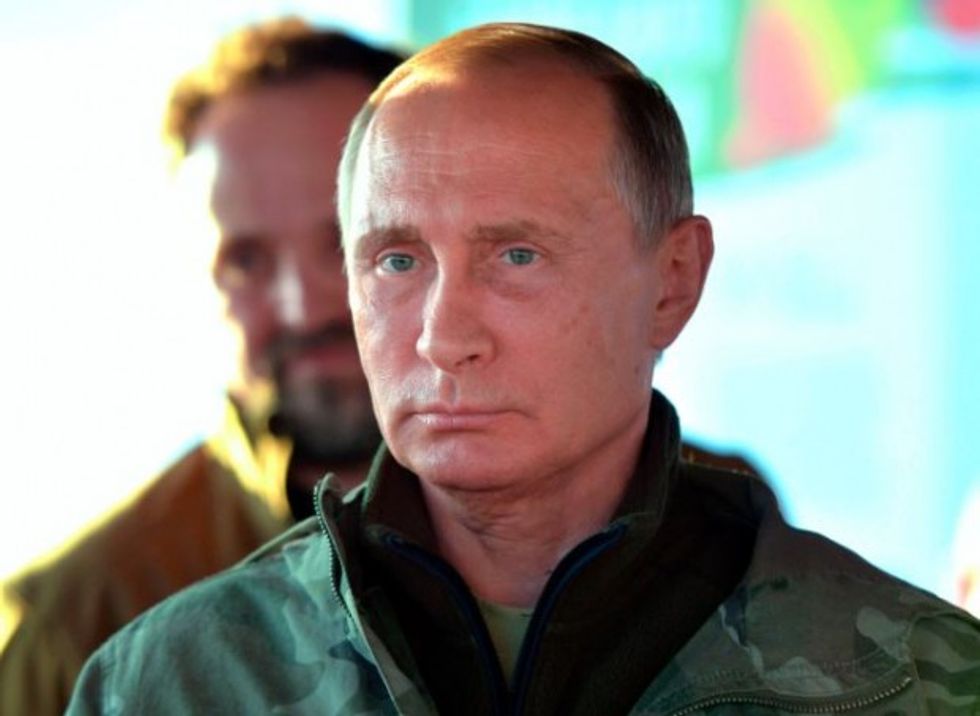 Russian President Vladimir Putin visits a reserve for wild horses near the Urals city of Orenburg, about 1300 kilometers (800 miles) southeast of Moscow, Russia, Monday, Oct. 3, 2016. (Alexei Druzhinin/Sputnik, Kremlin Pool Photo via AP)
A strain in ties between the former Cold War rivals has escalated in recent weeks followed the collapse of a truce in Syria and the Syrian army's massive onslaught in Aleppo under the cover of Russian warplanes.
Separately, the State Department said it was suspending bilateral contacts with Russia over Syria, following Secretary of State John Kerry's threat to suspend contacts amid new attacks on the city of Aleppo.
Putin's decree cited as reasons for Moscow's move the "emerging threat to strategic stability as a result of U.S. unfriendly actions," as well as Washington's failure to meet its end of the deal. It said, however, that Russia will keep the weapons-grade plutonium covered under the agreement away from weapons programs.
Under the agreement, which was signed in 2000 and expanded in 2006 and 2010, Russia and the U.S. each were to dispose of 34 metric tons of weapons-grade plutonium, enough material for about 17,000 nuclear warheads.
When it was signed, the deal was touted as an example of successful cooperation on nuclear nonproliferation between Washington and Moscow.
Russia said last year it had started up a plant that produces mixed-oxide commercial nuclear reactor fuel known as MOX from weapons-grade plutonium. Meanwhile, the construction of a similar U.S. plant in South Carolina has been years behind schedule and billions of dollars over budget.
The U.S. administration wants to cancel the Savannah River Site's MOX project and use an alternative method for disposing of excess plutonium.
Putin pointed to the stalled plant construction earlier this year when he accused the U.S. of failing to meet its end of the deal. He also argued that the policy change would give the U.S. "return potential," or a chance to recycle the material back into the weapons-grade plutonium.
"Russia has been observing the agreement unilaterally for quite a long time, but now it no longer sees such a situation as possible amid the tensions," Putin's spokesman Dmitry Peskov said.
Sergei Kiriyenko, head of the state-controlled Rosatom nuclear corporation, said Monday that while MOX makes sure that weapons-grade plutonium can't be used for any military purposes, the U.S. intention to dilute and stockpile the material means "it could be dug up again."
Commenting on Putin's move, the Russian Foreign Ministry said the U.S. has "done all it could to destroy the atmosphere encouraging cooperation," citing U.S. sanctions on Moscow over the Ukrainian crisis and deploying NATO forces near Russian borders.
"We would like to bring Washington back to understanding that it can't introduce sanctions against us in areas where it's quite painless for the Americans, and at the same time continue selective cooperation in areas it sees as advantageous," the Foreign Ministry said.
It emphasized that Moscow was suspending the deal and not annulling it altogether, adding it would be ready to restore the plutonium agreement if the U.S. takes Russian concerns into account.
In a draft bill on suspending the plutonium agreement sent to parliament, Putin specified the document could be restored if the U.S. reverses its moves to deploy its forces near Russia's borders and pulls them back to areas in Europe where they were in 2000.
He added that the U.S. should also "renounce its unfriendly policies" by revoking anti-Russian sanctions and compensating Russia for the damage incurred by them and by "putting forward a clear plan for the irreversible disposal of the weapons-grade plutonium in line with the agreement."
Other U.S.-Russian nuclear deals still stand, including the pivotal New START nuclear arms reduction treaty that limited the number of deployed strategic nuclear warheads to 1,550 for each country.
In its statement, the State Department said Russia had not lived up to the terms of an agreement last month to restore the cease-fire in Syria and ensure sustained deliveries of humanitarian aid to besieged cities.
As part of the suspension, the U.S. is withdrawing personnel that it had dispatched to take part in the creation of a joint U.S.-Russia center to coordinate military cooperation and intelligence if the cease-fire had taken hold. The suspension will not affect communications between the two countries aimed at de-conflicting counterterrorism operations in Syria.