A St. Louis County police officer was fatally shot Thursday after responding to a call regarding a disturbance.
The officer, who St. Louis County Police have only described as a 33-year-old male, served the county for the past four years, Sgt. Sean McGuire told TheBlaze in an email Thursday morning.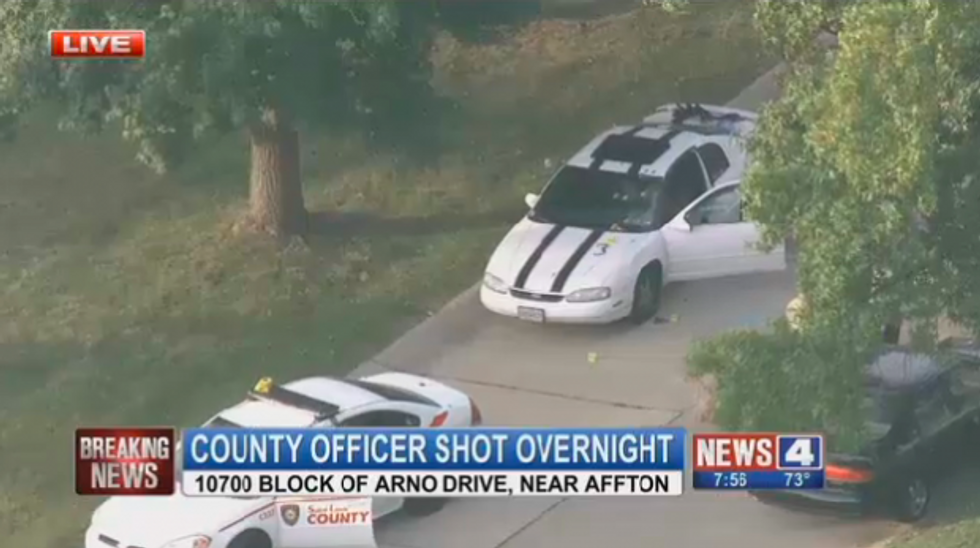 Image source: KMOV-TV
Officers responded around 5:00 a.m. this morning to a disturbance call. "Almost immediately" a suspect opened fire and struck the officer, according to St. Louis County Police.
Another officer returned fire and struck the suspect. Both the officer and suspect were transported to local hospitals for "life-saving treatment."
The suspect was last reported to be in critical condition.
McGuire said this officer's death is the first line of duty death for the police department since 2000.
According to the St. Louis Post-Dispatch, Granada described both of the wounded as being "in bad shape."
A resident of the community where the shooting occurred described the community, Green Park, as a small, middle-class neighborhood that has only recently seen crime, the Post-Dispatch reported. A burglary was reported at a nearby home last week, and approximately a month ago, every car on one street was broken into.
This story has been updated.