With the vice presidential debate and Republican nominee Donald Trump's newest scandal, the writers and actors of "Saturday Night Live" had a lot to cover this weekend. So what better way to cover both events by combining them into one skit?
That's exactly what they did Saturday night.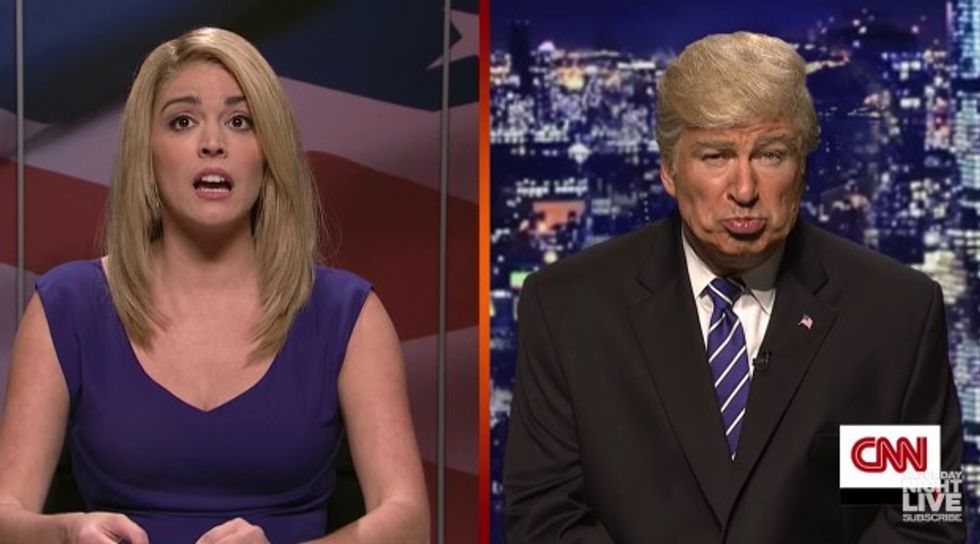 Image source: YouTube
Saturday's "cold open" began as the show recreated last Monday's vice presidential debate between Republican Gov. Mike Pence and Democrat Sen. Tim Kaine.
The two were only able to exchange lines for a minute or two before "breaking news" interrupted the debate. That breaking news was Trump — portrayed by actor Alec Baldwin — speaking about his latest scandal, which centers around leaked audio of Trump speaking in a lewd manner about women in 2005.
"Are you not entertained?" Trump asked.
After the satire-filled segment, the video cut to Democrat Hillary Clinton's campaign headquarters, where she and campaign staff were seen celebrating. Clinton — portrayed by Kate McKinnon — herself even popped a champaign bottle.
"It's a very sad day for all women — minus one," Clinton said, winking to the camera while drinking the champaign.
The skit ends as Trump's character makes crude comments about primary rival Texas Sen. Ted Cruz.
Watch the entire skit below:
—
Follow the author of this story on Twitter and Facebook:
[facebook //www.facebook.com/plugins/like.php?href=