CNN host Jake Tapper confronted Rudy Giuliani, a top surrogate to Republican nominee Donald Trump, during an interview on CNN's "State of the Union" Sunday, over extremely lewd comments Trump made about women in 2005 that were revealed by the Washington Post on Friday.
Tapper labeled Trump's comments as "vile and disgusting," while adding that Trump was "essentially voicing a casual attitude towards sexual assault."
The CNN host pressed Giuliani on why voters should still support or vote for Trump in light of the latest scandal.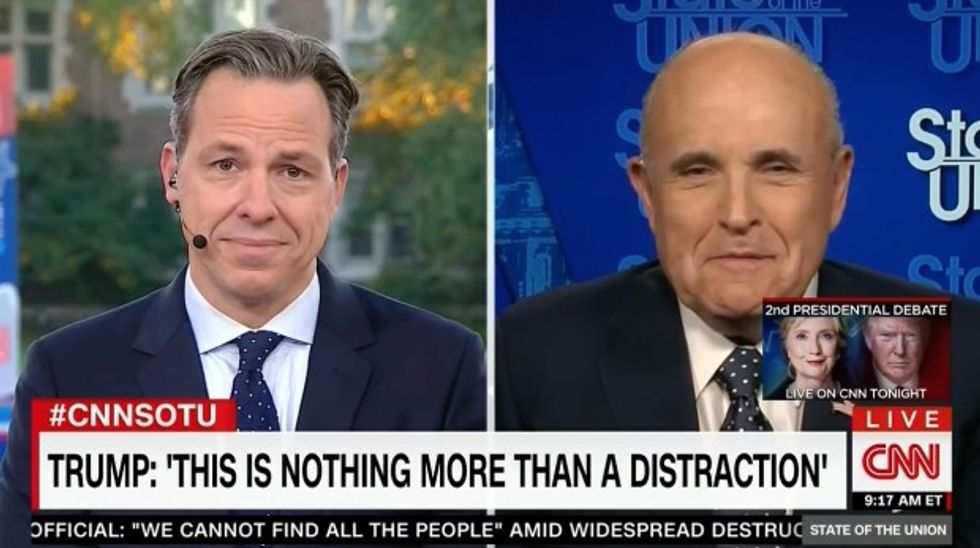 Image source: YouTube
Giuliani characterized Trump's comments as "horrible remarks you don't want to hear from anyone, much less a presidential candidate." But the former New York City mayor said that he doesn't believe those comments "reflect what Trump thinks" today, while noting that Trump apologized for the comments.
"The question is: Is this the one issue on which we should decide [the election]?" Giuliani went on to rhetorically ask, before attempting to turn the interview around and focus on Democratic nominee Hillary Clinton and her shady practices as secretary of state.
However, Tapper wasn't having any of it. He immediately began to press Giuliani once again over Trump's newest scandal, while noting that many people felt like Trump's apology wasn't a real apology.
"He's talking about actions that are sexual assault. He was 59 or 60-years-old when he said it, this wasn't something he said when he was 18 years old," Tapper said. "He's talking about a feeling of entitlement because he's a star. He can go up to women and grab them by the vagina, and it's okay, he won't get in trouble for it. It's really offensive on just a human level. Who did he do this too?"
Giuliani dismissed Tapper's strong words by calling the scandal "just talk," then went on to say that those criticizing Trump might be hypocrites for "throwing stones."
"I will gladly tell you, Mr. Mayor: I have never said that. I have never done that. I'm happy to throw a stone," Tapper shot back. "I don't know any man — I have been in locker rooms, I've been a member of a fraternity; I have never heard any man ever brag about being able to maul women because they get away with it. Never."
"The fact is men, at times, talk like that — not all men, but men do," Giuliani defended.
"You've talked like that?" Tapper interjected.
"I'm not justifying it," Giuliani replied. "I believe it's wrong. I know [Trump] believes it's wrong. I know this is not the man we're talking about today.
The Trump campaign sent Giuliani on nearly the entire Sunday talk show circuit to defend Trump in light of the scandal. He made headlines earlier Sunday after he told ABC's George Stephanopoulos that what Trump was referring to in the leaked audio was, in fact, "sexual assault."
Watch the full interview below:
(H/T: Mediaite)
—
Follow the author of this story on Twitter and Facebook:
[facebook //www.facebook.com/plugins/like.php?href=