When Donald Trump allegedly made sexual advances toward her nearly a decade ago, Summer Zervos wondered if it was a test.
And when she turned him down, she wondered if she had passed.
Zervos, a contestant on fifth season of the Republican presidential nominee's former reality show "The Apprentice" on NBC, is the latest woman to come forward with allegations of sexual misconduct by Trump.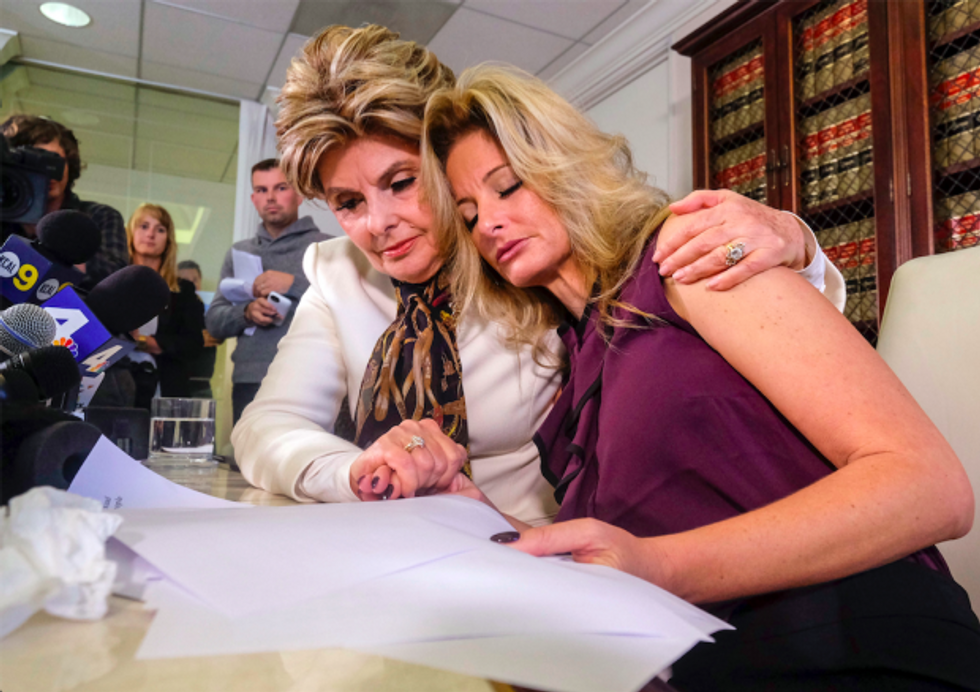 Attorney Gloria Allred comforts Summer Zervos during a news conference in Los Angeles Friday. Zervos, a former contestant on "The Apprentice," says Republican presidential nominee Donald Trump made unwanted sexual contact with her at a Beverly Hills hotel in 2007. (AP Photo/Ringo H.W. Chiu)
Represented by noted feminist lawyer Gloria Allred, Zervos tearfully accused Trump of a variety of sexual misdeeds, including kissing her on the mouth and inviting her into his Los Angeles "bungalow" in 2007 for a business meeting where he allegedly groped her, kissed her and attempted to "[thrust] his genitals" on her.
"I wondered if the sexual behavior was some kind of test and whether or not I had passed," Zervos told reporters in Los Angeles Friday.
Zervos said these alleged inappropriate interactions with Trump began after she asked to meet with the Manhattan businessman while she was in New York City for career advice. After that, Zervos said he referred to her as his "O.C. angel."
Following the pair's alleged interactions, Zervos said she continued to reach out to Trump, hoping to obtain a job in the Trump Organization. Since she had turned down his sexual advances, Zervos said she hoped the two would still be able to have a business relationship.
However, Trump did not give her a job.
"I was disappointed but felt no ill will toward Mr. Trump whatsoever," Zervos said. "During Mr. Trump's fight for the Republican nomination, I saw and heard Mr. Trump nonstop on television and in the news. Customers in my restaurant asked about him as they knew I was a contestant on 'The Apprentice.'"
"I always complimented and never said anything about what he had done at the Beverly Hills Hotel," she continued. "However, this caused me a great deal of pain and anguish and I felt the need to confront Mr. Trump and apologize for his behavior."
Zervos said she reached out to his secretary and campaign in an email in which she allegedly said she wished him the best and let him know that his "interest in [her] as a potential employee meant the world" but let him know that she was "incredibly hurt by" their previous interactions.
An emotional Zervos concluded her testimony with a message to Trump:
Mr. Trump, when I met you, I was so impressed by your talents that I wanted to be like you. I wanted a job within your organization. Instead, you treated me as if an object to be hit upon. I was incredibly embarrassed by your sexual advances and shared this information with a select few people next to me.

Mr. Trump, today I feel that you were interested in me only because you wanted to have a sexual relationship with me and for no other reason. After hearing the released audio tapes and your denials during the debate, I felt I had to speak out about your behavior. You do not have the right to treat women as such sexual objects just because you are a star.
When asked what she hoped to get out of coming forward with her story now, Zervos refused requests to look at the camera and addressed the reporter directly: "I want to be able to sleep when I'm 70 at night."
Allred noted that no litigation has been filed against Trump and there is "no intention of filing litigation at this time."
"Donald, before you can become president of the United States, you must first learn how to treat women with respect," Allred charged during the Friday press conference.
When asked if any political figure or party had influenced Zervos' decision to come forward at this specific moment, Allred simply responded, "She's an adult. She made her own decision."
"I'll just say this," Allred said. "Her contact with me was long before politics were involved."
Zervos also told reporters that she is a Republican and alleged that Trump "urged" her to stop making payments on the mortgage on her house as that is "a mini version of what he does."
She also said that Trump refused to hire her for a position in his organization because "he could not afford" to hire Zervos "as he was laying off thousands of employees."
While Zervos gave her testimony to reporters Friday, Trump addressed the litany of allegations of sexual misdeeds that have come to light over the past week.
"As you have seen, right now I'm being viciously attacked with lies and smears," Trump told supporters at a rally across the country in North Carolina. "I have no idea who these women are. No idea."
Ever since audio of Trump speaking crudely about women in 2005 was leaked, multiple women have come forward to accuse the Republican nominee of sexual harassment or sexual assault.