Veteran journalist Carl Bernstein said Friday that the 2016 presidential election might be "the darkest, most dangerous moment in our history."
Bernstein, known for his role in exposing the Watergate scandal, said during an interview on CNN's "New Day" that Democratic presidential nominee Hillary Clinton would probably lose the election if she were running against anyone but Donald Trump.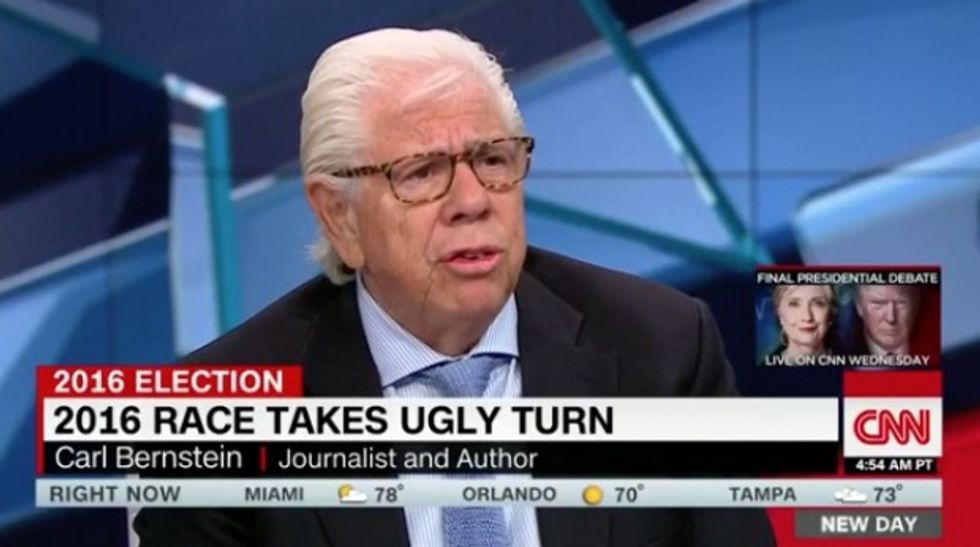 Image source: Twitter/@NewDay
"Hillary Clinton has been a terrible candidate," Bernstein said, adding, "Under other circumstances she would probably lose and you could have a real contest of ideas."
In spite of Clinton's many flaws, Bernstein argued, Trump is worse.
"This is danger, demagoguery from someone who is antithetical to what we believe as a democracy," he said. "It is a time of requiring courage, courage from Republicans, from the right wing."
Bernstein cited Charles Krauthammer and George Will as conservatives who have stood up to Trump.
Host Alisyn Camerota interjected, "Yet so many voters and supporters of Trump just want to talk about jobs."
"They want to talk about the economy. They want to know where they're going to get their next job," Camerota said.
Bernstein replied, "This is why I say Hillary Clinton has been such a bad candidate."
"She allowed Bernie Sanders and Trump to correctly identify the anger at the elites in this country, as well as she was so late to understand the pain of working-class people in this country," he said. "It's as if she were tone deaf."
Bernstein said that Trump is "trying to delegitimize the very democratic system under which we operate, including the election itself."
"It is a fraught moment that requires courage," he said.
.@carlbernstein: "Clinton has been a terrible candidate and under other circumstances she would probably lose" https://t.co/903Yl2JimU

— New Day (@NewDay) October 14, 2016