Hollywood legend Jon Voight is very clear on where he stands in 2016.
The actor released a video on Thursday urging Americans to unite behind the Republican party and support the controversial GOP nominee, Donald Trump.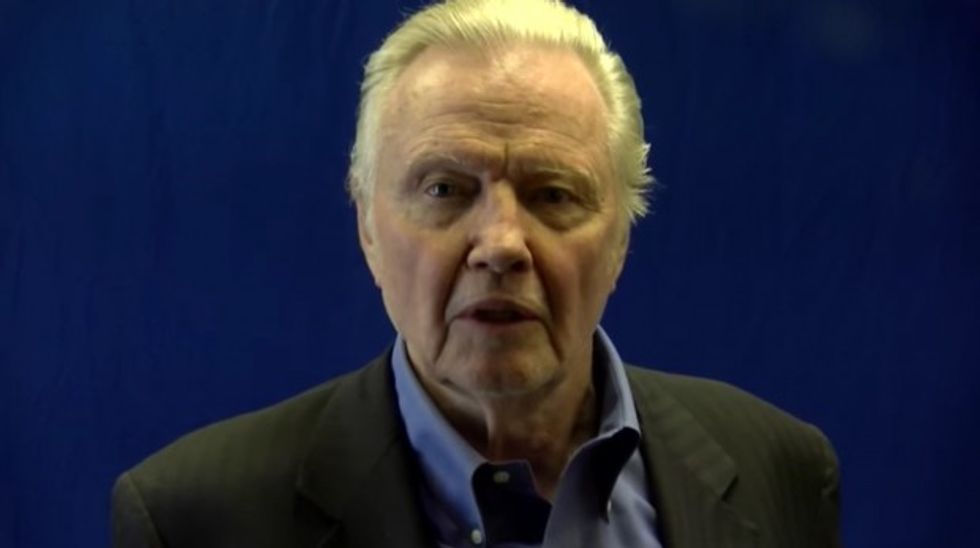 Image source: YouTube
According to Voight, who is an outspoken Republican in a sea of Hollywood liberals, our country is transitioning to one of "tyranny." He cited the increase of racial tensions, radical Islamic terrorism and billionaire investor George Soros, who funds many liberal policy initiatives and backs Democratic campaigns.
"Soros is a billionaire, who made most of his money manipulating currencies and almost bankrupting many countries. He supports hate groups, who are responsible for taking down our cities," Voight says in the video. "And he is a close friend of Hillary Clinton, and a major supporter of her campaign."
Voight also went after fellow Hollywood star Robert De Niro, who recently released a video of his own bashing Trump and lashing out at Voight.
"Robert De Niro is a millionaire, as are so many of our Hollywood stars who are voting for Hillary, and who have absolutely no tolerance for anyone with a different opinion, forgetting that that is what our country is founded on: freedom of choice," Voight said. "But they will not be affected by Hillary's open borders. Only our poor and middle class will suffer."
Voight went on to lament over President Barack Obama's Syrian refugee strategy, Obama's prized healthcare law — Obamacare — and the danger he says Democratic presidential nominee Hillary Clinton poses to the country if she wins the White House in November:
"With Hillary as president, we will lose our Second Amendment right to bear arms. Freedom of religion will be attacked, and Hillary will try to stop all conservative voices on TV and radio. Our highest court will become socialist, and she will restrict what America was founded on, our freedom to become a small business owner and pursue our own personal dreams.

She has blood on her hands from the Benghazi terrorist raid. Four of our American patriots died, and when the parents stood over their loved ones' coffins, she lied to them about the cause of their sons' deaths.

The pendulum of freedom is not balanced. Hillary and her followers are on a crude campaign to stop and degrade all of Trump's followers. Her words were echoed loud and clear for all Americans to hear. Hillary said Trump's followers are a basket of deplorables. They are un-redeemable."
"May God protect the real truth, and may Donald Trump win this presidency," Voight concluded. "He will save our America, and he will certainly make it great again."
Watch his full video below: