For Californians, many leading pornography websites have gone dark — and they're not coming back unless voters shoot down Proposition 60, a state bill mandating adult film performers use condoms.
Those trying to access well-known porn sites will be barred from doing so if they have a California IP address and instead will be greeted with a black screen along with this message: "Access Denied: This is what Californians will see on their favorite porn sites if Proposition 60 passes."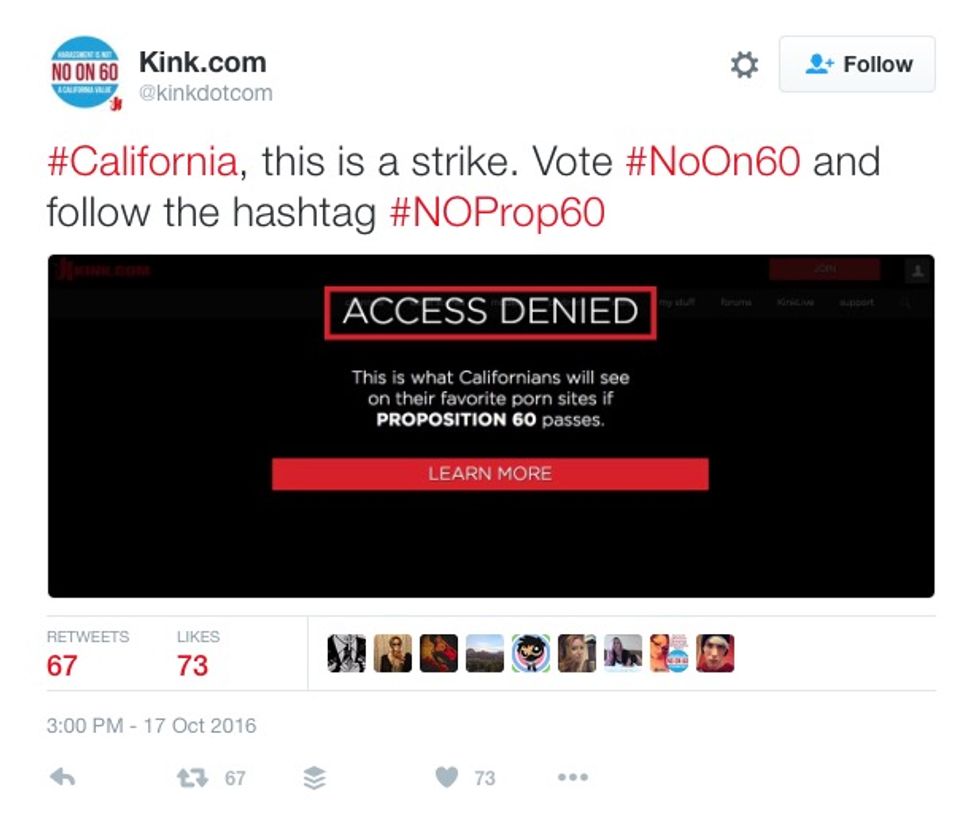 Twitter/@kinkdotcom
This virtual protest in The Golden State coincided with a Monday protest in Hollywood that consisted of roughly 100 adult performers, many of whom held up signs that read, "Our body, our choice," according to the Los Angeles Daily News. The demonstration was organized outside the Yes on 60 campaign headquarters.
Prop 60 is sponsored by the AIDS Healthcare Foundation and will be on the ballot Nov. 8. The legislation requires condoms be worn during production in California and further protects state residents' right to sue producers and distributors for porn shot without condoms. However, there is major pushback in the adult industry because many believe it violates the performer's right to choose and will push pornography into the black market, making it less safe.
Industry leaders also suggested the bill could lead to several lawsuits and might even be a catalyst for harassment of producers and performers.
"Prop 60 isn't a public health measure, it's a public harassment measure for adult performers. If we have to block access to California in order to protect the performers who work with us, that's what we'll do," Kink spokesman Mike Stabile told Vocativ. "And should this initiative pass, it's something we'll be looking at doing in California on a permanent basis after Nov. 8."
For Adult Industry Responsibility committee, an advocacy group that supports the bill, argued Prop 60 will ensure porn stars have the same protections "construction workers, farmworkers, and nurses already enjoy."
Adult film performers deserve the same workplace protections that construction workers, farmworkers, and nurses already enjoy. #YESonProp60

— Condoms in Porn (@FAIR4CA) July 27, 2016