In one of the thousands of emails illegally hacked and then made public by WikiLeaks, a Politico reporter secretly asked Hillary Clinton campaign chairman John Podesta to fact-check an article.
The reporter, Politico chief political correspondent Glenn Thrush, asked Podesta in an email dated April 30, 2015:
Because I have become a hack I will send u the whole section that pertains to u.

Please don't share or tell anyone I did this.

Tell me if I f***ed up anything.
Podesta responded the same day, writing, "OTR [off the record]: No problems here."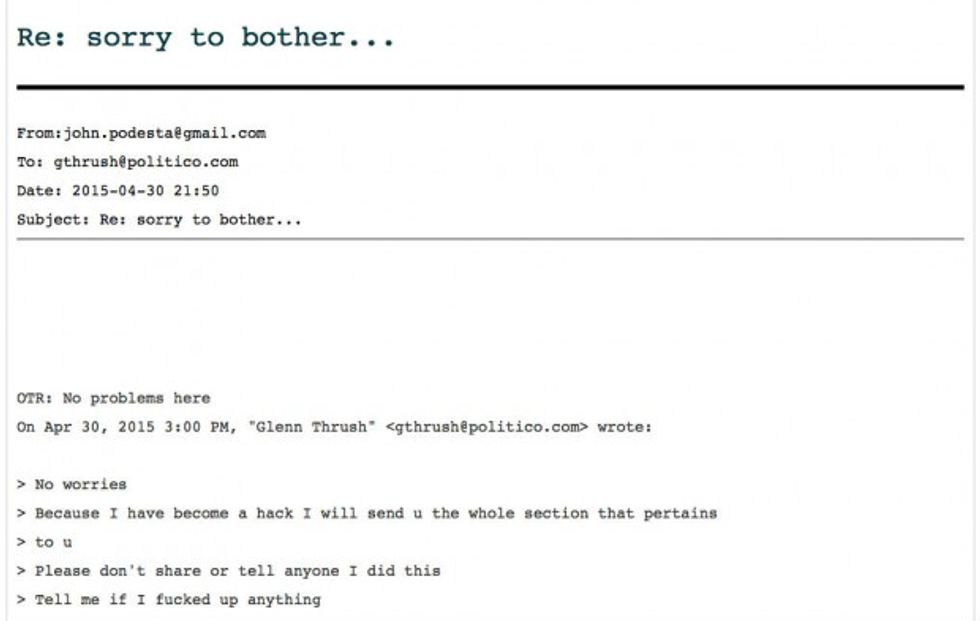 Image source: WIkiLeaks
The piece in question was published the next day under the headline, "Hillary's big-money dillema."
And Thrush himself, responding to allegations that he had a pro-Clinton bias, pointed out on Twitter Monday that the story was about how the Clinton campaign was doing a "crap job" when it came to small donations:
Other great thing: Story we published was about Hillary was doing a crap job recruiting small-money online donors! https://t.co/G5xTHwymR2

— Glenn Thrush (@GlennThrush) October 17, 2016
In a separate tweet sent out by Thrush on Monday, the reporter claimed his goal in having Pedesta check his article before publication was "to get him to confirm stuff I had from lesser sources."
My goal in emailing Podesta: TO GET HIM TO CONFIRM STUFF I HAD FROM LESSER SOURCES. It worked. Nobody controls my stories but me. Troll on!

— Glenn Thrush (@GlennThrush) October 17, 2016
"The bottom line is that Glenn got the chairman of the notoriously secretive Clinton campaign — who is not typically a font of detail — to confirm a bunch of inside information that he culled from other sources," Politico spokesman Brad Dayspring said in a statement to the Daily Caller.
"I can speak with firsthand knowledge and experience that Glenn does this with everybody, on both sides of the aisle. Glenn is one of the top political reporters in the country, in no small part because he understands that it is his job is to get inside information, not appear perfect when someone illegally hacks emails," Dayspring continued.
(H/T: HotAir)