Ecuador's government acknowledged Tuesday that it has "temporarily" restricted WikiLeaks founder Julian Assange's internet access in its London embassy after the whistleblowing site published a trove of emails that could potentially damage Democratic presidential nominee Hillary Clinton's presidential campaign.
The foreign ministry said that, while it stands by its 2012 decision to grant Assange asylum based on legitimate concerns he faces political persecution, it respects other nations' sovereignty and doesn't interfere or support any candidate in foreign elections."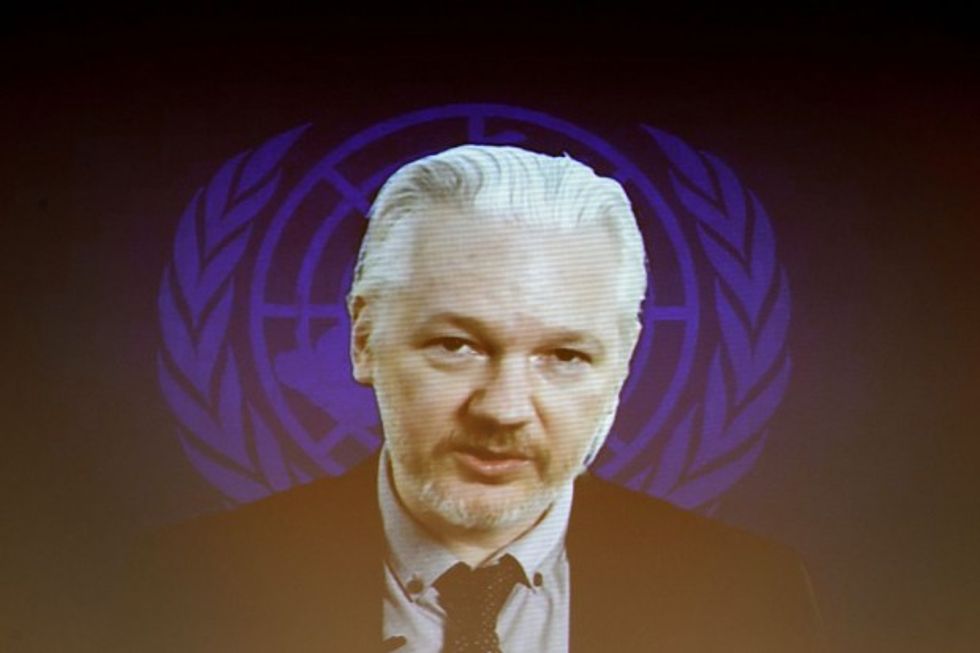 Getty Images/Fabrice Coffrini/AFP
"In that respect, Ecuador, exercising its sovereign right, has temporarily restricted access to part of its communications systems in its UK Embassy," the country's foreign ministry said in a statement, according to the Huffington Post.
"The Government of Ecuador respects the principle of non-intervention in the internal affairs of other states. It does not interfere in external electoral possesses, nor does it favor any particular candidate," it added.
Though Ecuador acknowledged temporarily restricting Assange's internet access, the country did not provide any additional details as to the extent of the restrictions.
Earlier Tuesday, WikiLeaks took to Twitter to accuse U.S. Secretary of State John Kerry of personally asking Ecuador to stop WikiLeaks from continuing to publish the Clinton emails.
BREAKING: Multiple US sources tell us John Kerry asked Ecuador to stop Assange from publishing Clinton docs during FARC peace negotiations.

— WikiLeaks (@wikileaks) October 18, 2016
However, Ecuador in their statement, said they made their decision about Assange's internet access on their own.
"Ecuador's foreign policy responds to sovereign decisions alone and does not yield to pressure from other states," they wrote.
Assange has been holed up at the modest embassy suite at No. 3 Hans Crescent for more than four years after skipping bail to avoid extradition to Sweden over sex crimes allegations, a position which — until now — hasn't prevented him from continuing to play a pivotal role in exposing state secrets and backroom trade deals.
WikiLeaks said unspecified "contingency plans" were in place and the site and its Twitter feed appeared to be working as usual. On Tuesday it released another tranche of emails from Clinton campaign chairman John Podesta, suggesting that the group's ability to publish has yet to be compromised.
The disclosure was the 11th installation in a series of leaks that have captured the workings of Clinton's inner circle. Those leaks themselves are part of a wider cascade that have embarrassed the Democratic Party and that the American intelligence community has recently described as an attempt by the Russian government to interfere in the U.S. election.
Read the full statement from Ecuador below:
BREAKING: Ecuador admits it cut off Assange's internet due to his use of it to interfere in the U.S. election. pic.twitter.com/VNJ6sdHhHj

— Eric Geller (@ericgeller) October 18, 2016
The Associated Press contributed to this report.