The Kansas House speaker drew quite a bit of attention when she took to Facebook to share a "great quote from Hitler," calling the Nazi leader's words "profound."
"Great quote from Hitler in the video," Republican Rep. Peggy Mast, speaker pro temp, posted to Facebook Thursday morning, according to The Wichita Eagle. "Please listen to it closely. His words are profound! Let's start using discernment."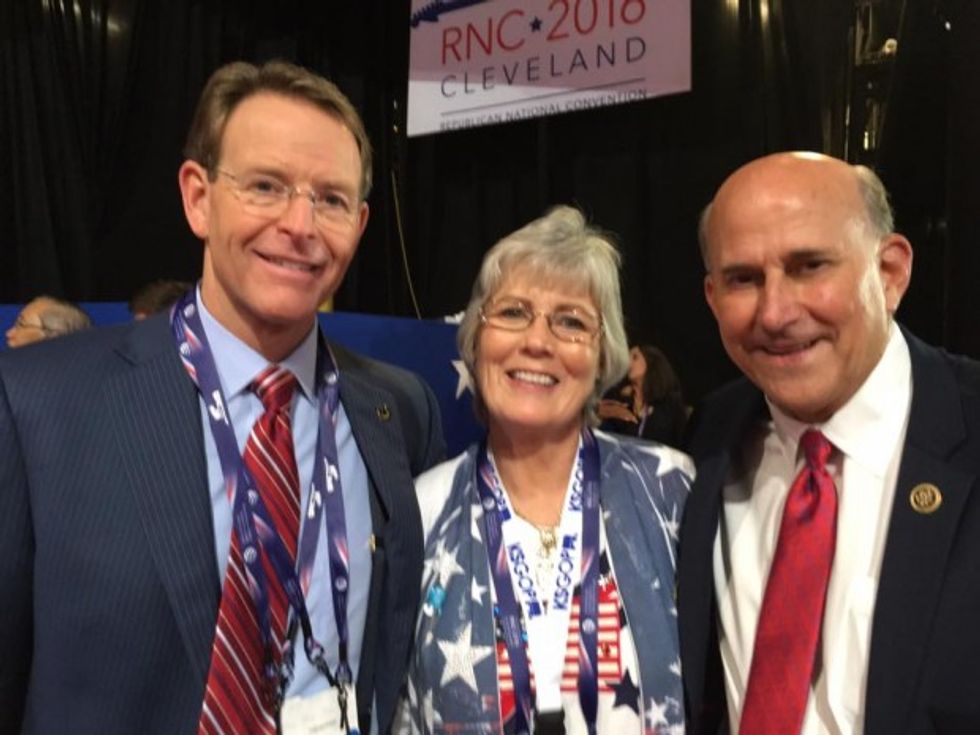 Kansas Rep. Peggy Mast with Tony Perkins (L) and Rep. Louie Gohmert (R) (Facebook)
Shortly after seeing the surprising post, Christie Krieghauser, House Speaker Ray Merrick's chief of staff, reached out to Mast for clarity because she had a hard time believing the lawmaker intended to praise Hitler.
"Sorry, I'm confused," she wrote. "What video and how is there a great quote from Hitler?"
Finally, in a follow up Facebook status, Mast defended her words by clarifying that she intended to compare Planned Parenthood to the infamous dictator and "was not in any way agreeing with Hitler's words." The confusion arose from the fact that her initial post did not contain a link to the video she referenced.
The video, which she later posted, was from JulieRoys.com, a Christian blog, and depicted pro-life advocate Gianna Jessen testifying against Planned Parenthood before Congress. During her remarks, Jessen quoted Hitler in an effort to tie the Nazi leader's propaganda to the methods employed by the nation's largest reproductive health provider.
"The receptivity of the masses is very limited, their intelligence is small, but their power of forgetting is enormous," Hitler was quoted as saying. "In consequence of these facts, all effective propaganda must be limited to a very few points and must harp on these in slogans until the last member of the public understands what you want him to understand by your slogan."
In yet another follow-up post, Mast said she was trying to show that Planned Parenthood has employed the "same tactics and deception used by Hitler regarding innocent lives," adding, "I was making a connection between the ideology he used and the arguments made by Planned Parenthood."
Despite offering clarity to her post, any time "profound" or "great" is used to describe Hitler, it's sure to draw attention — and criticism.
"There's nothing profound, and there's no room in American politics for the words or thought of Adolph Hitler," Rabbi Moti Rieber, the executive director of Kansas Interfaith Action, said of Mast's posting.