Hillary Clinton was responsible for coordinating a $12 million donation from King Mohammed VI of Morocco to the Clinton Foundation ahead of a May 2015 speech, a Wikileaks release showed.
The latest hack of Clinton aide John Podesta's emails showed one from Clinton's closest aide, Huma Abedin, which said that it was "HRC's idea" to speak at a Clinton Global Initiative meeting in Morocco in May 2015 as a condition of the $12 million donation, Fox News reported.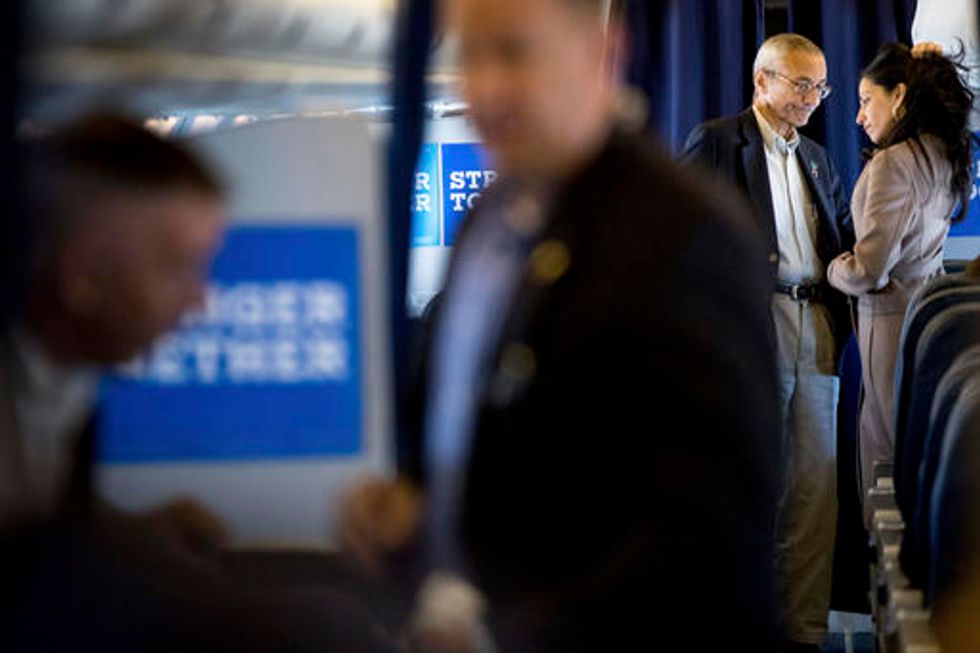 Hillary Clinton's campaign manager John Podesta, second from right, pauses while speaking with senior aide Huma Abedin aboard Clinton's campaign plane while traveling to Miami on Tuesday. (AP/Andrew Harnik)
"She created this mess and she knows it," Abedin wrote to Podesta and Robby Mook.
From Fox News:
The "mess" refers in part to the fact that the three Clinton advisers were discussing the possibility of the former secretary of state pulling out of speaking at the May 2015 event because it was happening one month after the official launch of her presidential campaign and could raise more questions about her role at the foundation.

In April 2015, Politico reported the Clinton Foundation was accepting a "major donation" of at least $1 million from a Moroccan government-owned company, OCP, a phosphate exporter. Politico added that an official at the foundation said it was "unlikely" Hillary would attend the May 2015 event, just weeks after the April launch of her campaign.
The new emails surface as Clinton continues to dodge questions of "pay to play" dealings at the Clinton Foundation, including at the most recent presidential debate.
The hack of Clinton aide Podesta's emails came after he fell for a phishing scam, Politico reported Thursday.