Conservative radio host Dana Loesch — also host of Dana on TheBlaze TV — said Sunday morning that Republican nominee Donald Trump missed an opportunity in his final debate with Democrat Hillary Clinton to make his case to the American voters that the election is, in part, "rigged."
Loesch's comments came during a panel discussion on CNN's "State of the Union" with host Jake Tapper, when she responded to a question from Tapper, who asked if Trump "missed an opportunity" to better articulate his point.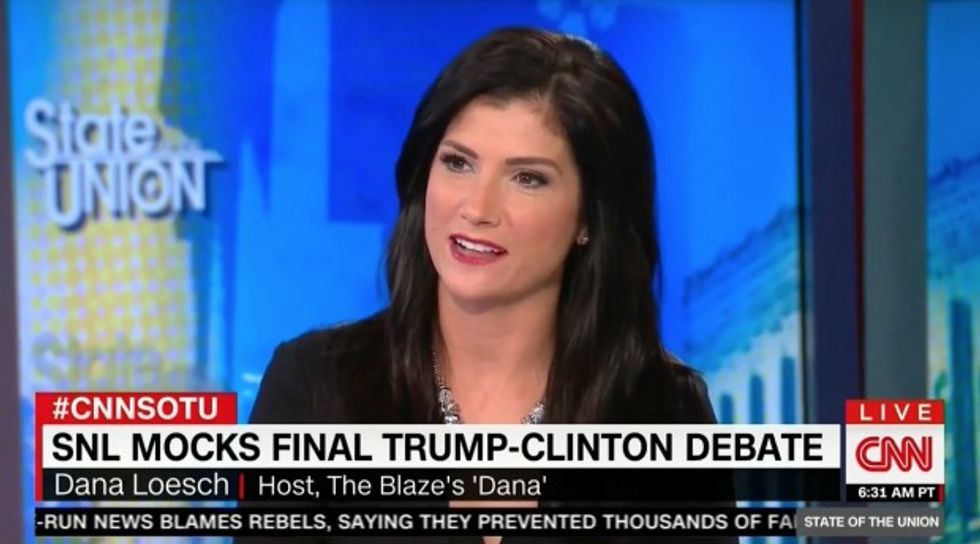 Image source: YouTube
"I think that it was, in a way, a missed opportunity because in certain cases you have to acknowledge that voter fraud exists. We all know that voter fraud is real," Loesch said.
"Is the entire system itself rigged to the point where it could swing an entire presidential election? I don't believe that — I personally don't believe it," she added. "I mean, if we have races where they are incredibly close and you're talking about the difference between a couple hundred votes, then maybe I could see the argument for that."
Instead, Loesch said she believes Trump should have used his platform not to make his case that the entire election is rigged against his candidacy, but rather that every American needs to get to the polls on Election Day to cast their vote and have their voice heard.
"You need people to turn out and vote for you — you don't need them to feel disparity. You don't want people to feel as though their vote doesn't matter," she said. "And I think that that gets into a little bit of a dangerous territory, and maybe just making people feel as though their vote doesn't count and that's not the case."
Watch Dana's comments below: