Garry Kasparov, a world chess champion, chairman of the Human Rights Foundation and Russian pro-democracy leader, is "deeply troubled" by Donald Trump's suggestion that the election could be "rigged" because it's "exactly what Vladimir Putin wants everybody to believe."
Even as the final two weeks of the presidential election are underway, relations between the U.S. and Russia have continued to escalate, as the Republican presidential nominee attaches friendly characterizations to Putin and the Democratic Party asserts that the Kremlin is behind the WikiLeaks hacks into Hillary Clinton's campaign.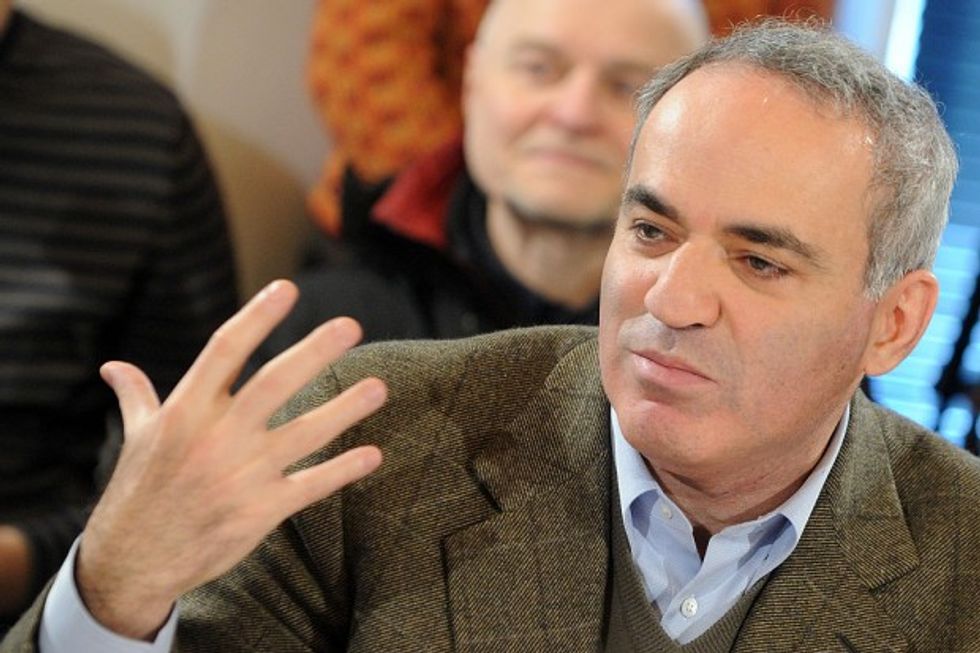 Garry Kasparov (KIRILL KUDRYAVTSEV/AFP/Getty Images)
"[Putin] understands that there's no way he can repair his image in Russia," Kasparov told TheBlaze's Dana Loesch Wednesday. "Nobody believes the election in Russia is fair, so — again, KGB tactics — if you cannot improve your image domestically, you have to prove that everybody else is as bad as you are. And, unfortunately, I think that the U.S. electoral system is quite vulnerable to the massive attacks by Russian hackers."
Kasparov went on to tell Loesch that instances in voter irregularities, which are already popping up, but may be nothing more than operator errors, leads to "rumors" that the American electoral system is actually "rigged" against Trump — a narrative that only helps Putin.
"That will go ammunition to Trump and many of his supporters to accuse the Democrats of rigging elections, and, of course, it will help Putin to spread the word that American democracy is nothing but a charade," he said.
Anticipating many will assume he's just anti-Trump, Kasparov told Loesch earlier in the interview that he has been one of Clinton's "harshest critics" and called President Barack Obama's foreign policy a "total disaster," claiming it "dramatically weakened American leadership and America's role in the world."
"I think it's a sad irony, almost tragic, that the GOP couldn't use the opportunity to put a decent candidate against such a flawed Democratic nominee," he told Loesch.
Watch the discussion: