Former Secretary of State Hillary Clinton herself helped fundraise for a Virginia PAC that donated big money to the wife of the FBI official who oversaw the investigation into the personal email server she used while heading the State Department, the Daily Mail reported.
In June 2015, the Democratic presidential nominee headlined a fundraiser for Common Good VA PAC, which is run by Clinton ally and Virginia Gov. Terry McAuliffe, according to the Daily Mail.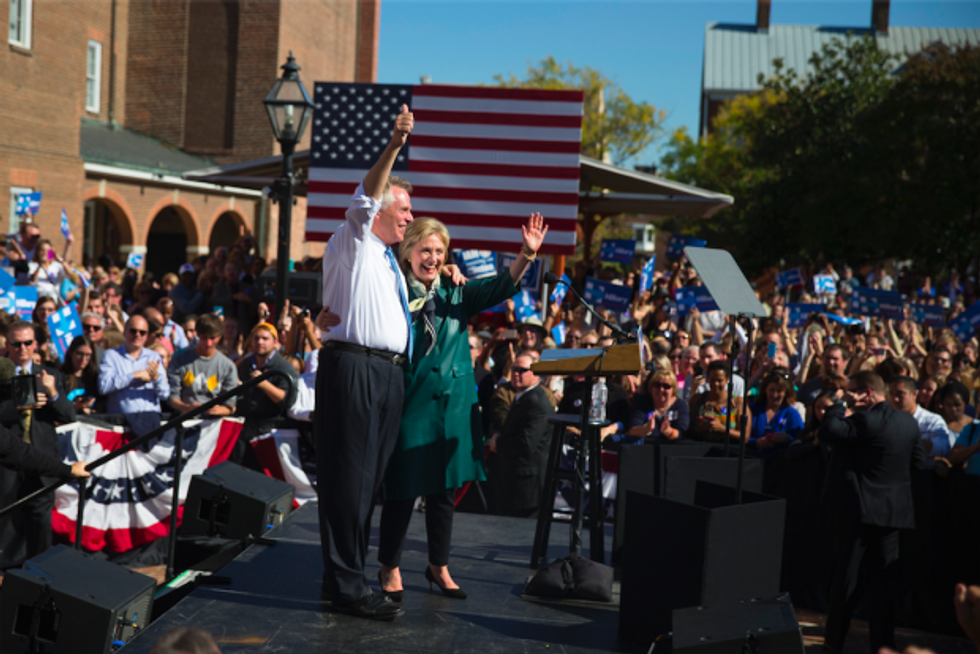 Democratic presidential nominee Hillary Clinton stands with longtime ally Virginia Gov. Terry McAuliffe during a campaign rally in Alexandria, Virginia, Oct. 23, 2015. (AP Photo/Evan Vucci)
The Common Good PAC came under scrutiny earlier this week when the Wall Street Journal reported that the PAC funneled nearly half a million dollars into the state senatorial campaign of Jill McCabe. Her husband, Andrew McCabe, is the deputy director of the FBI who helped lead the email-server investigation.
The June fundraiser that Clinton headlined reportedly raised more than $1 million for the PAC as well as Virginia's Democratic Party. The Daily Mail reported that over the next several months, five- and six-figure donations were made to Common Good VA from Clinton supporters outside of the state.
It received $100,000 from former President Bill Clinton's business partner Ron Burkle from California as well as $50,000 from Ready for Hillary's finance committee member Leonard Lauder in New York, the Daily Mail reported.
Clinton appeared with McAuliffe during a campaign stop in Virginia on Oct. 23, 2015. According to the Daily Mail, Common Good VA donated $125,000 to McCabe on Oct. 27, 2015, and $175,000 on Oct. 29, 2015.
Virginia's Democratic Party, which is heavily influenced by McAuliffe, also donated more than $200,000 to McCabe's campaign.
"The fact that Hillary Clinton's inner circle was raising substantial funds for Gov. McAuliffe's PAC and this same PAC gave close to a half-million dollars to the campaign of the wife of the senior FBI official involved in the Clinton investigation sure likes like a payoff — a major payoff," Ken Boehm, chairman of the National Legal and Policy Center watchdog group told the Daily Mail.
He added, "What was already a serious corruption story now looks much worse."
The FBI has contended that Andrew McCabe "played no role, attended no events and did not participate in fundraising or support of any kind" for his wife's campaign. He was promoted from associate deputy director to deputy — which allotted him the job of investing Clinton's emails — "months" after his wife's campaign ended.
However, Republicans have capitalized on Clinton's ties to the FBI official — or at least her ties to his wife.
"Given all we know about how the corrupt Clinton machine operates, it's hard not to see this as anything other than a down payment to influence the FBI's criminal investigation into Hillary Clinton's private email service," Republican National Committee Chairman Reince Priebus said in a statement Monday.
GOP presidential nominee Donald Trump called the original Wall Street Journal report "shocking" earlier this week.
FBI Director James Comey recommended no charges be brought against Clinton over the summer as the agency concluded its investigation into her practice — although he conceded that she was "extremely careless" in her handling of classified emails.