During a Thursday night debate, embattled Sen. Mark Kirk (R-Ill.) sought to make the case for his re-election — including by attempting to draw into question his opponent's family lineage.
Rep. Tammy Duckworth (D-Ill.), who is challenging Kirk for his seat, spoke from the debate stage about her family's military history in the U.S. — including her own. Duckworth, an Iraq War veteran who lost both of her legs due to combat injuries, drew upon her experience serving her country as she made the case for why she is needed in the U.S. Senate during potential times of war.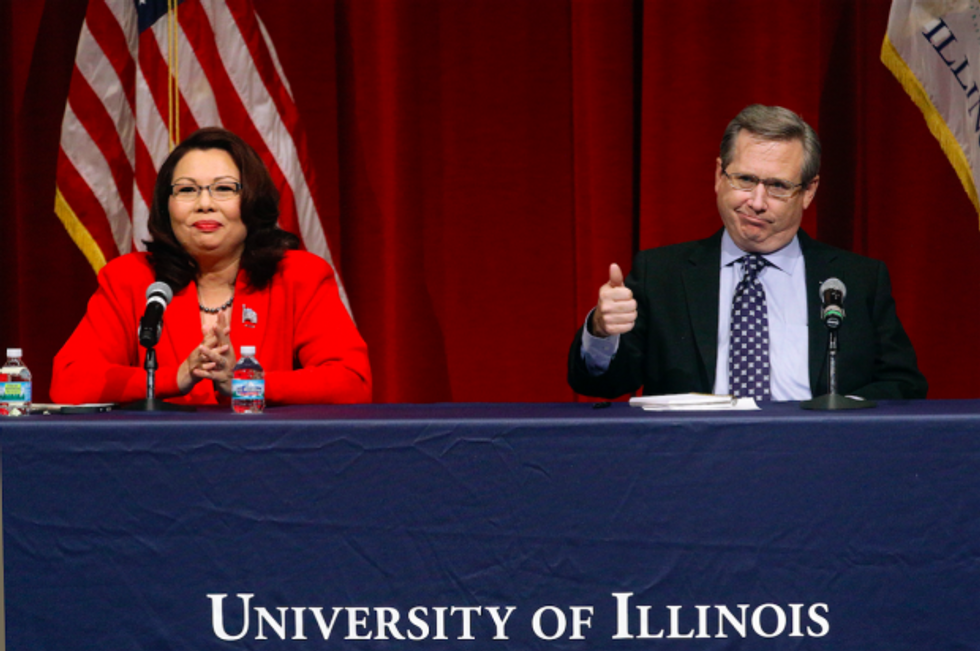 Republican Sen. Mark Kirk and Democratic Rep. Tammy Duckworth faced off Thursday in their first televised debate in what's considered a crucial race that could determine which party controls the U.S. Senate. (AP Photo/Seth Perlman)
Duckworth said:
My family has served this nation in uniform going back to the Revolution. I am a daughter of the American Revolution. I've bled for this nation. But I still want to be there in the Senate when the drums of war sound because people are quick to sound the sums of war, and I wan to be there to say this is what it costs, this is what you're asking us to do. And if that's the case, I'll go. Families like mine are the ones that bleed first. But let's make sure the American people understand what we're engaging in, and let's hold our allies accountable, because we can't do it all.
When asked to respond, Kirk didn't mention his own service in the Navy but chose to focus on his opponent's ethnic background.
"I'd forgotten that your parents came all the way from Thailand to serve George Washington," Kirk quipped.
Duckworth sat next to the senator silently before the moderator moved on to the next question.
Tammy Duckworth is a vet who lost both legs in Iraq. Her family has served since the Revolutionary War. And yet... pic.twitter.com/DHd3kWrUsN

— Anthony Breznican (@Breznican) October 28, 2016
As far as her lineage, Duckworth was born in Thailand to a Thai mother of Chinese ancestors and a Marine Corps veteran father who has traced his family roots to the U.S. since prior to the Revolutionary War.
Following the debate, Duckworth tweeted a photo of her family — with her and her father in uniform.
My mom is an immigrant and my dad and his family have served this nation in uniform since the Revolution #ILSEN pic.twitter.com/ehEBHswFMs

— Tammy Duckworth (@TammyforIL) October 28, 2016
A spokeswoman for the Democratic Senatorial Campaign Committee called Kirk's comment "offensive, wrong and racist" in a statement to TheBlaze.
"Senator Kirk has been caught lying about his military record over ten times, but he was quick to launch false attacks questioning Congresswoman Duckworth's family's long history of serving our country," Lara Sisselman said. "A struggling political campaign is no excuse for baseless and despicable attacks, and Senator Kirk owes Congresswoman Duckworth and her family an apology."
Kirk did not issue an apology after the debate, but instead focused on other issues covered during the debate. A spokesperson for the senator said in a statement:
Senator Kirk has consistently called Rep. Duckworth a war hero and honors her family's service to this country. But that's not what this debate was about. Rep. Duckworth lied about her legal troubles, was unable to defend her failures at the VA and then falsely attacked Senator Kirk over his record on supporting gay rights.
Kirk is considered one of the most vulnerable senators up for re-election in 2016. He has also infamously called GOP Sen. Lindsey Graham a "bro with no ho" and suggested people "drive faster" through black communities.
Prior to the debate, FiveThirtyEight predicted Kirk to have only an 8.2 percent chance of winning his re-election campaign. RealClearPolitics' aggregated polling data has Duckworth with a seven-point lead over Kirk.