During the same press conference where Democratic presidential nominee Hillary Clinton addressed news that the FBI was reexamining their case against her use of a private email server, Clinton urged people to continue early voting for her.
During the press conference, which lasted only around four minutes, Clinton took just three questions from reporters.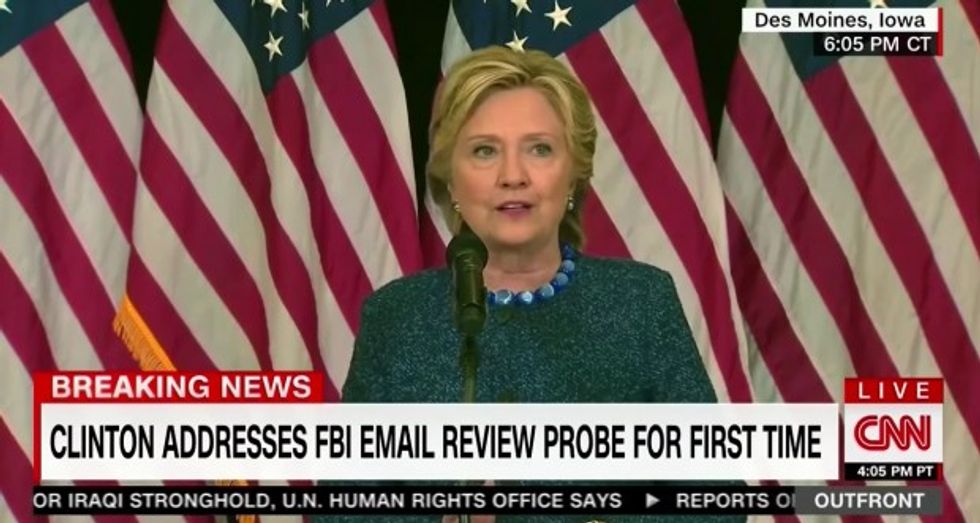 Image source: YouTube
Clinton, prior to answering questions, stated that she was "confident" the FBI would not come to a different conclusion about the criminal probe than what was reached in early July, while adding, "the director himself has said he doesn't know whether the e-mails referenced in his letter are significant or not."
FBI Director James Comey sent a letter to members of Congress Friday informing them that the bureau was re-opening their case against Clinton after investigators found new information during the process of a separate investigation involving former Congressman Anthony Weiner.
The reporter asked Clinton: "You have 11 days to go. What would you say to a voter who right now will be seeing you and hearing what you are saying? Saying I didn't trust her before, I don't trust her anymore right now and they are heading to the ballot box tomorrow."
Clinton responded by claiming that most voters "a long time ago made up their minds about the emails," while urging "everybody to get out and vote early."
"We're going to continue to discuss what's at stake in this election because I believe that it's one of the most consequential elections ever," she added.
The former first lady was also asked by a reporter if she had spoken to her longtime advisor Huma Abiden about the FBI's announcement.
"We heard the rumors. We don't know what to believe and I'm sure there will be even more rumors," Clinton said. "That is why it is incumbent upon the FBI to tell us what they are talking about, Jeff, because right now your guess is as good as mine and I don't think that's good enough."
Watch the press conference below: