DES MOINES, Iowa (TheBlaze/AP) — Authorities have apprehended a man suspected in separate ambush-style shooting deaths of two Des Moines area police officers early Wednesday.
Officers from the Dallas County Sheriff's Office and Iowa State Patrol took 46-year-old Scott Michael Greene into custody and were taking him to Des Moines, police said.
His arrest came about eight hours after the killings of the two officers.
Police responded to a report of shots fired at 1:06 a.m. and found an Urbandale Police Department officer who had been shot. Authorities from several agencies saturated the area after that shooting, and about 20 minutes later discovered that a Des Moines officer who had responded to the initial killing had been shot in a patrol car at an intersection, Des Moines Sgt. Paul Parizek said. The shootings happened less than 2 miles apart and both took place along main streets that cut through residential areas.
Bullet holes are seen on the side of a Des Moines police department squad car at the scene of a shooting Wednesday in Des Moines, Iowa. (AP Photo/Charlie Neibergall)
"There's somebody out there shooting police officers. We hope to find him before somebody else gets hurt," Parizek said at an early morning news conference, during which he stopped briefly as he worked to control his emotions.
Urbandale police officer Justin Martin was killed in the first shooting, KCCI-TV reported, adding that he's survived by his parents and had been on the force since last year. Des Moines Sgt. Anthony Beminio was killed in the second shooting, Parizek said, adding that Beminio has a wife and children and had been with the force since 2005.
The shootings follow a spate of police killings, including ambushes of officers in Dallas and Baton Rouge, Louisiana. Five officers were killed in Dallas on July 7 and three were killed later that month in Baton Rouge.
Des Moines and Urbandale Police later said they had identified Greene, of Urbandale, as a suspect in the killings through "a series of leads and investigative tips." It is unclear if either of the shootings was captured on police body- or dashcams.
Parizek told CNN he had few details about the circumstances of Greene's capture, but that he was on foot on a roadway at the time and was alone when he was taken into custody.
Greene is white. Parizek said the officers killed also were white.
Asked at a news conference about a video posted on YouTube that appears to show a man identified as Greene being removed from an Urbandale High School football game, Parizek said he was aware of the video but hadn't seen it and couldn't comment.
The video, dated Oct. 14, was posted by someone identifying himself as Scott Greene. It shows a confrontation with police who have removed him from a football game, apparently after he held up a Confederate flag near a group of black people. The person shooting the video, who is never seen, asks police to investigate an assault against him. The officers ask him to leave and tell him it's inflammatory to display a Confederate flag at such a setting.
"You have to understand that in the current social climate we're in, when you fly a Confederate flag standing in front of several African-American people, that's going to cause a disturbance, OK?" one officer tells the individual shooting the video.
Urbandale Community School District spokeswoman Dena Soenke confirmed Greene was involved in an incident at a recent high school football game that drew police attention. She referred questions about the incident to the Urbandale Police Department.
A criminal complaint indicates Greene was involved in an altercation with his 66-year-old mother Oct. 17. Greene accused her of scratching and hitting his face. He captured the fight on cellphone video, which he used as evidence of the assault. A judge ordered Greene's mother to stay away from her son and she was released on $1,000 cash bond.
Court records show Greene was jailed and charged with interference with official acts after resisting Urbandale police officers who tried to pat him down for a weapon on April 10, 2014. An Urbandale officer described him as hostile and combative. He entered a guilty plea and was fined.
Two days later Urbandale police were called to answer a complaint of harassment at the apartment complex where Greene lived. The complaint said he threatened to kill another man during a confrontation in the parking lot and yelled a racial epithet at the man. Greene was charged with harassment.
He pleaded guilty and received a suspended jail sentence and a year of probation. Court records show he completed a substance abuse and psychological evaluation.
The attacks on police this summer in Dallas and Baton Rouge came in the wake of several high-profile police shootings of black men, fueling a national debate about police use of force, especially against minorities — a frequent topic in the nation's presidential race.
Urbandale Sgt. Chad Underwood said he believes no officer in his department has previously been shot in the line of duty. The Iowa Department of Public Safety said Wednesday marked the first time a Des Moines police officer has been shot and killed on duty since 1977, when two died within months.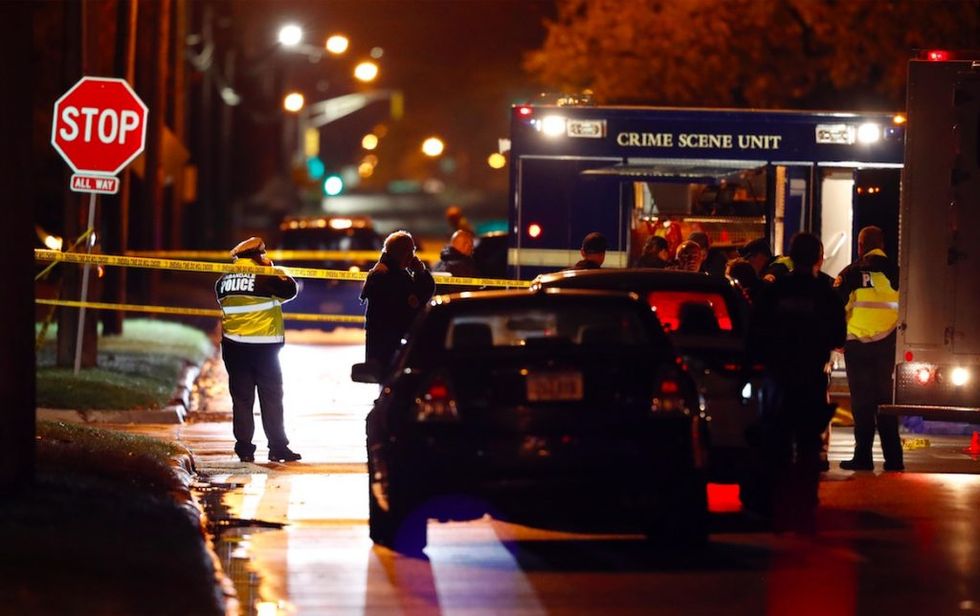 Law enforcement officials investigate at the scene of a shooting Wednesday in Urbandale, Iowa. Two Des Moines area police officers were shot to death early Wednesday in ambush-style attacks while they were sitting in their patrol cars. (AP Photo/Charlie Neibergall)
In 2016, 113 officers have died in the line of duty, according to preliminary data from the National Law Enforcement Officers Memorial Fund.
Urbandale is a suburb of about 40,000 people in the Des Moines metro area with about 50 officers. Des Moines, a city of about 210,000, has about 375 sworn officers.
Parizek said the officers' deaths are a blow to the city.
"They are our friends and coworkers," he said. "Des Moines is not a big city. We all know each other. We're heartbroken."