A California high school history teacher and Holocaust expert is on paid leave after he compared President-elect Donald Trump with Adolf Hitler in the classroom.
When Frank Navarro was asked by a reporter why he thought it was appropriate to make the comparison, the Mountain View High School teacher's answer was succinct.
"Because I think that it is historically factual," Navarro told KPIX-TV.
Not only that, but Navarro — who's taught at the school for 40 years — said he "would do it again. Absolutely."
Mountain View's principal and the district superintendent asked Navarro to leave Thursday after a parent told officials about parallels he was drawing in his ninth-grade world studies class between Trump and Hitler, the San Francisco Chronicle reported.
"This parent said that I had said Donald Trump was Hitler, but I would never say that," Navarro added to the paper. "That's sloppy historical thinking."
"Hitler said he'd make Germany great again, Donald Trump said he'd make America great again," Navarro told KPIX, repeating the parallels he drew. "Hitler focused on the Jews and the Poles as foreigners and that they should be driven from Germany, Donald Trump has focused on Muslims."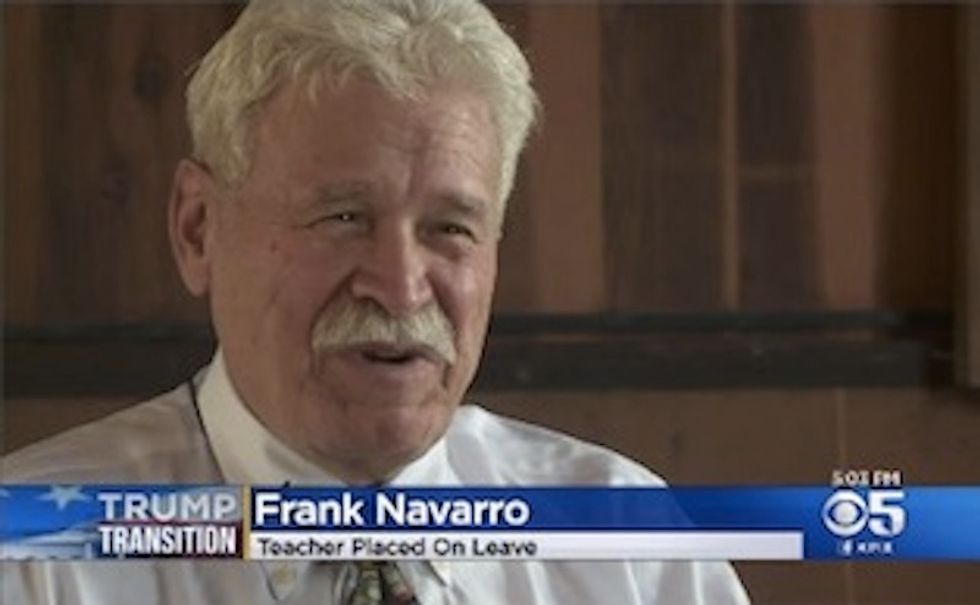 Image source: KPIX-TV
He noted to the station "there are valid historical comparisons to be made" concerning the subject, adding to the Chronicle that "it reminds students that history is real."
While he said he understands "it's a heated time" given America's sociopolitical polarization, he says he's also received online threats: "We have forgotten what it means to exchange ideas."
On the flip side, a petition on change.org calls for the reversal of his leave.
"I'm overwhelmed and amazed," Navarro said of the petition's more than 30,000 signatures.
The school's newspaper, the Oracle, published an article Thursday about the investigation, the Chronicle reported, which elicited anger from parents and students.
"Emails started flowing in to the principal late that night," Navarro told the paper.
He's scheduled to meet with school leaders Monday.