A Fort Worth police officer has been placed on restricted duty while the police department investigates a Facebook post he authored calling for African-Americans to arm themselves and get ready for a revolution.
Officer Brandon Morris, who goes by the name Negus Ankhmaster Morris on Facebook, told his Facebook friends to plan for a "revolution," and to "be ever ready" by purchasing large amounts of ammunition.
The post read:
"Ok my beautiful Black people, now it's time to fortify yourselves in every way possible, purchase many guns and rounds of ammunition, get good solod education, learn this [expletive] political system and be ready. I have been watching a few coworkers whom were definitely suspect, looking at them now all my suspicions are confirmed. Stay strong and be ever ready Black people, you may have to answer the call for revolution sooner that you think. #BLACKPOWER"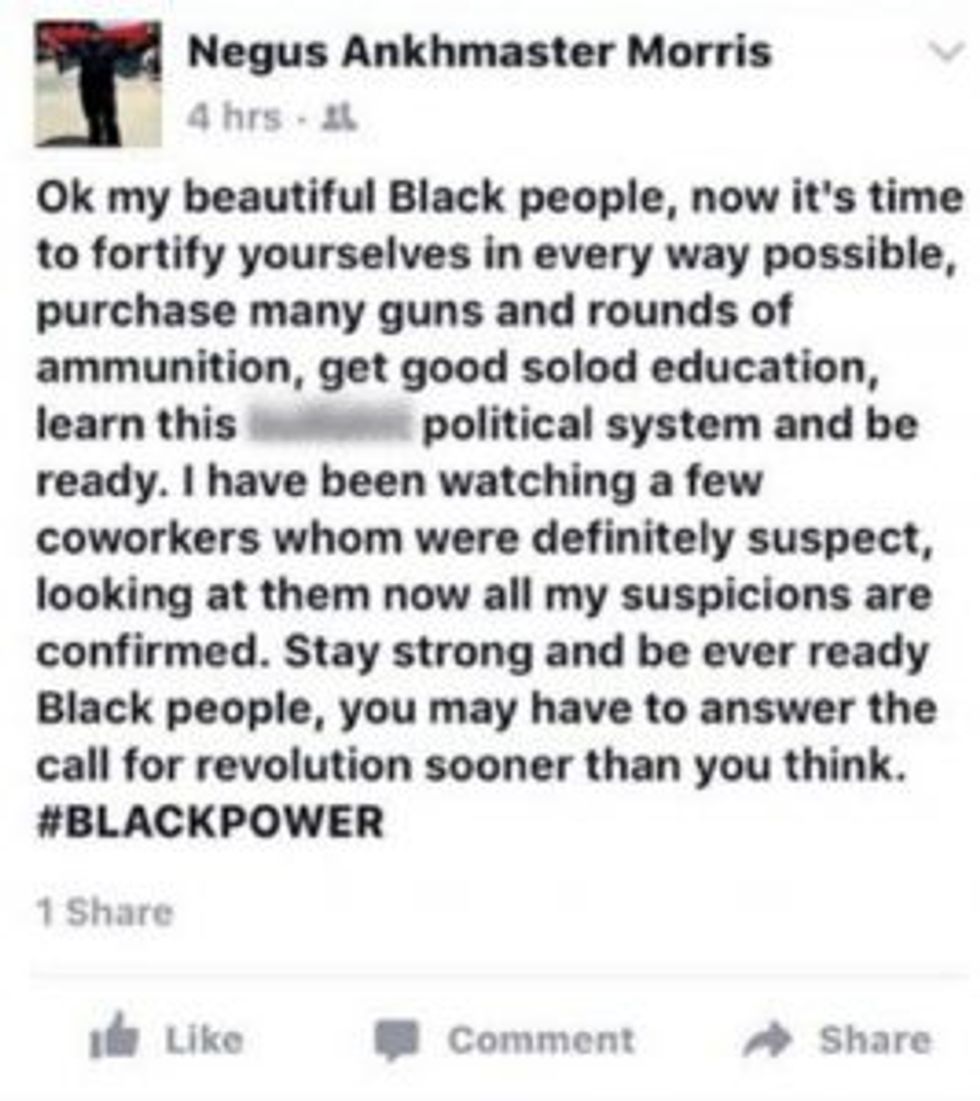 It has since been removed as the internal affairs department investigates further to determine whether the post violates the police department's social media policy.
Morris' attorney, Terry Daffron, told reporters that Morris has still not been given an official personnel complaint that advises which department policies he violated, and was concerned about the handling of the investigation.
"The way this case is being handled is mind-boggling. For lack of a better analogy, let's just put someone in jail and we'll tell you what crime you committed next week. Seriously? This is how we're going to run a major metropolitan police department?" Daffron commented.
An anonymous source in the Ft. Worth police department told TheBlaze that Mr. Morris is well-liked as a person, but known as a troublemaker within the department. He has allegedly in the past caused a stir by being an outspoken proponent of #BlackLivesMatter and for wearing materials that are supportive of #BlackLivesMatter around his colleagues.
Morris has no formal disciplinary action on record with the Civil Service Commission and is expected to receive a formal personnel complaint sometime this week.