ARLINGTON, Va. -- Rodrick Harris comes to Arlington National Cemetery from his home in Rockville, Md., at least once a month. He works for a funeral home and does business here regularly.
But being here this chilly December morning to help lay the holiday wreaths on the graves of those who are laid to rest here was something this 21-year retired Army veteran says he has never done before today.
"This is a whole different experience for me," says Harris, decked out in his Lion's Club of Rockville vest, adorned with at least 200 pins. "It's...overwhelming," he adds, searching for the word. "To see everyone out here...I'm moved."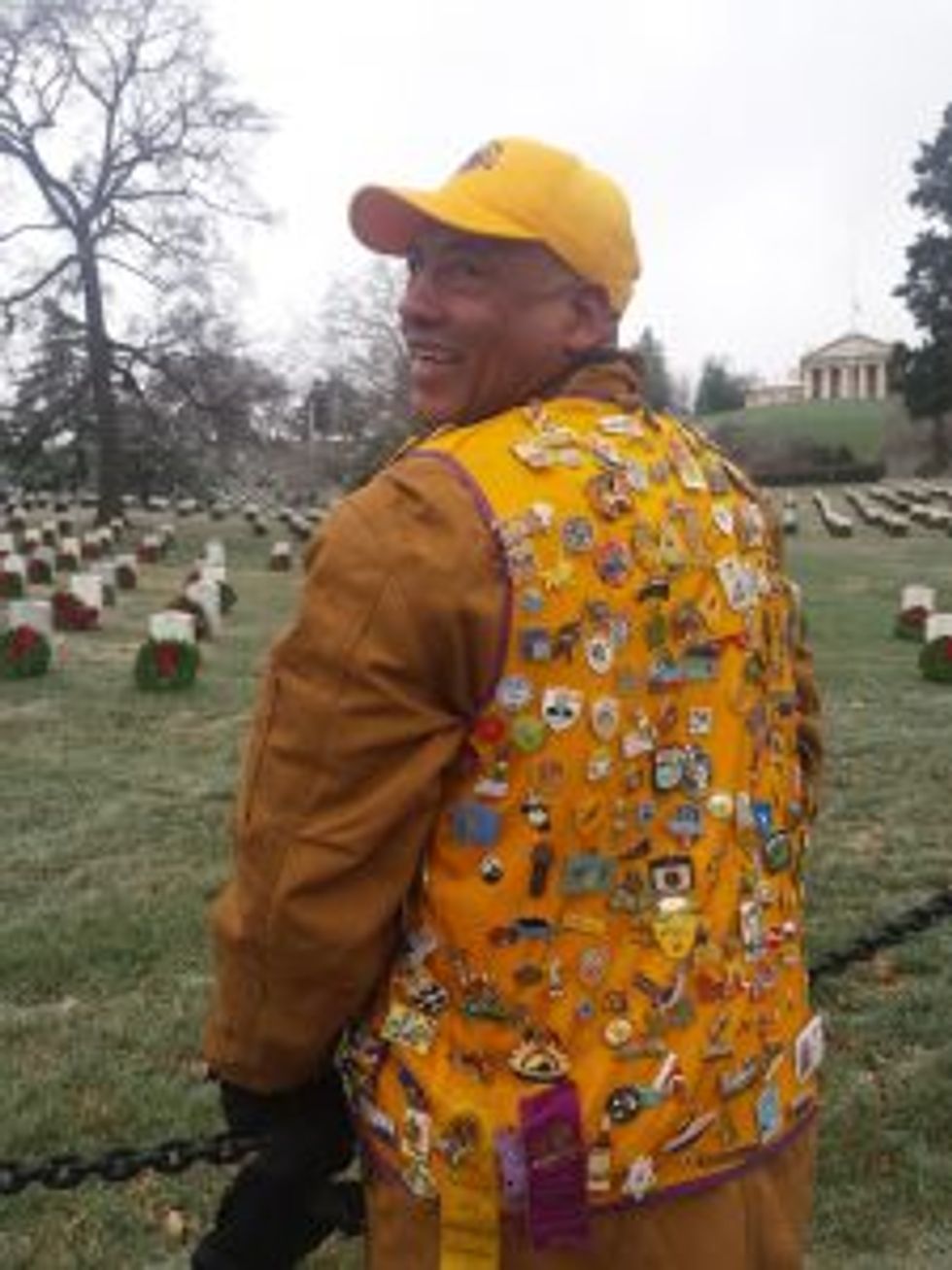 ARLINGTON, VA., DEC. 17, 2016 -- Rodrick Harris of Rockville, Md. wears his Lion's Club vest to help lay wreaths at Arlington National Cemetery. (Sarah Lee/TheBlaze)
Harris is one of the projected tens of thousands of volunteers who make the, usually chilly, journey to Arlington, Va., just before Christmas to help the national cemetery ensure that all soldiers who served and are laid to rest here in this austere place have a holiday remembrance. Volunteers will help distribute hundreds of thousands of donated wreaths by the end of the day Saturday. It's one of Washington, D.C.'s most iconic events, but it's so much more than a mere tourist stop.
For people like Harris, it's a way to remember his comrades, he says.
For 15-year-old Caroline Carney of Woodbridge, whose father is active-duty Air Force, it's a Saturday spent with her family before they relocate to Oklahoma for her dad's newest assignment.
"It's fun, a way to give back," says the bubbly teenager, concerned as though her group may not find wreaths as the trucks were emptying by the time her family arrived.
Her dad, with a knowing grin, reminded her that this might be a bit more meaningful for her with a family member in the service. "Yeah," she said, smiling, "It is." Then she bounded up the hill behind her dad to the next truck on the horizon in search of a gift for a headstone.
Wreaths Across America began in 1992 when a wreath maker in Maine donated 5,000 surplus wreaths to the national cemetery.
The event routinely sees a huge crowd. More than 70,000 volunteers showed up in 2015.
And despite the cold and ice this morning, there were smiles and laughter as friends greeted each other at the gates, old and young service members met and mingled and families hugged in their annual Christmas tradition. All carrying two and three wreaths over their wrists, before heading off into the vast cemetery searching for empty headstones to fill.