For an unconscious skier dangling by his neck from a chairlift on a Colorado mountain, it was actually quite a lucky day.
That's because another skier, Mickey Wilson — who happens to be a professional slackliner — was just behind him on the Lenawee Mountain Lift when it all went bad Wednesday morning.
"It was one of the most scary things I've ever seen, honestly," Wilson told the Denver Post. "Just seeing a person get the life sucked out of them. I kind of stopped thinking and just started acting."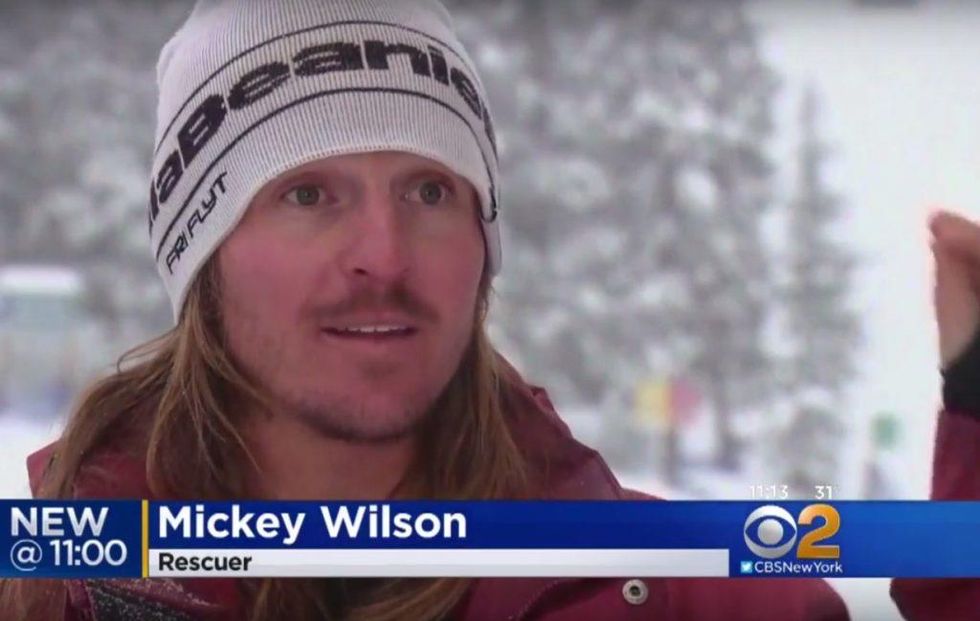 Image source: YouTube screen cap
Wilson, also a part-time ski instructor, told the Post he ended up on the slope with the victim — a friend of a friend — by accident after planning to ski alone and then running into buddies at the base. And the skier's life-threatening predicament unfolded right in front of Wilson.
"As he tried to get off [the chairlift] his backpack caught, and because he was on the outside of the chairlift, he went around the emergency chairlift shutoff [trigger]," Wilson, 28, told the Post. "He was not only caught, he was literally being hung by his neck by his backpack. He was hanging 3-feet, 4-feet below the chair. His feet were maybe only about 10 feet off the snow."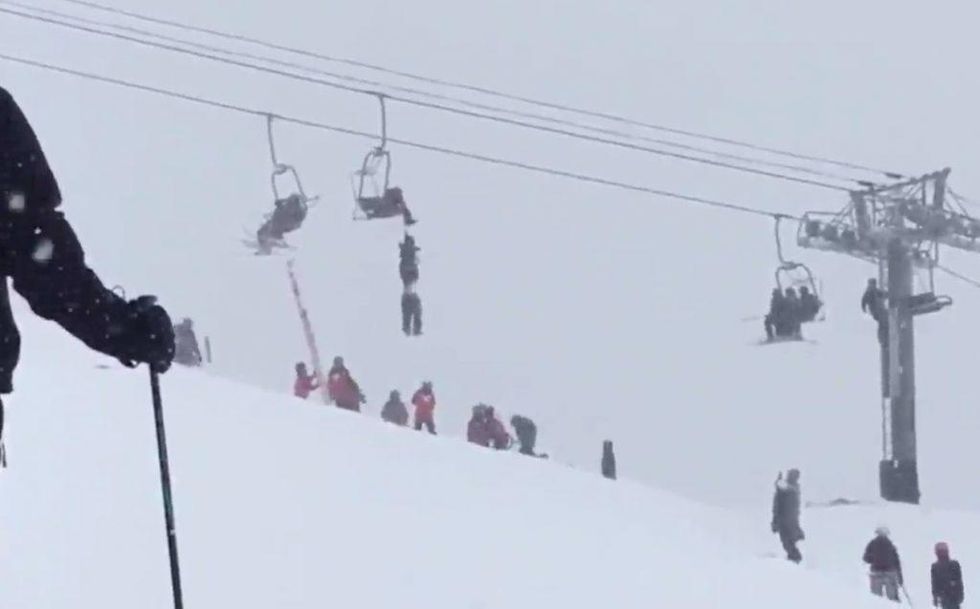 Image source: Denver Post screen cap
After the chairlift was shut down, Wilson told the paper he and other skiers initially tried forming a human pyramid to get to the victim, but it just kept collapsing.
"Then I had a eureka moment," Wilson recounted on Instagram.
"That's when I realized — it all kind of snapped together — that 'I can climb this tower and get to him,'" the pro slackliner told the Post. (Slacklining is an offshoot of mountain climbing and akin to tightrope walking but on flat tubular webbing.)
Although others yelled at him not to climb the lift's ladder, Wilson told the paper that "I didn't listen to them."
Good thing.
Wilson told the Post it took him about five minutes to climb the tower, shimmy down the cable and get to the victim. Wilson added on Instagram that he "first tried to break the strap by kicking it, but I couldn't." Then he cut the victim free with a knife a ski patroler tossed up to him and "our friend fell like a doll into the snow."
He added on Instagram that ski patrollers began CPR, restored the victim's breathing and skied him down to the base.
Arapahoe Basin told the paper the victim was taken by ambulance to a hospital but declined to provide information on his condition. Wilson, however, told the Post he spoke to him that same night through FaceTime and that he seemed alright, neck brace and all.
Summing up how everything seemed to fall into place, Wilson said on Instagram: "I think some strange forces were at work."
This story has been updated.