Vice President Joe Biden said he hopes Republican President-elect Donald Trump will end up taking leadership on the world stage and fulfilling the duties of his office — and maybe even not repealing Obamacare — but Biden isn't sure.
"It's like a Rubik's cube trying to figure this guy out," Biden told the New York Times Magazine. "We have no freakin' idea what he's gonna do."
Biden, who has only a few days left in office along with President Barack Obama, said he's most concerned about what positions Trump will take — or not take — on global matters, notably those involving Russia, Syria and the Islamic State.
"The question I get everywhere is: 'Is American leadership going to continue?'" Biden told the magazine, adding that if Trump "just stays behind the lines — hands off — it could be very ugly. Very, very ugly."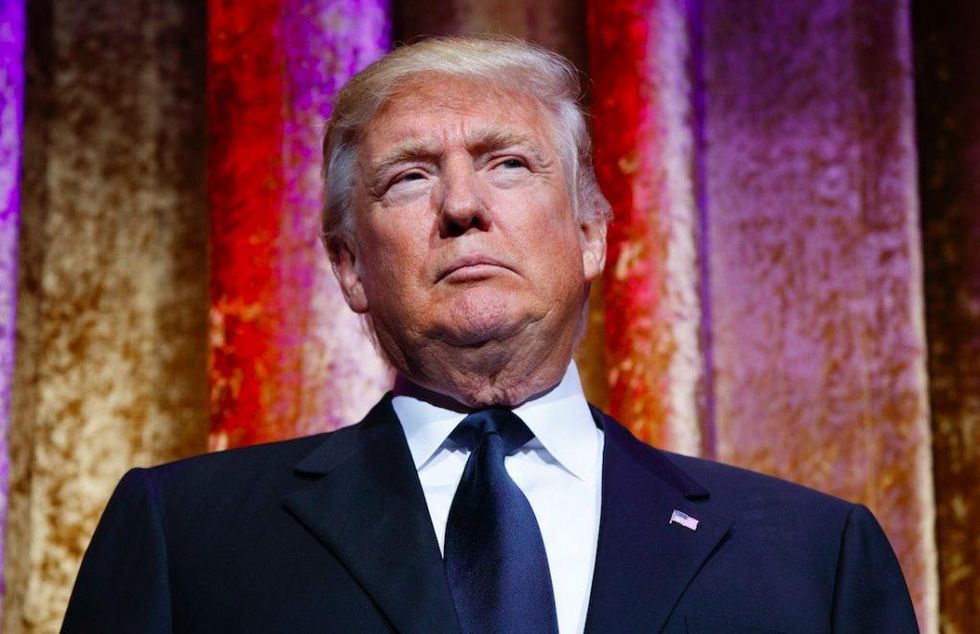 President-elect Donald Trump speaks during the presidential inaugural Chairman's Global Dinner on Tuesday in Washington, D.C. (AP Photo/Evan Vucci)
Biden also addressed his decision to not run for president in last year's election, telling the magazine that he was "more broken" than he thought he was over the death of his son Beau, who encouraged Biden to run.
"I don't know what I'd do if I was in a debate and someone said, 'You're doing this because of your son,'" he told the magazine. "I might have walked over and kicked his ass." Biden maintained that had he decided to run, he could have beaten Trump.
The magazine observed that Biden "clearly loathes" Trump, recalling his headline-grabbing suggestion prior to the election that he'd physically fight Trump if the clock could be turned backward.
"No, I wish we were in high school, I could take him behind the gym!" Biden said last October while campaigning for Democratic presidential nominee Hillary Clinton. "That's what I wish."
Biden's declaration came after he ripped Trump over the infamous leaked audio of Trump speaking crudely about women — then he told the crowd the media often asks if he wished he could debate Trump.
"What he said he did and does is a textbook definition of sexual assault … [Trump] said, 'Because I'm famous, because I'm a star, because I'm a billionaire, I can do things other people can't!'" Biden said. "What a disgusting assertion for anyone to make!"
A calmer, smiling Biden addressed Trump's penchant for fiery Twitter posts about political enemies in a PBS interview earlier this month, saying the president-elect needed to "grow up."
"Grow up, Donald, grow up," Biden said. "Time to be an adult, you're president. You gotta do something. Show us what you have. You're gonna propose the legislation, we're gonna to get to debate it. Let the public decide, let 'em vote in Congress. Let's see what happens."
But as for how Biden will speak of Trump going forward, he told the New York Times Magazine that he and Obama won't get personal.
"The president and I have concluded that there's no value in making that ad hominem argument," Biden told the magazine. "It gets you nowhere."