Katie Rich, a writer for NBC's "Saturday Night Live," sparked outrage on Friday after she said on Twitter that President Donald Trump's youngest son, 10-year-old Barron, will the nation's first "homeschool shooter."
"Barron will be this country's first homeschool shooter," she tweeted Friday afternoon.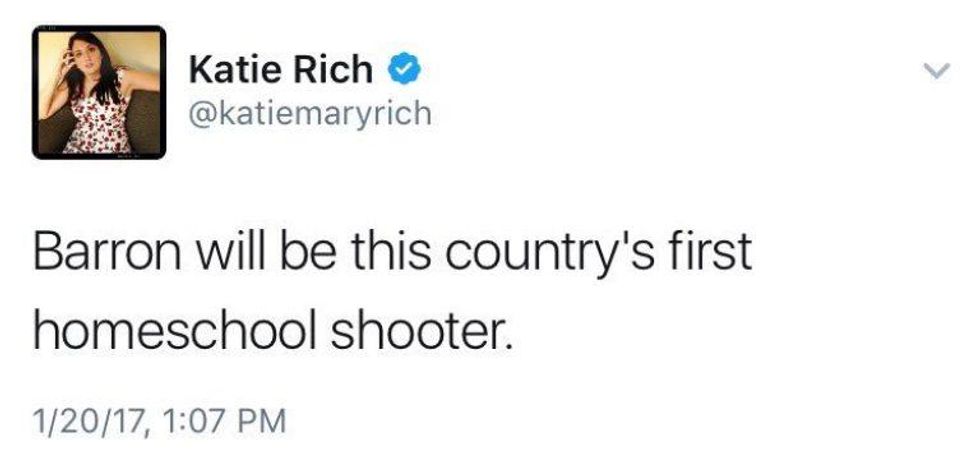 Image source: screenshot
The tweet was reportedly left up for nearly three hours before Rich decided to delete it as outrage began to pour in from all corners of the internet.
.@BecketAdams @kerpen Yeah - that's entirely inappropriate and pretty vile

— Lindsey Cormack (@Lindsey Cormack)1484954183.0
.@katiemaryrich attacks @POTUS 10 year old son, goes into protected mode because she knows she screwed up.… https://t.co/yNcJo3r6IG

— Love Video Games (@Love Video Games)1484959947.0
However, Barron is not homeschooled. He currently attends the Columbia Grammar and Preparatory School in New York City. He and his mom, first lady Melania Trump, will stay in NYC until the end of this school year before moving to Washington D.C., to be with dad in the White House.
And this isn't the first time Barron has been the subject of a liberal attack.
More from Breitbart:
Last November, Rosie O'Donnell, a longtime nemesis of President Trump, posted a tweet which included a link to a video that questioned whether Barron is autistic. O'Donnell defended the tweet before deleting it and apologizing to the Trump family.
Rich has since made her Twitter profile "private," meaning you have to follow her in order to view her tweets.