A protest at Portland International Airport against President Donald Trump's immigration ban culminated with a pro-Trump counter-protester getting knocked out apparently by an anti-Trump demonstrator as the two groups clashed.
Among the several hundred anti-Trump protesters at the airport Sunday afternoon were four men who formed a group called Bible Believers and staged the counter-protest, the Oregonian reported.
Grant Chisholm, 39, of Portland told the paper an anti-Trump protester hit him in the head three times with a metallic object. Chisholm added to the Oregonian that he drifted in and out of unconsciousness, vomited and still got kicked in the head.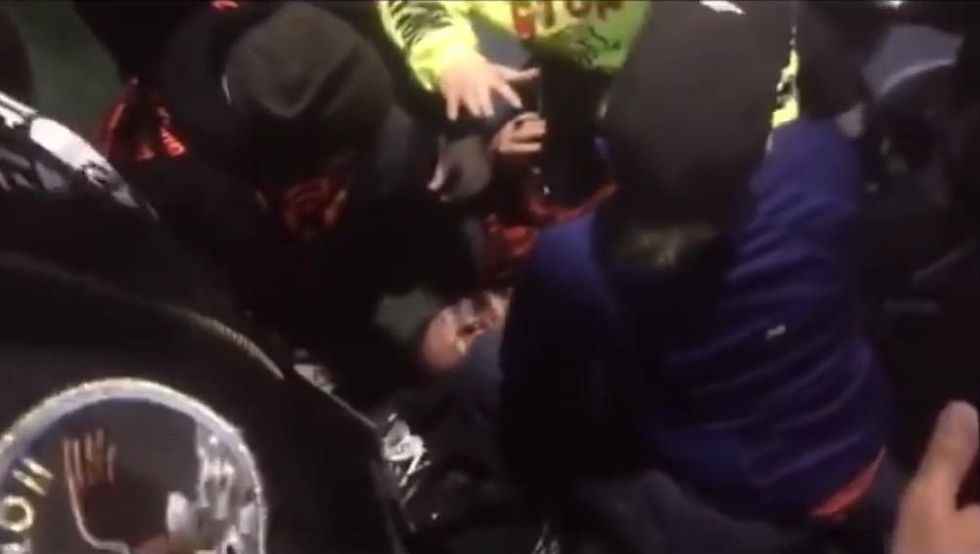 Image source: YouTube screen cap
"They almost killed me tonight," Chisholm told the paper.
One of several videos of the protest shows a large group chasing a smaller group through an airport doorway and a punch being thrown that flattens a dark-haired man wearing a red-and-black flannel jacket. Once he's on the ground, a few people come to his aid — but a much larger group hovers around him, cheering the act and taunting.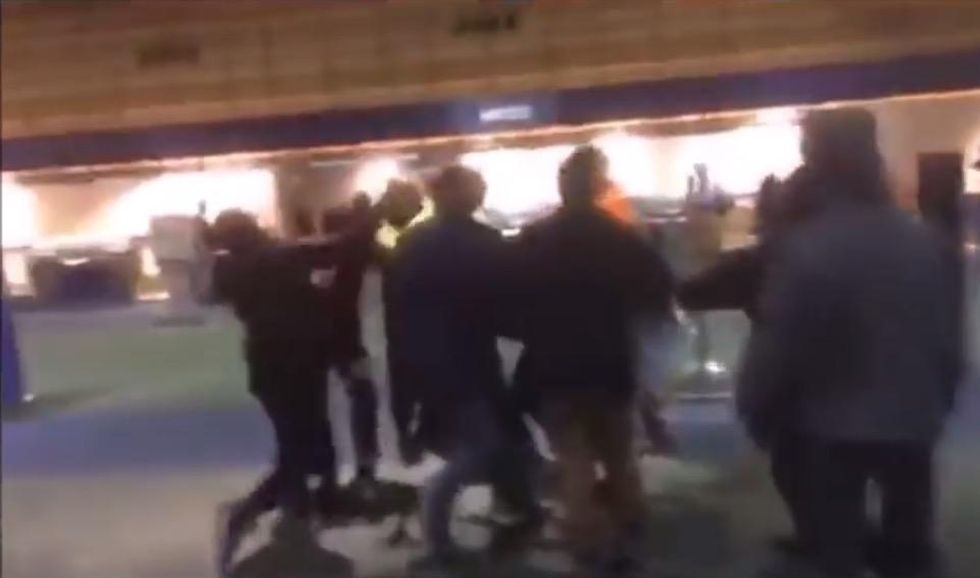 Image source: YouTube screen cap
"Your boy got knocked out!" one person yelled, soon adding, "That's right, Nazi boy! Where's your f***in' Fuhrer now, bitch?"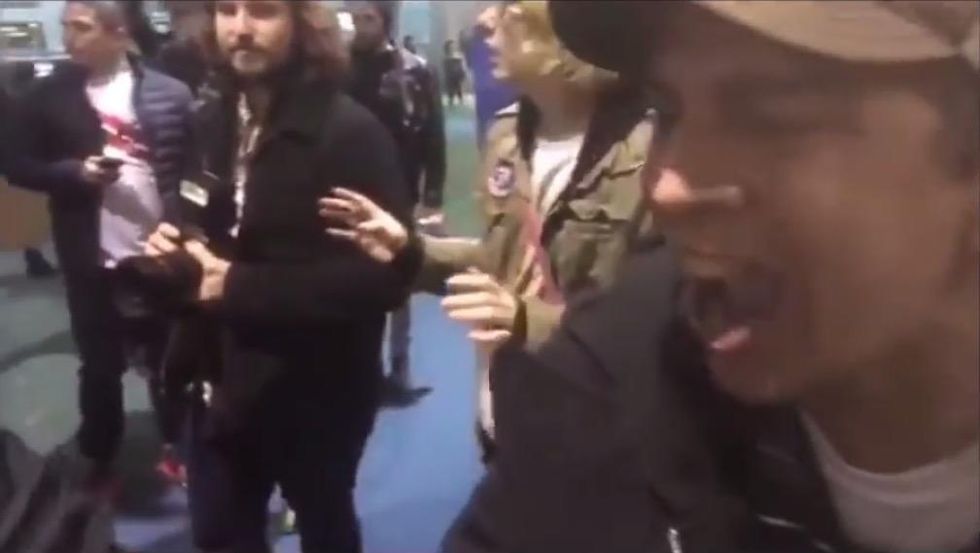 Image source: YouTube screen cap
The Oregonian did not indicate if the man in the red-and-black flannel jacket is Chisholm.
Here's the clip. (Content warning: Rough language):
Police soon arrive while a chant begins: "Peaceful protest!"
Chisholm was taken to a hospital and released two hours later, the paper noted, adding that he said he suffered a concussion but is otherwise OK. There were no arrests, the Oregonian reported.
More from the Oregonian:
Chisholm said he's been to many protests to preach and has been hurt before. He said one man in particular became aggressive, asking to fight. Chisholm said police in riot gear swarmed the area to pull the protesters apart. Portland police spokesman Pete Simpson confirmed that the agency assisted in crowd control, using an FN 303 riot gun after the assault.
Another video shows an apparent counter-protester in a yellow jacket shouting into a bullhorn as a man with glasses and a purple hood appears to take something from him and try to run away. The man with bullhorn quickly catches him, however, and brings him to the pavement by the hair with the help of two other men — one of them apparently the man in the red-and-black flannel jacket who got knocked out in the first video.
A third clip seemingly shows that same dark-haired man in the red-and-black flannel jacket screaming through a bullhorn: "They're terrorists! That's what they are! We don't want 'em in this country!"
After a light scuffle, the man in the red-and-black flannel jacket is seen yelling at and getting in the faces of two other men: "You hate God! You hate God! You don't love God! You're a degenerate, that's what you are!"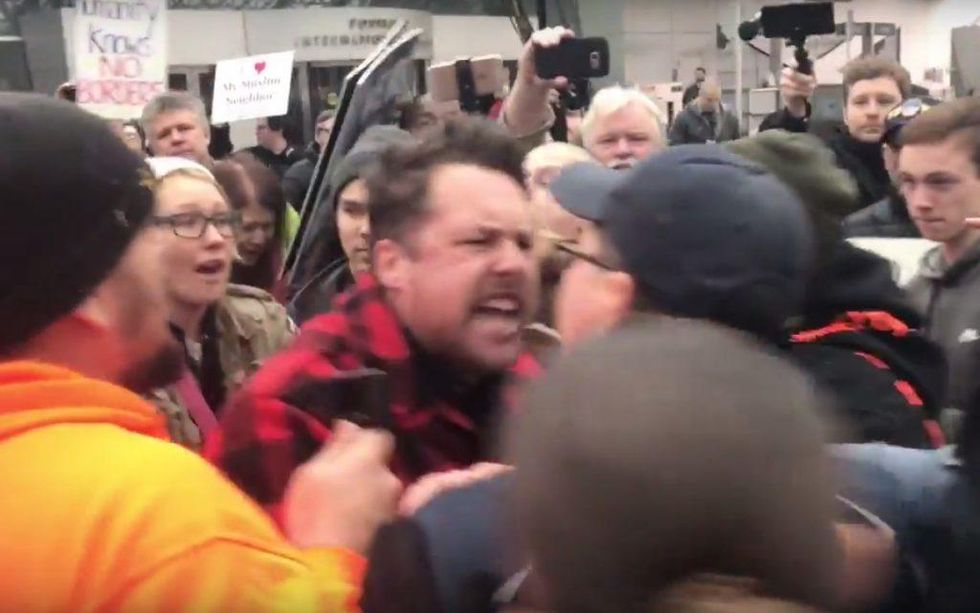 Image source: YouTube screen cap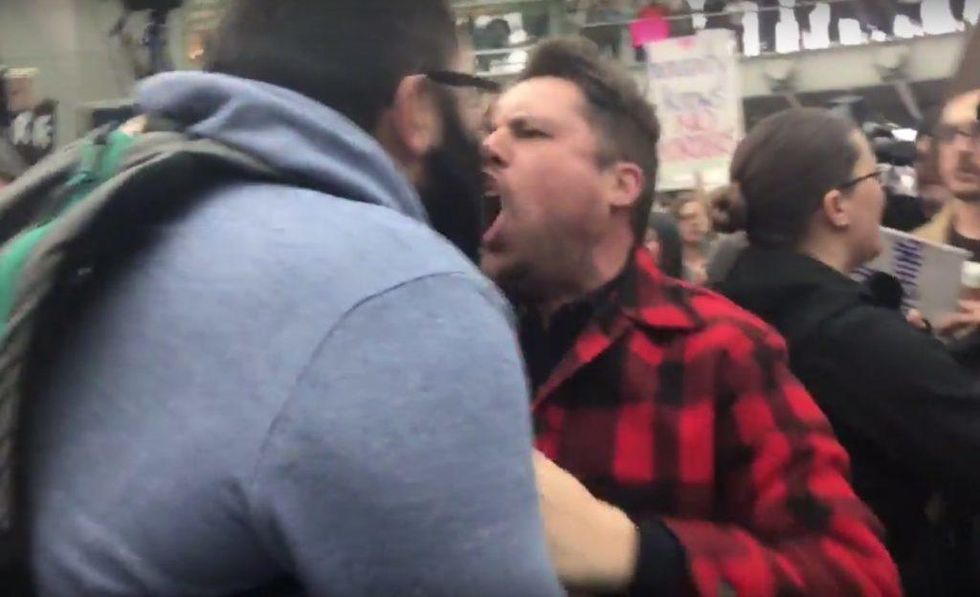 Image source: YouTube screen cap
Here's that third clip:
(H/T: The Daily Wire)