Princeton University's class of 2012 has been gearing up for its 5-year reunion, slated for this June, with a "Star Wars"-themed get together.
Check out ol' R2-D2 decked out in Tiger orange and holding court with a cup ready to party: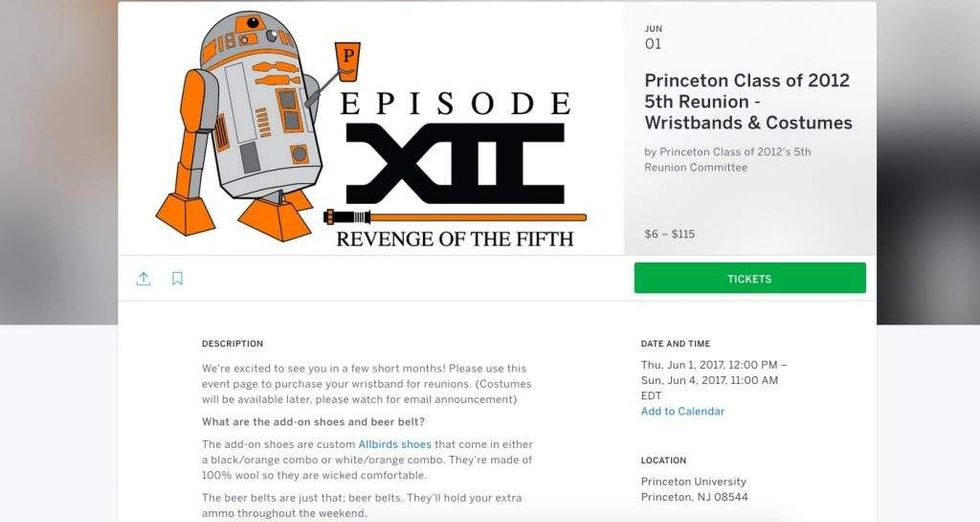 Image source: Event page screen cap
What's more, the shindig was to feature an eye-popping costume idea.
Stormtroopers.
"Show up to the Revenge of the Fifth in style, with a classy plastic bracelet on your arm and a Stormtrooper mask on your face," the email sent to class members read, according to The Daily Caller. "Believe us, you'll regret it if you don't." The email added that folks "spent a LOT of time pulling this together."
But later, the stormtrooper costume plan was put to halt.
An updated email from the reunion committee explains why, The Daily Caller said: "... a few of our classmates reached out expressing concerns over our choice to use Stormtroopers as our costume inspiration. We have since been informed of the origin of this word and its connections to early- to mid-20th century Germany."
In other words, Nazis.
"This is something neither we nor anyone on your Reunion Committee were aware of but take very seriously," the email continued, according to the outlet. "Tonight we made the decision to remove these costumes."
Class President Lindy Li told TheBlaze the stormtrooper costumes "were solely intended to reference the 'Star Wars' characters and were not meant to be offensive in any way," adding that the new costume will feature another character "in the Star Wars universe."
The "Star Wars" site explains the stormtroopers' origin and how they were chosen for the movie franchise:
After the Great War ended in 1918, the burgeoning National Socialists established their own storm troops in the 1920s to protect Nazi party meetings. Like so many of the most iconic elements of Hitler's Nazi party, the name storm trooper was simply repurposed from earlier times. Over time, the SA [Sturmabteilung] grew into the paramilitary wing of the Nazi party. Used to maintain order, they were widely identified by their brown shirts and black jackboots. Hitler's SA, and later the SS, were prominent in party propaganda leading up to the outbreak of war. Thanks to newsreels everywhere, the image of jackbooted storm troopers became one of the iconic images of fascism and inspired the iconic stormtroopers of Star Wars.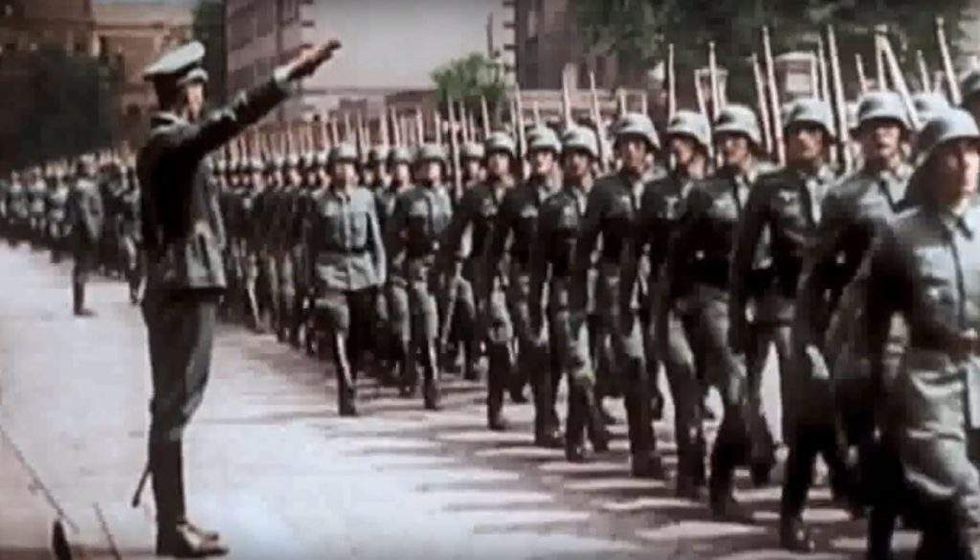 Image source: YouTube screen cap
While the "clone army of the Republic was made up of soldiers created for the sole purpose of service," Lucasfilm's Pablo Hidalgo said "stormtroopers are men and women like you and me. They volunteer."
The movie site added that the Empire finds "better uniformity in fervent patriots who volunteer for service."
(H/T: Heat Street)